I am not here to chase cheaters. That is not a part of my job and I want to actually help people who want to flirt and get laid with no strings attached. However, I get really nosey and investigative when I find out that a dating service wants to cheat my online followers. I didn't need to include any special tips of the trade or put my special glasses on to see most of the cons applied by FlirtingCheaters.com.
Cheating in sex and in relationships is debatable. But cheating in adult dating is not. I have a very strict policy when it comes to high-quality dating services trying to single out the best for my fans and put the rest to history by exposing their dirty tricks.
Authenticity
Here is the verdict for FlirtingCheaters.com, including some of the oldest deceitful method and some brand new ones in disguise. In addition to the poor investment in the site design and the limited dedication to community guidelines, the other site aspects are not up to the game, too. The phony women profiles, the credit card rip-off and the computer-generated content are nothing new. Apart from these standard fakes, FlirtingCheaters.com disappoints by putting an excessive amount of advertising at the bottom of the page and links its member database to the same from screwamilf.com making the members think that their hookup chances are way more expansive than they actually are. This is more than a sufficient proof for me to cut through this site's masks but if you need more information, read the detailed tour below.
Why is FlirtingCheaters.com a Fraudulent Dating Site
I would like to explain why did I come up to the conclusion that FlirtingCheaters.com is not at all a genuine dating site and that it is a totally fake rip-off.
FlirtingCheaters.com makes you auto-upgrade from the start.
I all starts nicely with promises of free membership until you provide your email, your personal details and your credit card information. From then on, the bombing with offer starts. First, you get a big flashy screen reminding you that you can upgrade to one of the special deals and added services. If you read this info more carefully, you will see that you must upgrade in any case, because active membership is impossible without some payment. Moreover, there are extra services charged more that will make you even more confused once you see how much of the content is not only non-free but literally a luxury.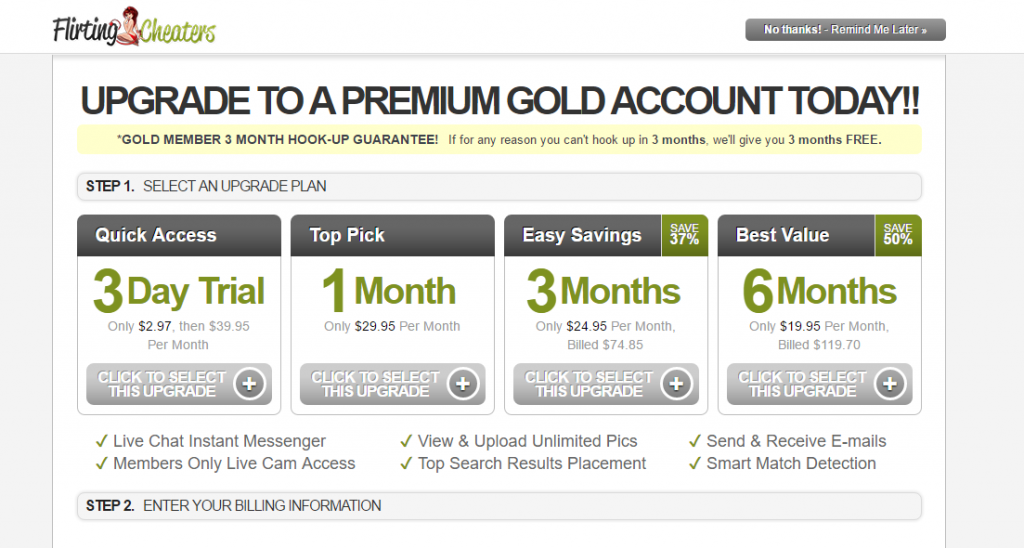 FlirtingCheaters.com is the same thing as ScrewaMilf.com.
If you wanted to join a site for milfs, you would have gone to a specialized site like Milfplay.com, for example. In order to economize site administration and send a bait to its users, FlirtingCheaters.com applies the same member database for both sites and puts two separate names across the network (if not more, and that is a fact that can become evident only further into my reviews). So if you want to have a sex date with a milf, you may only fantasize about finding it here. I wouldn't raise my hopes too high, but I will turn my back running to another better place.  

Virtual bots abuse your privacy.
Many think there is nothing worse than getting conned by a good-looking girl. How about getting conned by a girl that is not even real? Well, that is very alike the strategy applied at FlirtingCheaters.com where Love Stars (virtual girls) will rip not only you off from your online identity, but will also lure you into service upgrades. Furthermore, they will use your information to send you promotional offers – so, you actually give a piece of yourself for free and then pay for it!

FlirtingCheaters.com credit card scam.
This factor is nothing more but a continuation of the scammy action mentioned above. Hey, you think – this is excellent, an adult dating site that gives a platform for hookups for free, I don't need to pay anything and I can have as many chances for hookups as possible? In the end, your chances come next to zero when you see that you have been conned just to provide email address and get spammed with multiple boring ads, false hookup requests and non-existent girl chat messages.

Most likely, you end up chatting to a robot.
As a final result of this standard story for burning holes through the pockets of new adult dating customers who are not aware of the scam, you find out that the girl you talked to and actually liked is a fake profile created with the intention just to rip you off. If you ask the girl for some profile info outside of this site, don't hope for too much. I would rather advise on swallowing your pride and sharing your misfortune in the comments here to help others stay away from fake dating sites
Price Tag
Make sure you check the extra VIP services which are NOT FREE.
Standard services
3-Day trial is $2.97, renewed at $39.95 a month

One month for $29.95  

Three months for $74.85

Six months for $119.70
Extra services
Mobile Access/Featured Profile is $39.61 a month

VideoErotic.com for $28.87 a month
Busted or Trusted
Even if you don't have an eye for details, the scam of FlirtingCheaters.com becomes clear as a bright day when you gpastass the first registration page, start getting offers, ads and offers for extra services. I wouldn't predict a glorious future for this scammy site, though. The site homepage is not very clickbaity and if you expect more from a dating website from the start, you won't even spend too much time here. Still, if you fall for the title, make sure that you get out of there as quick as possible to avoid even further damage to your credit card and target your sex desires to an alternative online source of pleasure.