When people stop falling for the same old scammy tricks, online dating services that work with fraudulent methods try to find a way for money extorting in new, originals ways. One of those methods is targeting the dating scam to a particular user category, such as the example of the fake SingleParentMeet.com aimed at – who else – if not single parents.
Single parents usually have more than enough obligations on their backs and don't want to search for new ones like finding the right place to meet someone. However, that is not what they are going to find here. SingleParentMeet.com is just another fake adult dating tool for exploiting the vulnerabilities of people who are relying on websites to find partners for sex or more.
Authenticity
The reasons that I put this dating website into the scams category are plentiful but they all come down to one single common trait – ripping off credit cards in creative ways. I must say that SingleParentMeet.com has more than the usual repertoire of nasty tricks.
It is actually quite innovative and uses clever marketing and sales tips to sell the same old thin air as a premium service with special bonuses. This is why it applies the "Match Me" or the "Promote Me" features which are nothing more but an unnecessary extra cost to the so-called free membership.
On top of it, the site functions like a network and will try to include multiple offers from the other sites. This fact by itself makes it clear that SingleParentMeet.com does not work in clear ways about the membership fees and dating profiles info, and here is the clarification is more detail below.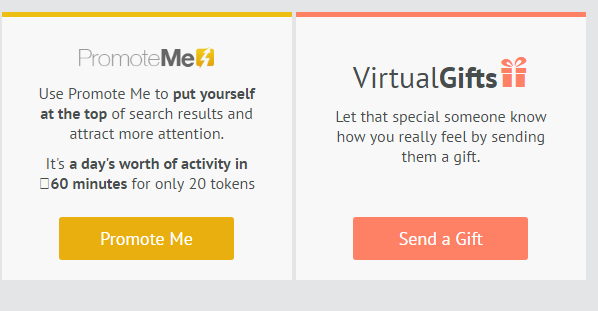 Why is SingleParentMeet.com an Online Dating Scam
You will be cajoled into paying for a service in more than one way. In fact, that is what the site is all about – multiple ways to sell you the same service which was claimed free at the beginning:
Your information is stolen with web beacons.
Web beacons are an advanced way of tracking information given on websites by users and are way more progressive and aggressive than cookies. They not only track regular cookies data, but SingleParentMeet.com will apply the beacons for sophisticated ways to find out how you spend your time there to upsell you extra services and send you additional promotional junk that you don't need. I would be very wary about sites that apply web beacons because they almost seem like having a watchdog over your face tracking your every move and not letting you breathe in peace:

You will get promotional offers from test dating profiles.
Nothing new here, but still well worth the mention for all new users who don't catch up fast with the rip-off tricks of dating sites. For the purposes of the site works, you will be tested to react on certain offers and may end up getting more than you bargained for. This totally seems like being a lab rat, and, while you won't mind being out to the right test by a real girl, I am sure you have plenty arguments against being a rat for a machine that is trying to steal your money by using your own personality traits provided for free.

SingleParentMeet.com will charge tokens for services.
Tokens are a very smart scammy tactic making you think that you are not paying for anything, but instead exchanging virtual mojo. Nonetheless, they don't come for free. What SingleParentMeet.com do is give you ten free tokens just to throw a bait for you can get with the services, and then ask you to upgrade for more tokens which will allegedly put you in top search results and thus increase your hook up chances with other users. Why would you pay for getting in the top results? You want to get the right results with proper matches. In this way, you are only getting into the poor people group: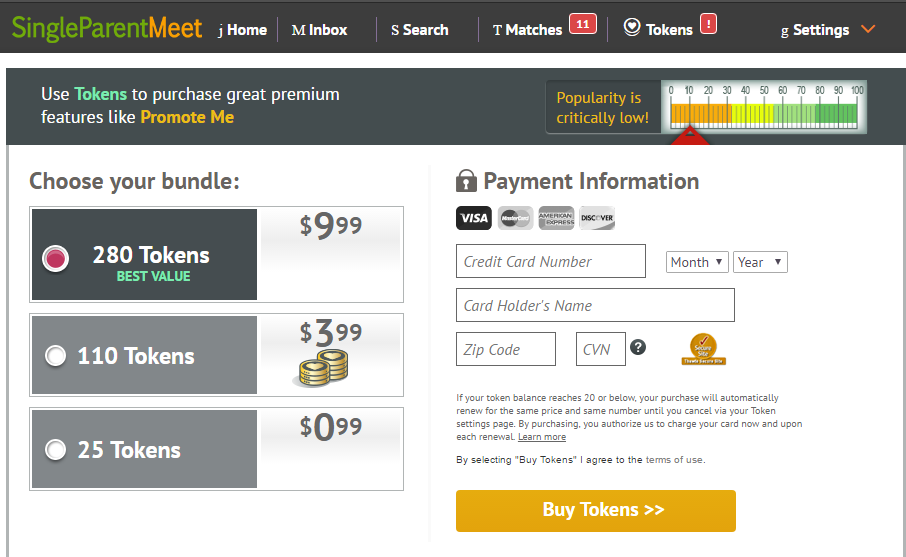 All memberships are paid memberships.
No way that you are getting laid for free because SingleParentMeet.com is nothing like that – you must pay if you want to communicate with other members. The free membership is just a trick to encourage you to join, while you actually must pay all expenses and on top of that, some extra fro tokens, not to mention the annoying advertisements that crop out of nowhere and may incur additional nuisance from the regular fees. Just watch out the Terms and Conditions regulations below:

Your profile information will be shared across multiple sites.
Although SingleParentMeet.com states that it works wonders for single parents it doesn't put any restrictions for the member database combined from other sites that include members who may not necessarily possess the same personal circumstances. This makes me confident that the name is just a disguise for putting a rope around the neck of new naive subscribers who will think that they can find a specific audience here when in fact all they find is just a scammy untruthful virtual interface with suspicious-looking activity.
Price Tag
Let's see how much the tokens cost:
280 tokens are $9.99
110 tokens are $3.99
25 tokens are $0.99
Tokens are an insidious way to charge more for less. Let me illustrate by an example, You can reply to one member by using 20 tokens. So each communication attempt is charged at least one dollar. In the final race, you will wonder where all that money went while you are left with nothing more than an empty bag and wishful thinking.
Busted or Trusted
Single parents out there, keep your red alert on when this fraudulent dating service is in question. Stay away from the Google Play and Apple stores because the apps will only take space on your phone and make you more susceptible to swipe your credit card for false services and needless promotions.
Make no mistake by getting extra tokens for bonus services. With so many dollars in your pocket, you could actually get more than a decent night out or two and nanny services. Keep your budget safe and sound for genuine adult dating providers.