CheatersNetwork.com has a stellar promotional campaign which is no closer to the truth. It promises a welcoming community, hundreds of instant live messages, free emails and an opportunity to be featured in top search results. It looks like the technicalities are advanced, and your smartphone or tablet will be forever thankful for putting it through such a high-tech experience. Everything seems to work smoothly in favor of cheaters, who can find a safe and discreet place for casual encounters. The site is full on smart matches, too. But, hang on a second, as the issues start when you look at the extra mobile charges and the limits to searching for the basic access.
It immediately sends red light signals, and we took our time to investigate CheatersNetwork.com to the nudge.
Authenticity
If you read the content on Adult Dating Patrol, then you may have already noticed that several adult dating websites use the word Cheaters in the description. And if you think that this is because many people want to have a casual encounter while in serious relationships, you are right. The word cheaters is a surefire way to spark an interest for adultery. It is the glue for attracting people who like to stray. Fake dating services see a chance to monetize this opportunity and create countless variants with similar names. People fall for them and the story goes on and on until someone exposes the rip-off. Here is your chance to learn more about it.
Why is CheatersNetwork.com a Deceitful Dating Website
There is plenty of fake content on CheatersNetwork.com, and it all starts with fake women and fake chat messages.
You will be ripped off by paying for an upgrade extorted by the fake women.
Fabricated profiles are a standard practice of fake dating sites. There is no big difference in the way they operate – they trick with their sweet, sexy, flirty language showing interest and make you feel like you are on top of the world where amazingly hot sex awaits you. However, the site policy states that there is no guarantee for any meetings because they are not real! Here is a quote: "You understand, acknowledge, and agree that some of the user profiles posted on this site may be fictitious or models or bots related to our "Love Stars" ( ) program. Our LS work for the site in an effort to stimulate dialogue with users and to stimulate user participation on the Website and Services, advertisement of the Website and Services, and the creation of user profiles."

You will get computer-generated content, none of it real.
For the purposes of promotional campaigns, these Love Stars will send you boring advertising emails, as well as chat messages, and you won't be able to tell the difference. They seem to be jack-of-all-trades: "You further understand, acknowledge, and agree that, from time-to-time, LS may contact Website and Services users and members via electronic messaging, including for example, email, instant messages, and SMS, for purposes of encouraging further or broader participation in our site's Services and/or to monitor user activity. Messages from LS will contain the uniform designation "LS" or "Love Stars" to notify the user or member that a message has been received from Love Star(s)."
CheatersNetwork.com has online reviews certifying it is a scam.
Of course, it is not too complicated to expose a scam when one knows how the industry works. We wouldn't exactly call this bad-mouthing but poor reviews in top Google search results are proof that where there is smoke, there is fire: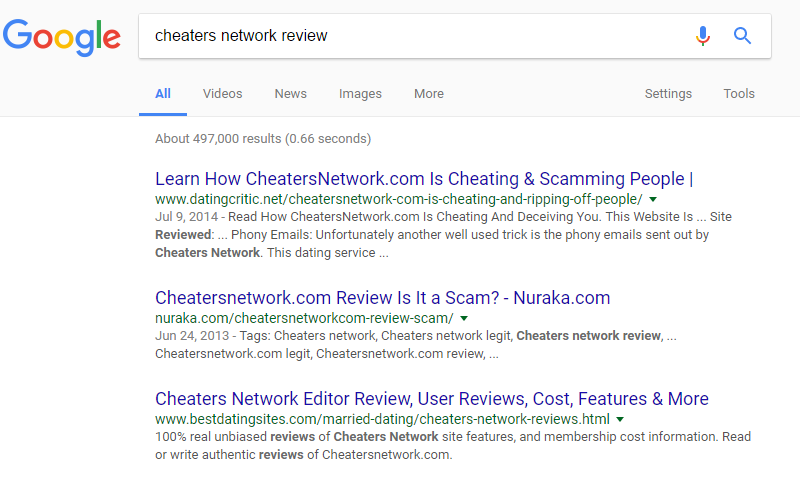 This website is just a part of the Cheaters domain trick.
Here is a group of networks already reviewed on this site that use the same name trick – FindCheaters.com, FlirtingCheaters.com, and Milfcheaters.com. They are almost identical in the tactics they use to get the money out of your credit card.
The changes to the privacy are not informed on time.
You will have to agree to changes to the privacy policy being made out of the blue without prior notification. If you expect an email and an "I agree" button to get on with using the page, forget about it. You will need to keep a close eye to the changes, or best, avoid it altogether!
Price Tag
1-Month subscription is $29.95 a month
3-Month subscription is $24.95 a month when paid in total
6-Month subscription is $19.95 a month when paid in total
Busted or Trusted
On this site, cheaters get cheaters, but not in the way you expect. All members are trying to find someone for casual sex, and no one expects to get his or her nose into the affairs of other people. On the contrary, they keep each other's back. But the danger comes lurking from a direction that is not likely to build your confidence in the world of online dating – the scammy sites! No worries, just stay away from the fraudsters and follow our advice to find the best ones!