EroticAds.com claims to have the best ads for adult online hookups ever, but is this really the truth? 
Adult Dating Patrol took a tour around this site to check suspicions, and it turned out that the situation may be way more scammy than the first impression gave in. 
Watch out for the sophisticated rip-off tricks applied by EroticAds.com – not all of them are easy to notice and they may cost you precious money, which can be used in a better and more effective way at one of the legitimate dating sites.
Authenticity
This fraudulent dating service has an amazing mask for its dirty tricks. At first sight, the dating service not only seems genuine, but it also looks elegant, classy and user-friendly. In addition, it applies clear guidelines in the "frequently asked questions" section, making it look professional and trustworthy.
That is why the fraud is, even more, piercing when it finally comes out in the open. I refer to online emissaries – the standard rip-off tactic using fake virtual profiles and the intelligent ways in which the site tries to oversell you services that you don't actually need but must pay in the end because you can't seem to be able to use much of the site anyway. Let's have a look in more detail:
Why is EroticAds.com a Fraudulent Dating Service
Stay alert to read more about EroticAds.com illegitimate actions to scam seekers of free hookups who like to get laid online, but will find nothing more than methods for money cons:
Lack of privacy in chat rooms.
Everything that you discuss in a chat room that is included in the services of Erotic Ads.com is monitored by the site, so although the site promises privacy, it fails to deliver this product in the main area where the users meet to get familiar and find a space for safe sharing. Unless you want your juicy and discreet details read by a total stranger, do not share anything in the chat room. Keep it for one-on-one meetings, if you manage to find one on this fake dating service.

No protection from malicious codes can't be kept away from the site.
Guarding the site against malware these days is not that complicated. There are so many affordable AV products, that I can't comprehend why there are still dating services that do not have at least basic protection. The only reason that comes to mind is that they are the ultimate rip-off businesses who save on cheap site aspects and have dishonest intentions towards the customers. If you want your data safe, join sites that have security certificates and antivirus software.   

Application of Online Emissaries.
Online emissaries are nothing else but fake profiles, phony profiles, love agents, virtual girls, or any other title that relates to computer-generated profiles made with the intention to lure users in and click the baits from more expensive services. Never mind the spiritual name, the emissaries aim is not that pure, just look at the amount of work they do to collect as many flies into their complex spider web of scams: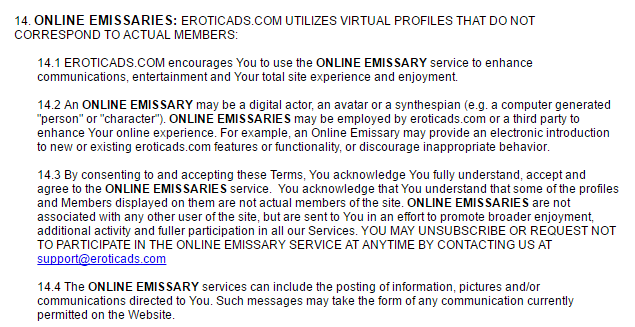 Opt-in or opt-out for services?
EroticAds.com states that it enables the users to select specific promotional offers by opting in or opting out. However, sometimes opt-in means that you accept the service, and on another occasion it means that you do not accept the offer. This is very confusing, and it makes me think that the only reason why it is made in such way is to implement another manipulative way of extorting money unwillingly. Watch out for this cleverly stated terms and regulations:

You can get several types of memberships ar EroticAds.com, even a "free" one, but you can only receive messages, or send a very limited number of messages in the upgrades. The only point of this tactic is the need to upgrade for pricier and more expensive, lengthy subscriptions only to be able to communicate with someone you have started a chat with, and it was probably an online emissary created to trip you into falling for the scavenger's deals.
Price Tag
Nothing is FREE at EroticAds.com!
Just look at these colossal rates that keep cropping up as you go for the upgrades:
Silver membership with limited messaging (25 only)
$1.95 for 3 days (automatically renewed (!!!) at $29.95 a month)

$29.95 for one month

$59.95 for three months
Gold membership
$34.95 for one month

$89.95 for three months

$149.99 for twelves months
Busted or Trusted
Don't fall for the dubious methods of EroticAds.com who apply not only clever marketing tricks to put you in the saddle and take you for a ride in which you are not the key player, but also phony profiles. EroticAds.com fails on security and privacy, creating an unsafe environment for anyone who is looking for some discreet encounters and hopes for the professional protection by a dating service that exists because of its users. It is way better to keep your cash and your cards for genuine adult dating sites.