IWantBlacks.com is one site for meeting black people, which seems to be incorporating larger audience than the usual scope of adult dating websites. Most of them have a tight range of users and refer to casual sex dates. However, in this case, it looks like you have an option of finding a romantic date, too. Whether this is a good or a bad thing, I am not sure. Although I doubt that many of you want to deal with the intricacies of differentiating between one-night stands and romantic relationships, so I guess I would put it into the negative aspects.
Authenticity
Above all, I wanted to check if IWantBlacks.com belongs to the chain of the network sites I have already checked before, such as Bulova or LDates. They seem to have pulled this trick in a very clever way because almost the interface, the registration screen, and the technical features are almost the same, they belong to another company called Together Networks Holdings Ltd. Unfortunately, I can not present a 100% accurate visual proof of the fraudulent workings on IWantBlacks.com but I, for my own personal use, don't even need it. I suggest comparing the way these people have written the site documents and getting back to me in the comments  – you will notice they look almost the same: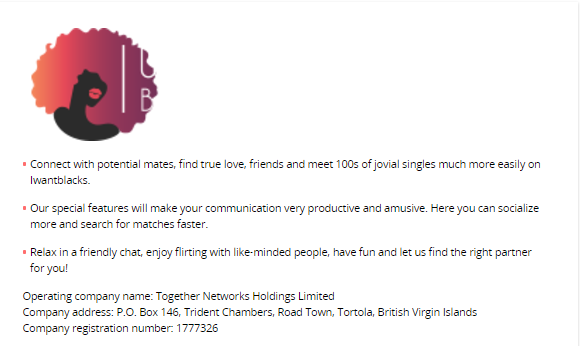 IWantBlacks.com is a Scam: Let's Find Out Why
Apart from being non-specific in terms of dating audience, this site has a few other problematic aspects that I would like to emphasize. Do make your won additional search and drop a word in the comments if you find anything that may have went through my inspection lens.
The site uses automated prompts.
The prompts on IWantBlacks.com are named Activity Alerts and they contain software-generated notifications that keep the members active and offer upgrades. Many include automatic upgrades to premium subscriptions and this is the moment where you have to be very awake to avoid accidental or half-conscious clicks on higher amounts:

You must upgrade immediately after sign-in so no free options exist.
Yes, that is right, you are in for a premium subscription treat under the guise of a discount. I don't get how people still fall for discounts – I guess I am "guilty" of the offense sometimes, too. They play tricks with our minds and evidently, this is why they work, albeit applied for centuries. Still, even if sex drive and falling for discounts are into the human nature, that doesn't mean that you need to be the duty culprit and fall victim at IWantBlacks.com: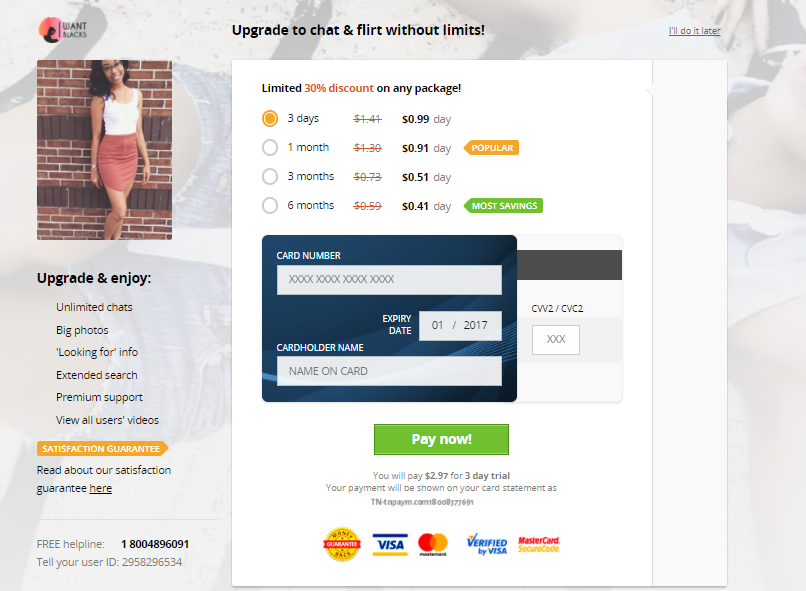 The money-back guarantee is impossible.
You have to fulfill a list of a dozen conditions to qualify for a 3-month free extra membership. Failing to meet someone for three months and getting the next one free – hey, sounds like a great deal, doesn't it? It is almost like you get 6 months for the price of 3. Yet, with a full list of requirements, the membership on IWantBlacks.com sounds like work, and not like a pleasure. I don't think anyone wants to join a casual sex site and follow a fill contingency plan instead of hooking up, obligation-free: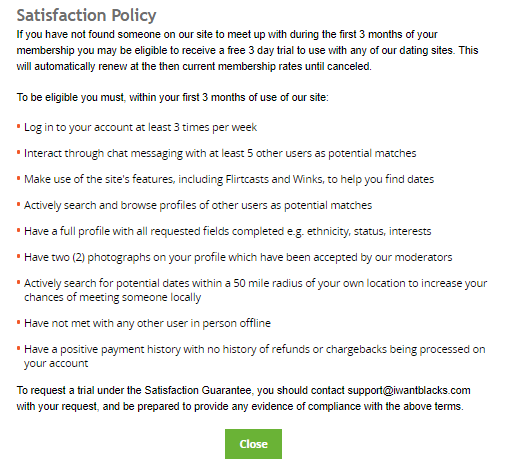 Price Tag
Three-day trial is $4.96
One-month membership is $34.99
Three-month membership is $59.97
Six-month membership is $95.94
 Busted or Trusted
I know for sure that I have a loyal group of followers who read these reviews to find a decent dating site intended for black people. We all know that it is not so easy to find exactly what you are looking for or at least something convenient that can satisfy most of the requirements. I like these specialized sites because even if they sound somewhat "politically incorrect" when it comes to a sexual preference, anything is possible for open-minded people and the description is a question of taste, not of priority. I suggest checking out other adult dating resources for black people – this is not one of my favorite places.