If you open the home screen of MilfsHookup.com you can get easily excited by all those juicy, sexy, hot messages of women who seem to have a piece of their profiles shared for everyone to see. They sound very inviting and enticing.
However, as with any testimonial posted on adult dating sites, this time, too, we took a detailed tour around the site and the net to find out what other people think, and what on the actual site is real or fake. Are these hot milfs that explicit as their front page testimonials seem to promise so? Our suspicions were proven wrong and we have collected a lot of evidence to share it with you and learn about MilfsHookup.com fake women workings.
Why Milf Hookup is Shady
Here is why we situated MilfsHookup.com among the fraudsters. The site is not really free and is a part of a huge scammy network that includes other similar sites like AffairHookups CheatingHookup, FindCheaters, SeekingMilf, and SeekingNaughty. They all apply the false women profiles with the intention for money extortion. The procedure MilfsHookup.com uses is not so complex, but it does involve several complementary steps that work along. They use mature women that are not real, they deploy electronic automated content, they employ third-party agents to keep you entertained and there is almost no chance that one of these virtual encounters will turn into a real date.
Sick of hearing about yet another scammy milf dating site and want to get right down to the one that I recommend?  
Why is MilfsHookup.com a Fake Dating Website
The fake women called Online Cupids use electronic communications.
The fake mature women imitate real-life communications trying to sound as natural as possible just to keep you engaged for longer and keep charging your credit card. If the fake communication was performed only by software-created profiles, the unnatural way of developing the conversation wouldn't last for long, This is why MilfsHookup.com also engages employees to simulate realistic communication. This is a quote from the site:
"You further understand, acknowledge, and agree that, from time-to-time, Online Cupids® profiles may contact both free users and paid users via computer-generated Instant Messages or emails for purposes referenced above. These messages may be transmitted to multiple recipients at the same or similar time(s). Messages from Online Cupids® profiles will contain the uniform designation "Online Cupid" to notify the user that a message has been received from an Online Cupids® profile. In the event the user responds to an Online Cupids® message, either via email or Instant Message, the user may receive one or more additional personal or automated responses from the Online Cupids® profile."
Here is how the Online Cupids are a part of the registration deal that shows up on the home screen:

The fabricated profiles will not land you a date.
Albeit this fact is stated in the Terms of Use, you will need to be reminded that the chances of getting laid are slim and close to nothing. The best thing to do is avoid a milf that has the words "Online Cupids" attached to her profile. This is the excerpt from the site that regulates the matter:
"Please also note that a single Online Cupid contractor may be involved with more than one (1) profile on our Site. Online Cupids® service profiles and messages can be readily identified by You and distinguished from member profiles and messages by the above-referenced logo appearing on each Online Cupids® profile and communication."

The site has poor online reviews.
As you can notice from our online search that we conducted online using a simple Google filter, the results in favor of MilfsHookup.com were not very positive and useful. It seems that everyone agrees that this site is a scam. This is perhaps the biggest proof that we are dealing with a fraudulent service and one that could be used even if we didn't conduct the detailed fraud investigation: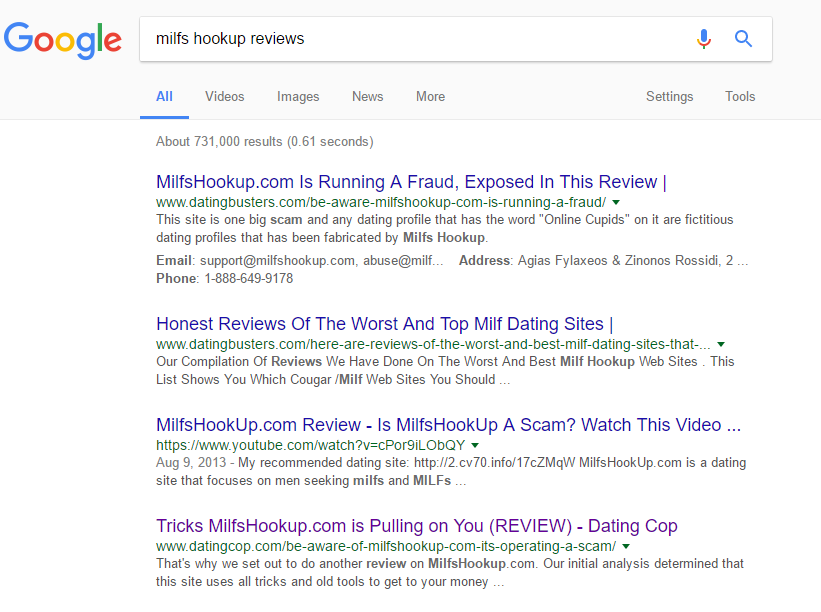 Price Tag
One-month subscription is $29.95

Three-month subscription is $69.00
Busted or Trusted
MilfsHookup.com is not a place that will land you a date with sexy mature women or a cougar. But it will land you a lot of trouble in your bank if you keep providing details to false dating sites. It may also jeopardize your privacy and put you in danger of a huge fraud across a network of several sites. Our verdict is that MilfsHookup.com is not a real dating site or a place to have fun with flirty chats.