QuickSexMatch is nowhere close to the promising name. Even if you get matched up with a girl you have found on this adult dating site,  don't think that a quick sex date is on the agenda! Not when you are dealing with fake profiles, automated messages and just another product by the same old fake company Nautell. That is right – QuickSexMatch.com is the same old scam with the same old features. The only thing which is new is the name. How come that the same fraud still works with all these reviews that uncover the truth? Let's find out!
QuickSexMatch.com Review
Yes, these fake women are putting their faces across the member's area. It seems like those are good hookup chances, but only if they are real. And no, they are not! The site QuickSexMatch.com explains that in the Terms and Conditions. But, who is responsible enough to read everything that is there? Not many, and this is how QucikSexMatch.com gets it easy to pull off the scam. Anyway, when Nautell is in question, we only know too good not to rely on what is on the front page.
Here is the name that you have to keep an eye on if you want to avoid further hookup site scams made in a similar way:
Nautell Capital Limited

12-14 Kennedy Avenue, 1st Floor, Office 107

1087 Nicosia

CYPRUS

legal@nautellcapitalltd.com
It is worth knowing that they always put this name in the site's administrative docs. So, you now know where to look for hints of possible scams.
Why is QuickSexMatch.com a Fake Dating Website
The first thing you need to look for on a casual sex site is whether the profiles are real. This is an age-old trick for fooling people to upgrade to one of the more expensive packages.
QuickSexMatch.com Pulls Off Virtual Women Profiles
When you join QuickSexmatch.com, the initial interface looks really awesome and full of potential. But, hold your horses before thinking you have found a gold pot for casual sex. Yes, there are a lot of hot women. Yes, they look nice and sexy and inviting. If you pay a little more attention, you will see that they are fake. These bogus profiles found on QuickSexMatch will make your credit card world a hell if you decide to play their game. Watch out for the mark "LS" as noted in this snapshot: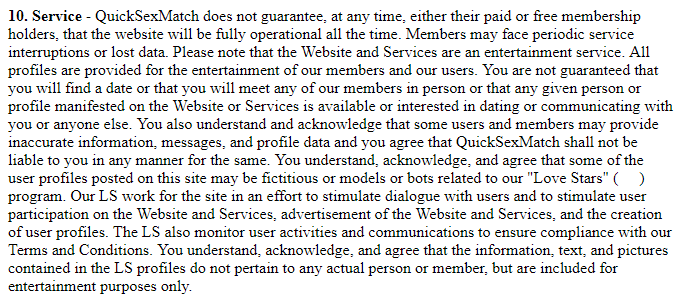 No Chance of Meeting These Fabricated Profiles
The fake profile Love Stars are mixed within the group of women that are populating the site. Hey, is there at least one single real person among the female members. Maybe, but that is not what I managed to find on QuickSexMatch.com. The company in charge explicitly says that the purpose of the site is to entertain you. Therefore – no promises of getting laid as it seems to!
Users Get Tons of Fake Automated Messages from QucikSexMatch.com
The way these fake profiles work is so deceptive and so insidious. If you haven't noticed that they are fakers called Love Stars, you can think they are real! Even the messages that they send to new users resemble a real sexy chat. Whoever is a bit experienced in online dating can catch the scam. That said, software for creating fake personas and sexting frauds is getting more and more sophisticated. It is getting more difficult to recognize the foul communication. This is why the scams keep going.
QuickSexMatch.com gets Unlimited Use of User's Personal Details 
If you try to land a date, despite the warnings, make sure that you start it low profile. if you upload too many personal details, there is no guarantee what will happen to them. Basically, you turn into a commodity at disposal of QuickSexMatch.com. Have a look below of all permits you give to this hookup site to mess up with your data. This is one place that I wouldn't like to see myself going, especially when casual online sex dates are in question:

 Price Tag
3-Day trial is $2.97 (renewing for $39.95 per month at the end of the trial).
1-Month subscription is $29.95
3-Month subscription is $74.85
6-Month subscription is $119.70
Busted or Trusted?
It is obvious that QuickSexMatch.com is a poor online dating platform for getting laid. The bogus profiles and the limited chances of finding a real person, makes this hookup site one undesirable app. Moreover, who would like someone messing up with their personal data when casual dates are concerned. Instead of discretion, you are getting ripped-off and exploited by computer software. No, thanks!