TrueBootyCall.com is one of those sites with so much computer-generated content and pictures "borrowed" or stolen from other social platforms that you will barely have your end meet. It looks like it is flooding with super-hot girls who want to enrich their booty call list, but we all know that looks can lie. It takes digging a bit deeper to see if you are having a chance to find someone for a one-night-stand here or if you are just getting hooked for an upgrade with fake images.
Authenticity
I like how confident TrueBootyCall.com is when explaining how it works: they not only brazenly state that they will entertain you, but that they are so good in performing this scam, that there is no way for you to notice that you are being duped. Nice one, right? No one likes being taken for a fool. In this case, TrueBootyCall.com make it all a play. Yet. they still pull the prank and cajole new people in making them pay for upgrades. How do they do it? By using software content and fake pictures. Did you read the sign in screen? If you didn't, that is how you will get into the fraud.
Why is TrueBootyCall.com a False Hookup App
You get the truth from the sign-up screen, but only if you are diligent enough to pay attention.
TrueBootyCall.com Will Trick You With Virtually-Created Profiles
If you are one of those users that read the documents on sites for online dating carefully, then you will be quick to notice what you get and what you lose on TrueBootyCall.com. With the fake virtually-generated profiles you have plenty to lose. Here is the first visual proof of the scam that this hookup site is trying to execute. most users get swayed away by the gorgeous girls on the homepage and forget to check important details. Don't be that guy!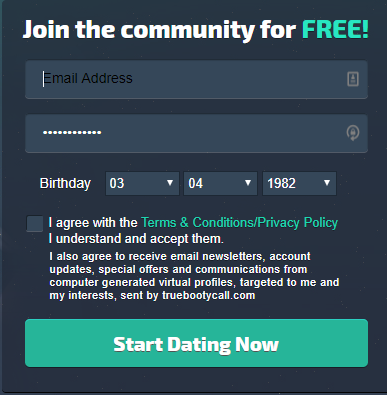 TrueBootyCall.com is Only for Entertainment Purposes
The call their method "entertainment purposes". The explanation of TrueBootyCalls.com is included in the site documents. I have invested a bit more effort to find out more about these entertainment purposes. It turns out it is nothing else but another convenient name for the fake and computer-generated content with no getting-laid guarantees. Just join, and they will entertain you, but it seems that you will be the subject of that fun!

Reverse Image Search of Girl's Profiles Shows Fake Pictures
It gets as easy as a reverse image search to uncover the dirty methods used by some fake hookup sites. I advise using this technique whenever you have suspicions. Then again, some pranksters are getting so skilled that they apply advanced upload techniques, so it is more difficult to perform a real image search. Even more careful attention needs to be given to those type of adult dating websites.
Here is the profile of a cute girl I was trying to get in touch with. This is her profile screen. I was getting suspicious even when I didn't find anything more on her profile apart from this photo: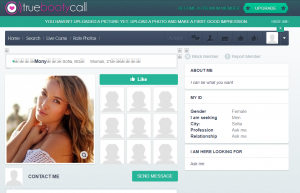 But the reverse image search confirmed my suspicions. It turns out this hot pic is published on thousands of other websites, including Pinterest and IMDb, and has nothing to do with a real girl that wants to get laid on TrueBootyCall.com. More proof is coming below.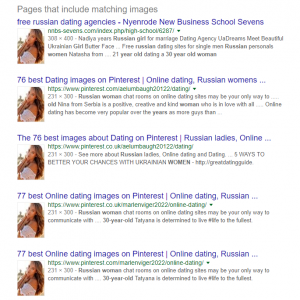 Here are the second retrieved results from the reverse image search. This is another cute girl's pictures found on dozens of other websites, which just confirms that TrueBootyCalls.com is in no way to be trusted with its fabricated profiles that populate the site. Look below in the next section to find the internal site photo of the image search: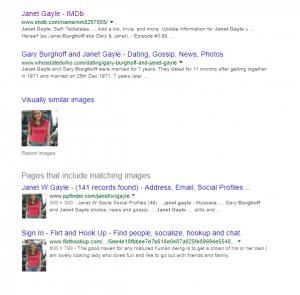 How You Must Upgrade to Send & Recieve Messages
TrueBootyCall.com will ask you to pay for upgrades only to chat you up with virtually created profiles! This is not the way genuine adult dating sites work. By the way, don't forget to double-check the picture and compare it to the one found with the reverse image search performed in the previous section: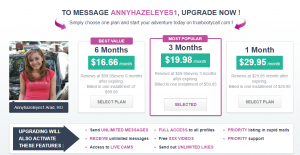 Price Tag
$29.95 for a one-month membership
$59.94 for a three-month membership
$99.95 for a six-month membership
Busted or Trusted?
It didn't take much to uncover the doings of TrueBootyCall.com. I especially love when I nail those fake photos of cute girls! How on Earth does TrueBootyCall.com think that they can pull off this nasty scam, I am not sure. Watch your step and don't get that upgrade just to chat up a girl which is not even a real person, but just a virtual robot!