PlayCougar.com is the newest addition produced by Bulova we have discovered while searching for new, cool legit dating sites. You must give it to the Bulova network, they really know how to pull off a great looking site and lure people in. These masters of design produce beautiful pictures and front pages. Yet, that doesn't mean that they are real. Let's see how PlayCougar.com makes people pay for what they didn't order!
PlayCougar Site's Authenticity In Question
It is obvious that you are not getting laid for free on PlayCougar.com. is it obvious that you are not getting laid even if you pay? For that, we need to look into the features in the next section to prove our point, but for now, let's stick to what seems to be given in the paid subscription:
Sending and replying to all messages
All search results are available
Real-size photos
All member photos access
Full profile information
Access to popular members
Why is PlayCougar.co.uk a Rip-off Dating Platform
The full-blown commercial nature of PlayCougar.com will strike you when you spend some time on the website and try using its services. There is more than one way in which the Bulova network is trying to pull off a scheme and set you up to pay for additional services.
The Job of the Chatbots on PlayCougar.com is Made by Promoted Messages
This hookup site calls the message it sends to users promotional messages. If you get into what they really are, it is so evident that they serve only to attract new users who have no idea how the adult dating scams work. Here is the truth – you will get a chance for promotional messages but only until you need to reply to the sender. The other user (read – the virtual girl) keeps the right to send messages, but you must pay to get the right to reply.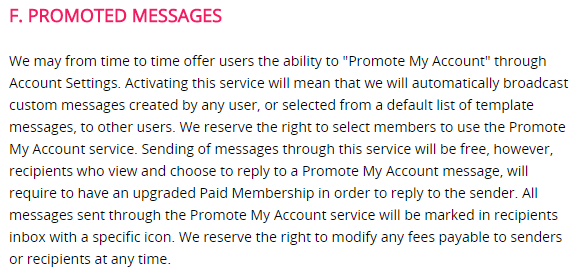 SMS System is a Paid Feature
Be careful what communication feature you choose to test and try with the other members. There are plenty of features, and while some may be free and included in the main subscription, others are not. Have a look, for example, at the SMS feature. It is a trick that can cost you dearly on PlayCougar.com. You will need to pay extra costs to date a milf which is not even a real person, but a computer-generated content:

Fake Girls Will Bomb Your Chat Inbox
Just as I registered, the messages started coming and they didn't stop. First, I got a message from the site admin, telling me that I have 5 free messages. The, I got another from Monica197 because I viewed her profile. She had namely sent me a message I couldn't read. And – guess what? I had to upgrade to read the message. Not only that, but I also had to do it in the next three days because the site's policy is to keep messages in the database only for a limited period of time. Nice one!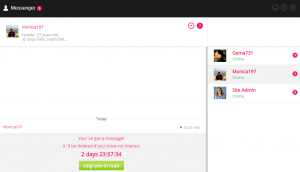 Price Tag
$36.41 for a monthly membership
$61.24 for a 3-month membership
$98.99 for a 6-month membership
Busted or Trusted?
When the Bulova network is in question, we don't have any doubts that the nasty truth will come out into the open sooner or later. The team of Adult Dating Patrol knows where to look to uncover any hidden scam that takes new users for fools. Make sure you stay out of budget troubles by staying as far as you can from PlayCougar.com. It really isn't so nice as it looks!