My favorite pastime is reviewing hookup sites. But more often than not I discover things that aren't pretty. They're downright ugly. While this NSAFinder Review didn't bring any massive revelations, I'm annoyed that I wasted my time on a rip-off dating site. On the other hand, I'm relieved I have shed some light on fake casual dating sites such as this one. It has happened before on many similar ones I have used for a while and never came back to check them again. Stay with me if you want to find out the truth about the ridiculously fake NSA Finder.

NSAFinder Review: Will You Even Find Any Real Women?
Although the site has a name that sounds convincing about linking you with potential dates, it doesn't exactly deliver on its promises. Okay, that's a bit soft on my behalf. I always try to give a new website a chance before I confirm my suspicions. So, there are several problems I identified in this NSAFinder Review. Let's go and investigate them one by one.
Fictional Profiles Called Fantasy Cuties
This worst practice of fraudulent hookup resources is by far the most troubling. When you see virtual avatars that imitate real women just to persuade you to linger for long and even swipe your credit card to buy expensive memberships, you should be certain you're taken for a ride.
That's the main revelation of my personal NSAFinder report I need to share with you. What else?
T&C Issues
Before you register for a site (even for free) it's a good idea to read the Terms and Conditions. But who does that? Nobody. Guys, you just get all horny from the sexy pics and give your email without thinking things through! Stop doing that! The fantasy cuties and the software-created messages are in the T&C when you take the time to look at them 
Software-created Messages
Sites like NSAFinder will just pester you with hundreds of computer-generated messages in your inbox. They just want you to succumb to their aggressive tactics, hoping that you buy something. Why do that at all, when you get sites with super exclusive features for free or minimal charges? Even something as mainstream as Tinder costs zero and will give you better sex than these sites that claim they are in for no-strings-attached relationships while robbing you with your initial payment. Stop chatting with fictional profiles and start banging for free on genuine and secure dating sites!
Duped to Register for Another Problematic Site
Selling expensive memberships for a milf-related site? Check. That's the story of NSAFinder that transfers your registration to a dubious milf website. But that's not even critical because irrespective of the name, the scam is the same. If you ask me, the name NSAFinder is just a placeholder for the same site that uses identical tricks.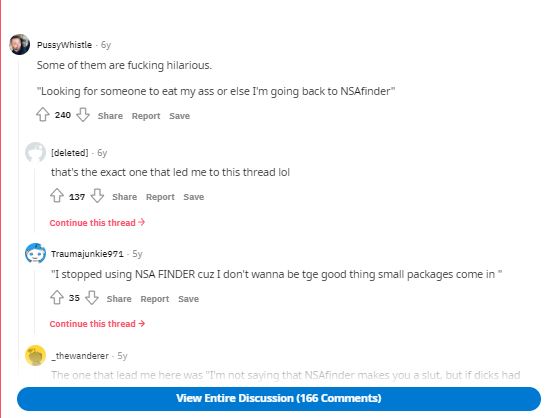 What do People say about NSAFinder on Reddit?
If you need yet more proof about the shenanigans of NSAFinder, head over to Reddit to see what people say about it. They have immediately seen through all the fog created by the site. Reddit users are quite bright and recognize a bot scam when they see one. According to my opinion and experience from using the site, they are completely right.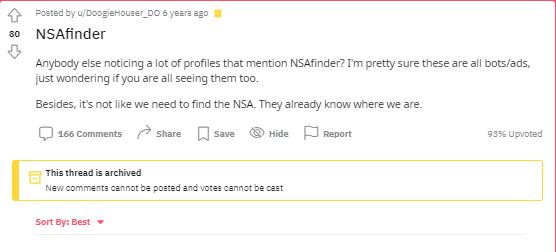 NSAFinder Review: Epilogue
When I write the word "epilogue" it seems like I'm talking about a dead person. But let's not go dark all over – let's keep it light. Let me remind you that you don't need to use shifty websites at all when you have so much choice of efficient free hookup sites that work. What I am sure however is that sites like these will be coming to their end, sooner or later.
Related Post: Where To Find MILFs – A Guide For Young Guys