You could have had the best of the two worlds of milfs and big beautiful girls – only if MilfBBWs.com were real! However, by closely examining the features offered by this adult hookups service, we unveiled plenty of false elements that should not be trusted as a part of a genuine hookup service for one-night-stands. We are extracting the five most important among them in this review. Have a look at the killer scam to understand better why MilfBBWs is not the place to get you great hookups personals with voluptuous mature women.
Authenticity
The dating site is set in a nice and a pleasant digital environment with a beautiful picture and all necessary key elements of a good service. This is only how things look on the outside, though. As you will shortly notice, MilfBBWs.com has no credit to be believed for possible exciting hookups. Most of the good-looking girls are just fabricated profiles of fake girls called fantasy cuties created to resemble real people and attract foolish men to pay for an upgrade.

Why is MilfBBWs a False Hookup App
The deception with the fictive girls is not the only problem on MilfBBWs.com, however, it is one of the worse aspects of the site which shakes up all the looks good at the beginning.
MilfBBWs.com Lures New Users In by Setting Fake Profiles 
The fact about the fictive profiles called Fantasy Cuties is revealed in the signup box. They come as part of the package. You should be aware that they have nothing to do with real dates, or with true chat messages, or video chats. They serve the purpose of MilfBBWs to collect information from users, monitor their uploads and entice them to pay more for the service. Think of them as a modern way digital hostesses that will show around the site but will not go to bed with you.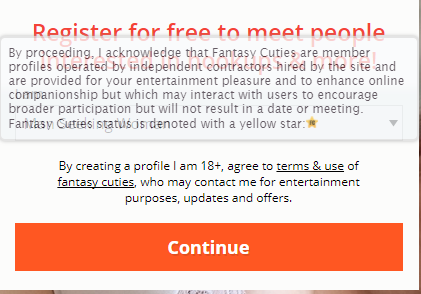 You Must Bookmark the Page to Follow Policy Changes
Any changes to the important site documents are made randomly. You will not get any updates in your inbox. MilfBBWs.com will not wait for your acceptance of the new conditions. It is up to you to follow changes and make sure that you agree with them. Well, if this is not a fraudulent way of doing a business, I don't know what is! They can literally change anything they want in this way.
The Fantasy Cuties Send Bogus Computer-Created Messages
The fictive profiles made by software have several duties. The first is, as explained above, hunting for new prey who says goodbye to their dollars in an easy way. The second is to monitor the user content and analyze behavior. Don't worry, they are not going to put you through psychoanalysis, they will just see what you're up to sell you some more fake rubbish of what you actually want. In the end, they chat with you via computer-created messages. These messages end up in your inbox and stuff it with nonsense. Remember, those made-up messages do not come from a real person, they are all just clickbaity fake stuff!

You Must Pay Extra for the Instant Messaging Program
Stay aware of the costs for the basic subscription and how much you pay for the communications. Although MilfBBWs.com states that its communication messages are not commercial in nature, it finds a way to sell you more by charging you for the IM system by tokens.

MilfBBWs.com Charges Tokens for the SMS Chat
You will also pay for the SMS system. It seems that all communication on MilfBBWs.com is paid! You will provide your phone number for security purposes and get tokens to connect with the other users (who are, by the way, false bots) and get a pin code to enter the system. Then, you must get tokens to be able to turn it on! If you buy more tokens, the cost goes down. So, how much is exactly one token? Will it go down to zero if you keep chatting?

Price Tag
$8.91 to get a 3-day trial subscription
$34.95 to get a 1-month membership
$83.97 to get a 3-month membership
$119.94 to get a 6-month membership
Busted or Trusted?
MilfBBWs.com is as real as anything in the fantasy world. That is, keep visiting it if you want your sex life to be fantastic, but not in the good sense of the word! You will not get anywhere with those fake fantasy cuties. The more inventive paid services are on a site to get your attention, the less genuine it is!