Adult Friend Finder is one of the most popular websites for finding quick hookups, friends with benefits, sexting, and this is for a very good reason.
Even though the site has existed for more than twenty years already, people are still online searching for information about this often misunderstood website. The question "Is the Adult Friend Finder legit" is quite common on Reddit, Quora, and Google Play Reviews. Therefore, we decided to do an Adult Friend Finder review and share with you what we PERSONALLY found out when we joined this site in search of adult pleasure.
In this day and age, it's natural to feel skeptical about anything one sees on the internet, and dating websites often present an easy target for scammers. It's always good to check the website and other users' reviews before you decide to invest in a premium membership.
In our Adult Friend Finder review, we will explore how the site works, if it's safe to use, and most importantly — do you get what you came for. (HINT- YOU DO.) 
So, let's dig in.
Or, feel free to just visit AdultFriendFinder and make a FREE account.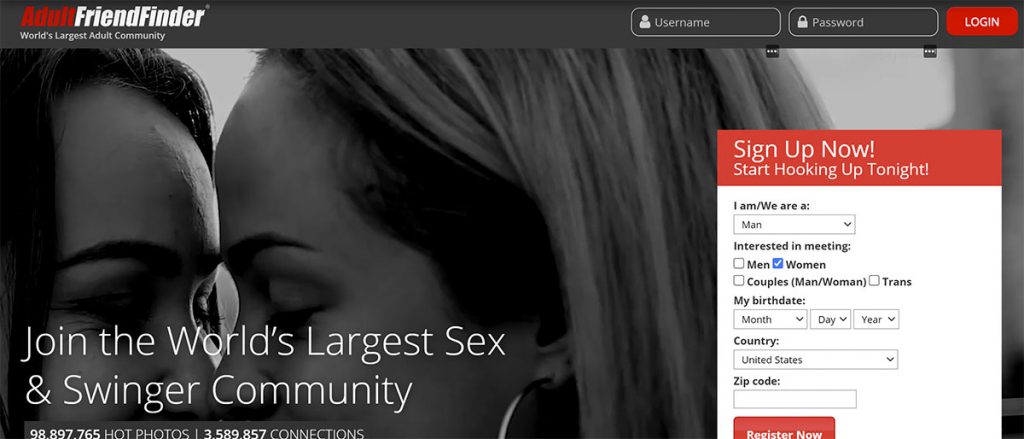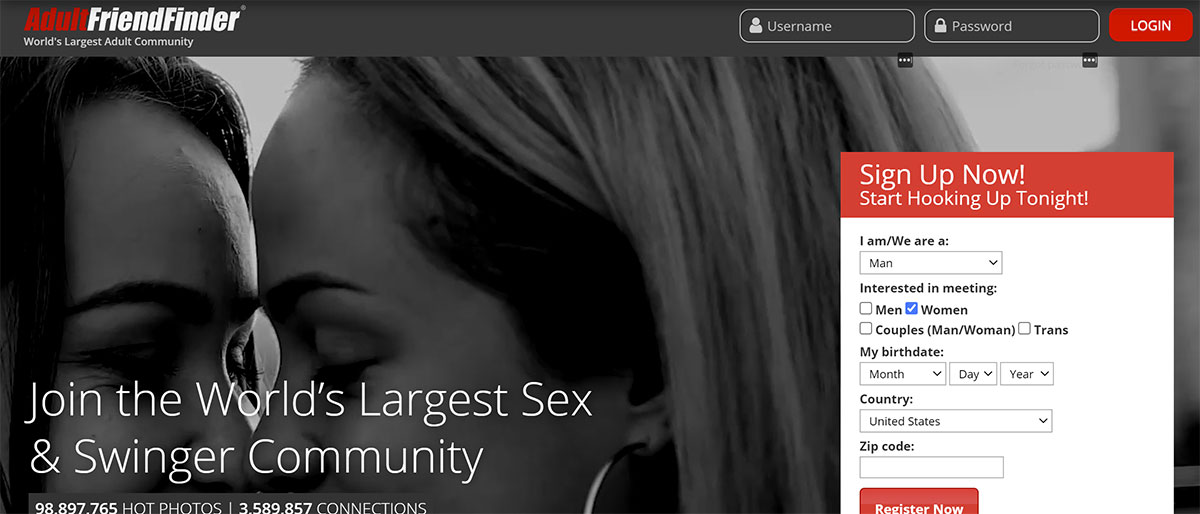 About the Adult Friend Finder Website and App
Andrew Conru from California, US, founded Adult Friend Finder in 1996. Right from the start, the website was straightforward about its purpose — finding a quick match. Even if you are not interested in meeting up with someone, there's enough sexually explicit content, live streams, niche chat rooms, and sexting to satisfy everyone's needs.
Adult Friend Finder offers endless sexual possibilities for all kinds of relationships. According to statistics, around 55 million people visit the website every month, and the site itself claims to have over 80 million users across the world. Most traffic comes from the US, as expected, followed by the UK and Canada. SimilarWeb states that AdultFriend Finder is among the top 160 sites in the US.
When it comes to gender ratio, Adult Friend Finder has a 2–1 ratio of single men versus other categories like single women or couples, which is not so surprising for hookup-centric websites and apps, that's what our data has shown us when we've joined other apps.
All in all, this service is ideal for single people looking for casual relationships or couples that are into sharing. However, it might not be the best place for those looking for marriage or similar relationships – this place is simply for sexual pleasures and finding like-minded people for discreet encounters.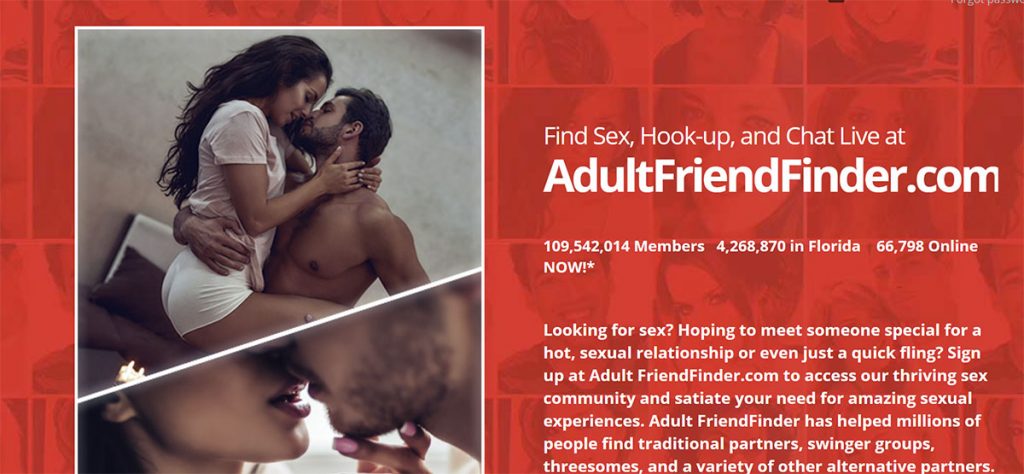 The Sign-up Process and First Impressions
When we visited Adult Friend Finder for the first time, we had to register and create an account. First, the system required us to fill out a sign-up form and specify our status — single man, single woman, a couple, or TS/TV/TGs. Next, we had to specify whom we want to hook up with — a female, male, etc.
Also, we had to provide personal information such as a birthday, location, and zip code. Then, to finalize the procedure, we needed an email confirmation. Finally, the last thing was to come up with a username and write a short introduction. Basically, the whole process took less than five minutes.
The interface is pretty straightforward as well. All the options are clearly visible so even people who are not tech-savvy could easily find their way around.
There was also an option to personalize our profile to make it more visible to other users. We answered questions about our appearance and preferences. Moreover, we took a slightly awkward "Purity test," which consisted of many questions designed to check how far we are willing to go sexually.
In the end, all the answers helped us get the compatibility score with every website user we had come across. A compatibility score shows how well you might get along with someone in bed based on your sexual preferences.
That being said, we are going to share some problematic spots we have found during this stage of the Adult Friend Finder review. When we first started using the site, the first impression we got was "scam" — even though the site really is legit. The entire thing looks like one of those popup ads about a hot MILF near you. The design, phrasing, and exclamation points all over the place are really off-putting.
Also, abbreviations offered for the LGBTQ community — TS/TV/TG — might not be the best choice. For a hookup website that offers such a variety of content and options for the said community members, they should really work on the vocabulary.
But let's be honest, the Adult Dating Patrol is all about hook ups, and we're not going to act like the high and mighty grammar police and dismiss such a gigantic opportunity over minor details like we mentioned above.
If you decide to go and register on Adult Friend Finder, (which we urge you to do based on the success we've had) we have to warn you: the picture of a girl on the Adult Friend Finder's webpage is actually a video, and it starts talking as soon as you click on it. Hence, it would be good to put on headphones or put the computer on mute beforehand if you are at work or around someone who you don't want to know what you are up to.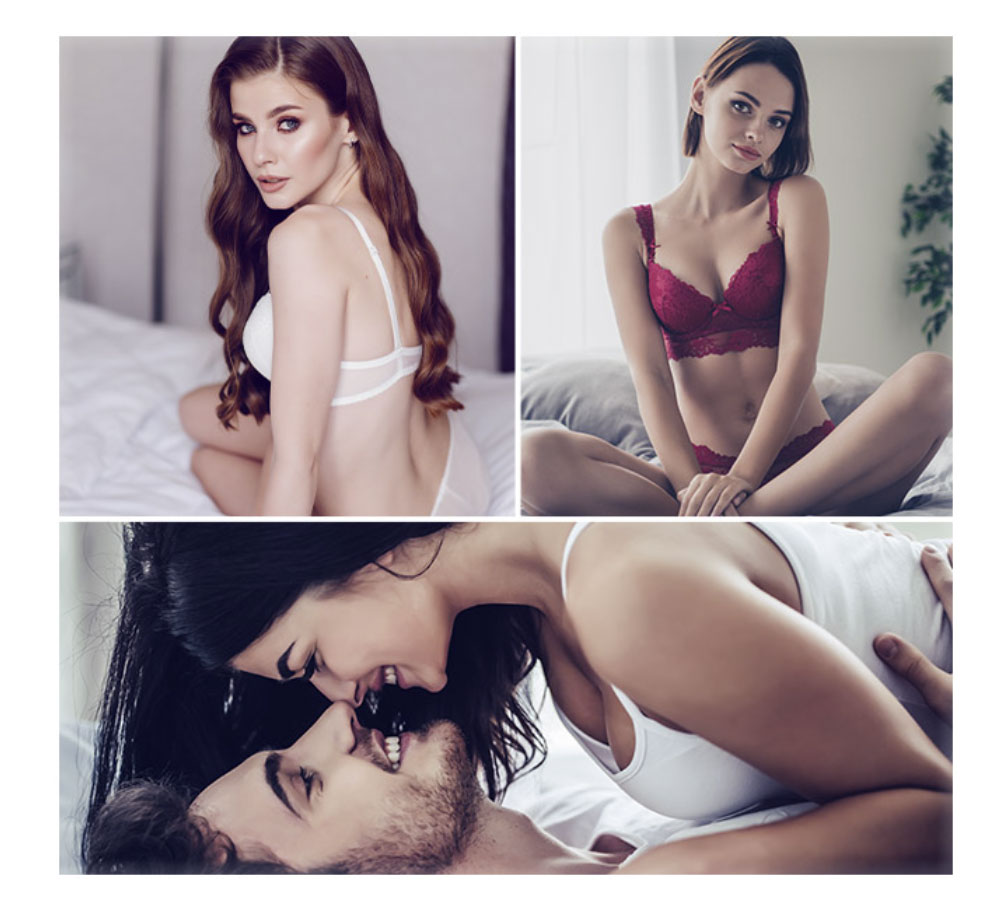 Adult Friend Finder Review: Finding a Match
Compared to its competitors, such as Ashley Madison or Flirt, the Adult Friend Finder website and app leads by the number of people visiting or registering each day.
However, many hookup-centered websites boast about having many users, when in reality, most of the profiles are fake, inactive, or scams. And if those profiles are not taken down regularly, it can be highly frustrating to members trying to have a smooth dating experience.
Just imagine trying to find someone with similar interests among thousands of profiles and having to fight your way through bots, Toby's multiple accounts, and catfishes.
Adult Friend Finder says they put in time and effort to remove such accounts. And, some users confirm that, compared to similar websites, there are fewer pointless accounts on Adult Friend Finder. Still, no one can guarantee you won't come across scammers or fake accounts; you just have to find your way around them, this goes for any website or app in this very catty space.
Adult Friend Finder's website and app have an excellent filter to sort out users and find potential partners. Here are a couple of filtering options we chose to use:
Filtering by age
Search by locations
Search by interests
Assortment by types of profiles (singles, couples, etc.)
We could also find members according to their last login date. This option is great when you want to find the most active members, because an active member is a horny member.
Like all the other adult sites, Adult Friend Finder has provided us with a list of potential matches and lets you know who is geographically close to you.
When You Start Getting Messages
The message section works as an email account. For example, we could mark messages as read or important.
We didn't even have to put up a profile pic to start getting crude messages. But, hey, there are creeps everywhere. So, in a load of messages we have begun receiving almost immediately, we had to find a way to sort through to find the best hookup options.
First, we needed to learn how to recognize bots. They usually send generic messages like: Hey there, big boy. Wanna hook up? And they answer in a matter of seconds. Although it is tempting to answer these messages, they are just a waste of time. Fair warning: if you use free membership, there are a lot of bots.
Next, there are messages designed to encourage you to pay for membership to continue chatting. By the way, constantly asking for paid membership is one of the Adult Friend Finder's downsides.
Unfortunately, no one could save us from scammers. We kept getting messages like: I have tons of money overseas; I just need to borrow some to access it, or My friend just died, and I don't know how to pay for the funeral. The general rule here is not to give your money or personal info to anyone on Adult Friend Finder.  Just move on and find your sexual partners and don't let the bad apples get in your way.
In the end, there are also the catfishes. But that's not new; every hookup-centered site has them. There's no definite way of recognizing them, but one major red flag can be that they won't do video chat or their photos look fake.
However, while writing this Adult Friend Finder Review, we were lucky to receive a SEVERAL friendly messages from real people as well.
Special Features
On Adult Friend Finder, users can share erotic content in any form — text, picture, video, or live stream. The site, and the app for that matter, prohibit sharing any violent or offensive content, but aside from that, everything is allowed. So, expect to see a lot of dick pics. And we do mean a lot.
Blogging
One of the most notable features is the possibility of writing a blog. People usually write about their sexual adventures with added pictures or videos. The more content you post, the more visible your profile gets.
However, it is important to mention that product or service promotion is prohibited. And not abiding by these rules can get you banned from the site.
Chat Models
Active members (minimum three months of paid membership) can become chat models. To become a chat model, we didn't have to pay anything extra and could do it for an unlimited time. However, we needed to provide a profile picture and some personal info, like location, for this feature.
Live Action
The most interesting option was Live Action, which enabled us to have online hookups, live communications, and on-the-spot web dating. We could watch attractive models through their web cameras in erotic situations like in the bathroom and such. There are men, women, trans people, pansexual people, couples, threesomes, solo sessions, and more.
The thing with webcam models is that they love being showered with attention and are hoping to earn some money. We were able to get them to do some stuff for a certain price, but they are usually not up for meeting in person.
Free Membership vs. Paid Membership
With a free membership, we could do a fair amount of exploring and see and like most of the profiles. But, on the other hand, there's limited messaging and emailing, and many chat rooms are off limits. In addition, following blogs and other profiles is not available for free members and our own profile's visibility was very low. So, basically, there's little to no chance of getting a hookup with a free membership.
We could unlock a lot of juicier content with a premium membership. It is called a Gold membership, and you can get it by paying or by earning points. If you are a free member, you can earn points with some on-site activity.
VIP status can be purchased as well. There are also some special packages available only to exclusive members.
Being a Gold member means high visibility, advanced searches, and limitless messaging. After becoming Gold members, we could see all the profiles, even those with private albums and videos. One more bonus was that we could enter hidden chats and streams.
To sum up, the more you pay, the more success you have on the Adult Friend Finder, which is not uncommon, but it's still a bummer.
Pro tip: Most girls do not even consider guys without a premium membership. Paying for Gold membership just gives more credibility to the person behind the profile.
So, you can purchase the membership for the following prices:
One month: $40
Three months: $80 for a one-off sum
Twelve months: $240 for a one-off payment for a year-long membership
At the moment of writing this Adult Friend Finder Review, the website didn't accept PayPal or cryptocurrency.
Adult Friend Finder Review: Is It Safe?
According to the Dating-Experts.org report on the best dating websites in the US, Adult Friend Finder is listed as a trusted and safe website and app.
Final Thoughts
Adult Friend Finder is a space for people who are tired of Tinder and are searching for an easy hookup.
Maybe the biggest flaws we have found when doing this Adult Friend Finder review are the website's sketchy appearance, outdated graphics, and too many ads – but again, we never let that bother us because a company in business this long with such a great track record knows a thing or two about marketing that we don't.
On the other hand, Adult Friend Finder is very easy to use and creates a pressure-free situation to get what you want without insulting anyone. Everyone is there for the same reason, and you don't have to explain yourself or give excuses. Moreover, it's niche-friendly and has a lot of exciting features. For the best experience, sign up for a Gold membership.
All in all, no dating site is perfect. But, while doing this Adult Friend Finder review, we have found that the website is well populated, quick, easy, and it works. With a bit of exploring, you can find erotic pleasure, as well as cyber and real-life partners for casual sex.  To date our staff can report we've had sexual encounters on this site, so you can rest assured that Adultfriend Finder is LEGIT.