It was very simple to uncover the deceptive ways of WellHello.com. I need to emphasize that the site uses almost all classic methods for luring in horny people into getting their credit card into the open and paying for their advanced services.
Even the site design or the other features are not that spectacular, but people still manage to get scammed by such simple techniques – can you believe it? Don't fall for the rip-off methods of Well Hello.com – read below to find out more why
Authenticity of Well Hello
When an adult dating site operates only under premium memberships, I instantly smell something fishy. Do they want to sell you nothing for something for nothing?
Always be vigilant when someone asks you to give money for services you can not check – guarantee only is not enough and if you have been scammed once, you wouldn't want to fall for the same scheme again. WellHello.com will not let you test the site because almost all features are under the premium membership and will be available only when you pay – and then, as you may assume, is too late.
Why is WellHello.com a Fraudulent Dating Site
The background check of WellHello.com was very straightforward. I didn't need to use any of my second-level investigation techniques because the scam was obvious from the signup, from browsing the Terms and the Condition and from the Privacy Policy. I found everything that I needed and more. This site operates under greater risk than any else I have met in the online dating world. Here is why:
The full risk for the site use falls on users.
The site does not bear any risk whatsoever in how you interact with other users – in terms of internal security. For anything you do, post, comment or upload, you take the full responsibility. That does not seem so awful – does it? Well, wait a minute, not everyone is so decent and well-intentioned. Finding that one can do anything on a site is just the right chance for scammers and phishers to abuse your trust and data "YOU ASSUME ALL RISK WHEN USING THE SITE AND/OR THEIR SERVICES, including but not limited to all risks associated with any online or offline interactions with others.  IT IS YOUR RESPONSIBILITY TO TAKE ALL NECESSARY PRECAUTIONS WHEN MEETING OR INTERACTING WITH OTHER USERS.  You specifically acknowledge that we do not pre-screen or perform criminal background checks on our Users, nor do we verify that the information they provide to you, if any, is consistent with the information they provide to us."

Modification of your data without permission.
The details that you provide during your site memberships are becoming a property of the site, So, you are no longer the owner of your own stuff. This sounds very inconvenient and dangerous to me, so you should always be on guard when you have no right to withdraw or change any personal information. It is like giving a piece of your life to someone else and authorizing them to take charge of your own destiny. "You agree that Smoochy Brands has the right (but not the obligation) to access, re-arrange, modify and remove or restrict access to any Site Content, including Your Content, in its sole discretion and without notice or compensation to you. "

Premium membership fee changes are made ad hoc.
Not only are all features under the premium membership, but they can be changed abruptly, without prior notice, and you give the right to be notified of such scammy methods only after the action is complete: "WE RESERVE THE RIGHT, AT ANY TIME, TO CHANGE OUR FEES AND BILLING METHODS, INCLUDING THE ADDITION OF SUPPLEMENTAL FEES OR SEPARATE CHARGES FOR CONTENT OR SERVICES OR CHANGES TO SERVICES ASSOCIATED WITH VARIOUS MEMBERSHIP OPTIONS, EFFECTIVE THIRTY (30) DAYS AFTER AN ONLINE POSTING.  WE MAY ADDITIONALLY PROVIDE NOTICE OF BILLING CHANGES VIA EMAIL." Hey, that is not what you agreed upon, right? What a con!

Bad user feedback and comments.
Associated with the above, I went ahead to check comments about Well Hello in the adult dating community, trying to find some signals that there is something to it. However, unsurprisingly, I couldn't find any and I spent a significant chunk of my time trying to double-check fraudulent indications.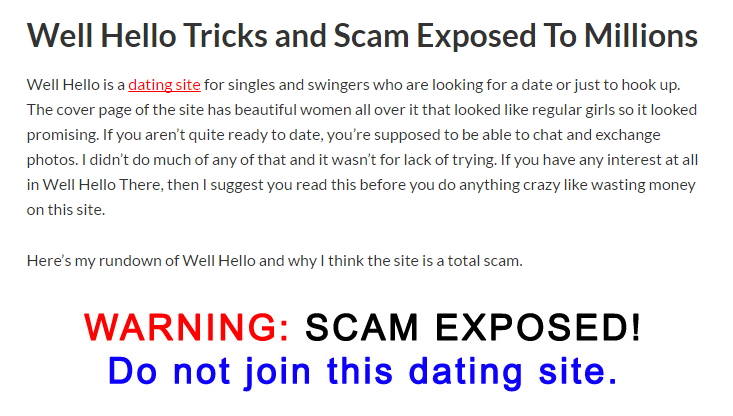 No reputation in the online world.
This one is a big no-no for my reviews, and when there is nothing on there for adult dating sites, I immediately get it that the site is new, almost non-existent except for "on paper" or in this case "on screen" and wants to imitate the real deal, when in reality is totally fake. Actually, I did find some comments about WellHello.com online but all of them were not so great and indicated fraudulent strategy applied by WellHello.com.

Price Tag
Apart from basic browsing, no free activity is available for members – only paid Premium memberships:
24-hour trial for $1.00

Annual Premium membership for $9.99 per month.

Monthly Premium membership for $29.99.
Busted or Trusted
Thanks to my simple first-level check-up I uncovered all fake claims behind the methods of WellHello.com.
Don't trust this conning site for finding you a quick hookup, as it claims to do what it doesn't, trying to get as much money from you as possible, offering even a guarantee that starts working only after you try all other tricks to get laid, most of them including your credit card and getting it out of your pocket without limits. You have been warned.