TheCougarLounge.co.uk is a commercial dating platform for meeting older women. Our review didn't justify the good-looking interface and the solid technical organization. The hookup site has very suspicious looking profiles which can be related to the marketing communications strategy. On top of everything, they sell many additional paid services that will not do any good for your hot desires. They just don't work and will rip you off for nothing. Don't hope for meeting a hot milf here!
Is TheCougarLounge.co.uk Legit?
TheCougarDatingLounge.co.uk is primarily for the UK adult dating community and it won't work in all locations. As things stand at the moment, that may just be a good thing. If you are unable to log in and create an account from everywhere, consider that your lucky day. You should also keep in mind that the site membership is paid in UK pounds when you do your math for the cost-value of you getting laid (if ever).
Why is TheCougarLounge.co.uk a Fraudulent Hookup App
The commercial way of doing business is just a part of the casual sex scam for this application. It also sells other perks to keep you hooked and if you get into the drum, you are not getting out anytime soon. Here is why I don't trust TheCougarDating.co.uk and its faulty shenanigans:
TheCougarDating.co.uk Changes Rates with Manipulating Promotions
The registration is free but using the site is not. The only thing available for free is browsing through the profiles and sensing winks. You are not able to read girl's messages unless you get an upgrade. The upgrade screen pops us when you compose the message and try to hit send, as well as when you click on a chat that a girl has sent you. If you get a subscription with a promo or a coupon, be careful when your subscription runs out – the end dates may not be clear.

You Will Receive Marketing Messages from TheCougarLounge.co.uk
You register, you log in and you start browsing girls for hooking up. Will you have it easy to do your thing and find a girl to get laid? The short and simple answer is no. Not only will you not be able to send a chat message if you don't buy an expensive subscription, but you will also get tons of other offers that will just mess up your time and complicate the real purpose of the site. The hoodwink is there, but it takes only a few minutes of browsing to remove it.

Subscriptions are One Thing: Virtual Gifts & Credits Are Another
If you want to become a member of TheCougarLounge.co.uk, you need to pay the basic rates (more details are included in the Price Tag section) but there are other chances to get ripped off, too. The extra payments are called simply "Extras". You can also buy bolt-ons to manage your subscription. This section is so unclear and confusing that almost anything can be put under the relevant payments and twisted. Are you clear with what you need to pay and what you get for your money? Me neither!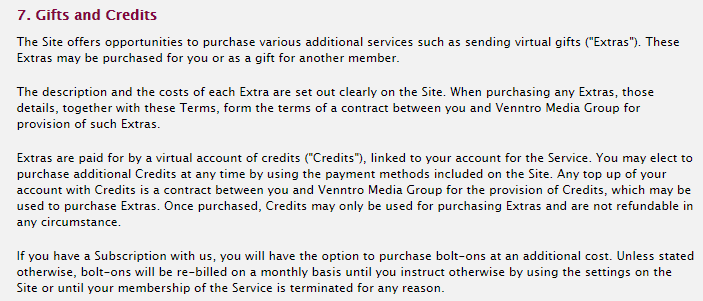 TheCougarDating.co.uk Works With Associate Websites
We see this repetitive trick of faulty online dating sites among many dating providers. Set the deceptive strategy, design the features, get hold of the way hookup apps work and the psychology of online daters, and then just reiterate the scam with new landing pages and the same member database. Watch out for your profile cropping up on the associated websites.

You Can't Communicate Unless You Upgrade
Let me illustrate this with an example. I tried sending a message to the sexy milf Molly who seemed to show some interest after I winked at her. She was quick to reply, almost as quick as a bot will do, in the very second. That is why I don't believe that Molly was a real person. Do you know why else I don't believe that TheCougarLounge.co.uk is working with real women? Because you can't do anything else until you upgrade. These messages are sent only as baits.

Price Tag
6-month membership to TheCougarDating.co.uk is £104.95
3-month membership to TheCougarDating.co.uk is £59.95
1-month membership to TheCougarDating.co.uk is £14.58
Busted or Trusted?
TheCougarLounge.co.uk is not a real site for milf dating. I have removed all my doubts of finding any real girls for hookups here. Luckily, I didn't get any of the pricey subscriptions, I only went for a month to test the site for a while. I sure hope that there are no many others who paid over a 100 quid for nothing!