Dating Latina women can be a lot of fun. In fact, so many guys I know prefer hooking up with girls from exotic South American countries. Lollyburst.net works its fake subscriptions around this important piece of knowledge. This casual sex scam has set a fraudulent dating site following the example of Amolatina.com. If you are a fan of the hot girls with olive skin and hot temper when it comes to life and bed, be careful. Lollyburst.net will cost you a lot.
Authenticity of LollyBurst
When it comes to copying other dating websites, we are getting used to finding that many of the new resources that we discover are not at all original. For example, Lollyburst.net has a link to AmoLatina.com on the home page but will anyone be so attentive to notice this fact? Even if you see the link if you don't know anything about the quality of the other dating service, you can still fall into the overpayment trap. Assuming that you don't know that there are free hookup sites, you will pay large amounts of money just to be able to send messages on Lollyburst.net. Yes, this is one naughty service to mess with!
Why is LollyBurst.Net an Online Dating Scam
The greatest problem on Lollyburst.net is the super-high prices, but the poor security and the third party suppliers are not naive, too.
All Users Must Purchase Credits to be Able to Use Chats
Lollyburst.net visitors and subscribers don't get the site for free. The only thing that is available without payment is the basic registration. This is only a signup screen and there is no way that you are getting laid with only this first step. Lollyburst.net can make you think that you are all in, but the scam will become obvious once you get browsing and try hooking up with some of the latina women on this dating site.
Depending on the type of service, you need to submit a certain number of credits that are not given for free. it is obvious that Lollyburst.net pulls off a commercial dating platform where it is charging you money without any promises or guarantees that you will get a sex date. You need to pay a basic fee of $9.99 per month and then purchase extra credits which are equivalent to the following services: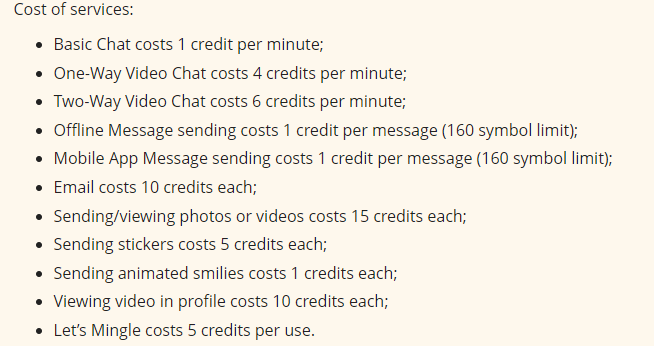 Lollyburst.net Offers Poor Guarantees by Third-Party Suppliers
In the usual way of questionable hookup sites, Lollyburst.net connects the services to third-party suppliers which are associated with some products, but that do not fall under the same provisions of the site policies. Talking about responsibility avoidance! Here are the factors that can jeopardize your privacy and security if you don't check the terms that apply to these alternative resources:

Here is a checklist of the above description to keep it handy when you are in need:
Suppliers provide registration details to Lollyburst.net
The services must be properly translated
The services provided are in accordance with both user policies
Additional services may not be automatically granted
No responsibility for the services by third-party suppliers
Price Tag
Here is what you get with the basic $9.99 monthly membership fee:
One-time package of 20 Welcome Credits
10 3-minute Live Chat sessions
Free intro messages
Additional credit packages with from $0.4 to $0.8 per credit
Busted or Trusted?
If you think that a site that only links to AmoLatina.com can be trusted then, by all means, be our guest and try finding a casual hookup on Lollyburts.net! As things stand at the moment, this is only an extra page to attract as many new users who are unaware of the flakey works of AmoLatina.com and start paying significant amounts of dollars to get credits. Busted!