DatingAffair.com lures people in by promising fake options for discreet hookups. It is nice to join an online dating service and get laid without consequences, but only if it is the truth. If you are entertained by fake profiles all the time, the registration will not be so great fun. In the end, it will turn into a nightmare for you.
So, if you want to avoid this hookup scam, as well as get to the basics of others, read more below.
Authenticity
Once I see those Online Cupids, I know that I am in for a huge scam. These fake profiles have a convenient marketing name. Users can easily fool themselves when chatting with one.
It doesn't really matter that the warning is included on the registration screen. What matters is that people still fall for it and pay ridiculous membership fees for nothing. With DatingAffair.com, all you will get are bogus messages from bogus women created by computer software.
Why is DatingAffair.com a Successful Dating Scam
Online Cupids are the real problem on DatingAffair.com. I still get pissed off when I get complaints from new users who have been duped. Most of them are quick to jump through the registration screen and don't really need everything they go for.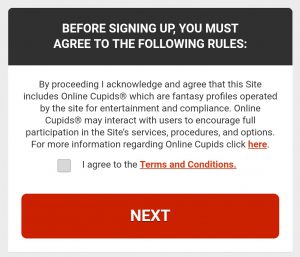 So, even if it feels too good to be true to be contacted by so many women all at once, people fall for that. Before you become the next victim, you need to understand more about the fake nature of DatingAffair.com. All these girls marked with the sign of Online Cupids are made by computers and are solely for entertainment purposes. If you expect that you will meet with any of these hot girls, you are totally wrong. It is clearly stated in the Terms and Conditions:
False Electronic Messages

They are not only fake with the pictures, but they are also totally bogus when they communicate. The system set by DatingAffair.com works with already prepared sets of messages which are targeting naive new users. They know exactly what works for people who really want to get laid.
When you join, they immediately start sending a flood of messages to your email inbox and to your chat message inbox. You think all those emails are by hot women who want to hook up with you?! False! All that is just a cleverly exploited scam for those who fall for the good design of DatingAffair.com.
You Pay Interest
Normally, nothing is for free. Not only will you chat with computer bots, but you will also need to pay interest in case your card fails. The interest is at least 1.5% per day, which, after a month, can accumulate to a total rip-off. Beware the additional small fees for banking, processing etc. – they will come on and on!
Third-Party Links With Dubious T&C
Imagine this – you keep reading all the rules on the Terms and Conditions page, and suddenly you find out that you are on to some third-party link which has its own rules that have nothing to do with the main page. The rules on the third-party links are separate and independent.
You should not base your decisions about subscribing on the main page. Check each link carefully. Actually, DatingAffair.com may use the side links to trick you into unrelated services with different rules.

Price Tag
$1.95 for a 3-day trial subscription or $29.95 per month at renewal
$29.95 for 1-month package
$49.50 for a 3-month package
$69.90 for a 6-month package
Busted or Trusted?
DatingAffair.com is a casual sex scam which is busted due to the fake profiles, the automated messages, and the oh-so-popular fraud with the Online Cupids. It has been on the fake dating scene for over a decade. Will it really stay online for that long?