The fact is, if you are not too old, you already have Snapchat installed on your smartphone and are a whiz for using it. Moreover, if you are a chick, you are probably the master of skillful selfies and sexy stories that offer a new kind of thrill due to their limited duration. You would think that an adult dating website with the same concept would provide the same thrill, right? And why not, that is a legitimate thought, but only if it involves authentic features and content from real people. Sadly, SnapFuck.com profiles are mostly fake, and you don't have too many chances to get laid.
Authenticity of Snap Fuck
I am not sure what to have on an adult dating service that is like another one – it is not that applications are not "stealing" or borrowing each other's idea (hell, even giant Facebook "borrowed" the 'My Day' feature from Snapchat) but rarely do they include fake profiles and clearly state the idea that they do so. While I wouldn't actually recommend a site as authentic, I cannot pause and think about many other services which use the same fraudulent methods as SnapFuck.com but don't mention that. Still, this is not a place that encourages profile verification or genuine women – you'll have to deal with fakers!
Why is SnapFuck.com an Online Dating Scam
Fabricated profiles work under the name 'Fantasy Service.'
Would you like to be a part of a social experiment? Well, we assume you do when you join SnapFuck.com, because this site does the usual fraudulent work as other scammers by using fictitious profiles, but on top of all, they also conduct behavioral studies – interesting, right? Now they want us for their guinea pigs! Here is the exact provision from the site:
"Yes, we do for testing and behavioral/social studies. Some of the user profiles posted on this Website are fictitious, and are associated with our "Virtual Profile" (VP) service. We designate these profiles with a written "VP" on the profile details page. Our VP service is part of our efforts to stimulate conversation with users to encourage further and broader participation in all of our Website's services, including the posting of additional information or pictures to our users' profiles."

The fake profiles use computer-generated content.
The chat is not real and can be sent to more than one person at once. The site does this to generate activity and lure in new customers to buy one of the paid premium packages:
"Initial messages from our VP service may be automatically generated with no human involvement, and third-party contractors hired or contracted by us may generate messages or correspondence from then on. The VP service is also intended to proactively monitor user activities and communications to ensure compliance with these terms".
Users can suffer severe indemnity losses.
This dangerous rule can put you into some serious trouble – if you agree to pay all these costs without knowing the exact amounts, you slammed in an unhappy occurrence of legal proceedings. My suggestion is to never join sites that make you agree to invisible and undefined indemnity costs. Look at what can be put on your back at SnapFuck.com: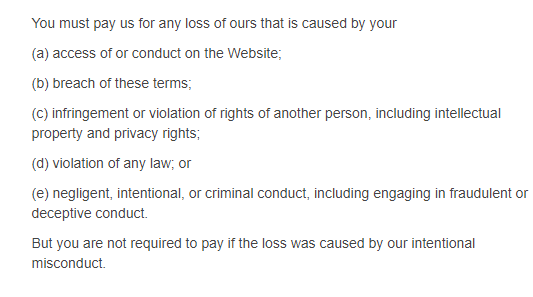 You must upgrade to view member pictures.
I tried browsing some member photos to see if I will be able to do anything with a girl without purchasing an upgrade. It turned out that my wild guess was true. I was not surprised – I usually recognize all dirty tricks and this required upgrade to view member pics has been on my screen so many times before, that I think I will start dreaming of it!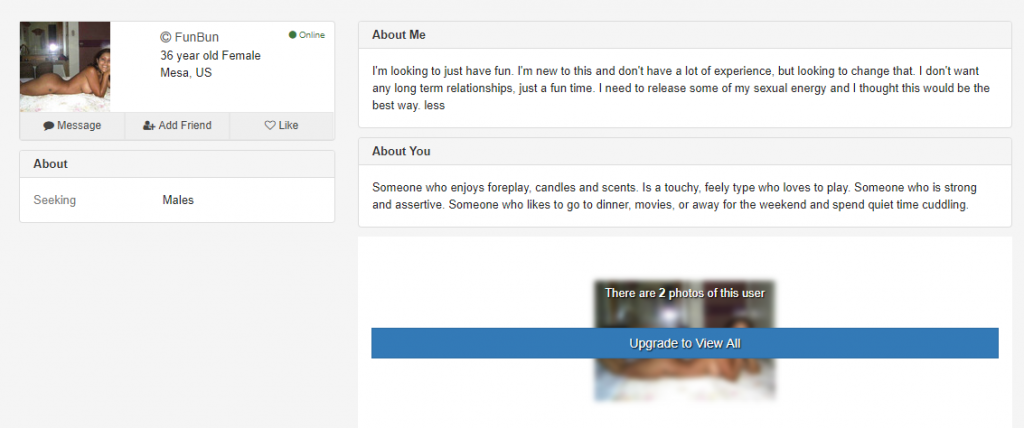 Price Tag
Daily trial is $5.95
One month of membership is $34.95
Three months of membership are $44.95
Six months of membership are $69.95
Busted or Trusted
Unfortunately, I can not give the gift of my trust to SnapFuck.com. Above all, this idea is not even original and by using a great idea from excellent dating sites like SnapBang or SnapSext this service is a double-dummy. Don't make the mistake of thinking that you are having to deal with a site of the same quality. Plenty of dangers lure around the corners of SnapFuck.com, and, if I were you, I would have stayed under the sun and avoided dark corners.