Today we meet again with our frenemies Bulova network. They are a really productive example of how a fraudulent idea can multiply in several ways and on multiple adult hookup sites to rip off as many customers as possible. Today, we are reviewing a hookup site called MeetWild.com which looks really impressive but will offer more distress than impressing our customers.
Authenticity of MeetWild In Question
So, here we are, an alive and vivid proof of Bulova network and their association with this site. If you thought that we forgot about them then you were wrong.It's just that we haven't encountered one of their very fake products lately – this is why MeetWild.com is a refreshment in our reviews but not refreshing in terms of the scammy ways used.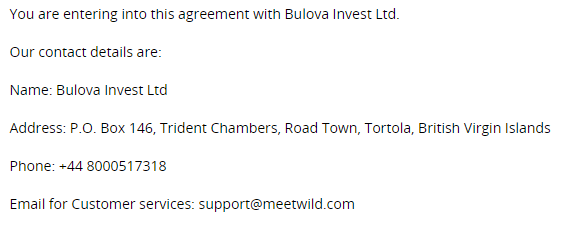 Meat Wild looks really nice and has the feel of a good quality hookup site for adult personals, but don't be fooled by the nice design. It's really a scam and below you will find out all the ways in which it scams you.
Why is MeetWild.com a Casual Sex Dating Scam
The scam is the same but that doesn't mean that it doesn't need a further elaboration. Here's why:
MeetWild.com Will Duplicate Your Profile Data Across the Network
Are you aware that you're giving a silent agreement to MeetWild.com to publish your data across the other sites on the network? The, you shouldn't be very surprised if you find out that your picture, or your physical description, or anything else you have uploaded on MeetWild.com is somewhere else on a hookup site totally unknown to you:

You Must Buy Extra SMS Packages for Mobile Use
Did you think that you can send messages to other users for free? MeetWild.com makes you painfully aware that you will need to pay for chatting. Even if you only use your phone for private encounters you're never sure if you will not get any additional charges on the side:

Fictive Profiles Are used to Simulate Real Users
The fictive profiles on MeetWild.com are called staff profiles. They need to simulate real women. When you join the site it will look like you're chatting with real users. On the contrary, they're not real at all. They are just simulators of real persons created by computer software. Their main tasks are entertainment, monitoring and promoting the site services:

MeetWild.com Incorporates Unsafe Links to Third-Party Websites
You will find out that there are many products and services on MeetWild.com. Keep in mind that they're not all managed by the main website or the main company – Bulova they keep themselves safe and refrain from responsibility by explaining this fact n the Terms and Conditions. Thus, the links to the third party websites need to be checked by you. So, open your eyes and read the documents on the third-party sites by yourself!

Users Get Automated Messages Called Activity Alerts to Fake Chats
Another annoying task of the Staff Profile is to send promotional messages called Activity Alerts. They are usually all for advertising purposes or for changes happening on the site. Additionally, they can include some flirty texts from the virtual profiles with the aim to keep you on the sex dating app and make you get another purchase:

Price Tag
$4.07 for a 3-day trial
$35.64 for a 1-month subscription
$59.69 for a 3-month subscription
$93.86 for a 6-month subscription
Busted or Trusted?
While we are wrapping up this comprehensive review of the fraud performed at MeetWild.com, you won't need another persuasion if you have a look at some of the other reviews associated with Bulova network. Just type in the tag "Bulova" in the search field on Adult Dating Patrol and you will uncover the scope of the scam. Here are some associated examples of sites you are not getting laid on – LustyLocals.com and WantUBad.com work with the same tricks.