Do you have naughty dreams at night? Do you have fantasies about fulfilling those naughty dreams on adult dating sites? Well, if you do MyNaughtyDreams.com it's not going to be the place where you're going to fulfill them. There is more than one reason why you shouldn't join this hookup site but let's look at the three most important ones presented as a comparison guide.
My Naughty Dreams Scam
This adult dating site looks really stunning on the front page. The member area is not that impressive. It gets even less impressive when you discover all fake aspects that look one way in the front end and totally different than the front at the back end. Here's are some of the "over the top" descriptions of MyNaughtyDreams.com that serve only for marketing brainwashing and have no real value:

Why is MyNaughtyDreams.com a False Hookup Site
Below we made a comparison guide of three critical aspects of this sex dating site that will make you more clear why is this a scam.
Your Membership is Under Several Privacy Risks
What the front page says about security:
Should you be confident about your membership on MyNaughtyDreams.com? This is what it looks like if only what you read is the front page. If you make your judgment based on that, you're in deep trouble.

The truth about security:
Not only will this dating site be creating duplicate profiles across the network but it will also use and share your photographs with full licensing rights as it is their own property.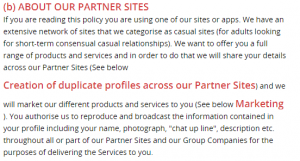 MyNaughtyDreams.com Dupes You on the Front Page!
Here is the first sign of blatant lies If you look at the front page you will see that they are only using real profiles. It is explicitly stated in big large bold letters just next to the cutie this is supposedly going to date you:

But the story in the Terms and Conditions is totally different. This is where you learn the truth about MyNaughtyDreams.com. They create staff profiles that are fabricated bots made to look like real women. They are only used to attract as many new customers and sell as many new subscriptions as possible:

Mobile Friendly? Prepare for a Nasty Surprise
Mobile-friendly in the case of MyNaughtyDreams.com can mean only one – this is just another way to sell you a fake product. When you visit Google Play or the App store you will overpay not only the basic subscription, but you may be charged additional fees which are included in the third party providers:

On top of that, you pay additional fees for SMS messages. Be wary of how you use your mobile phone on MyNaughtyDreams.com. For starters, use only the chat. Then you will discover that you're dealing with virtual and fake profiles and most probably even don't want to buy SMS deals:

Price Tag
$4.07 for a 3-day trial
$35.64 for a 1-month subscription
$59.69 for a 3-month subscription
$93.86 for a 6-month subscription
Busted or Trusted?
MyNaughtyDreams.com will not help you get laid. Forget about one night stands or successful hookups on MyNaughtyDreams.com. This fraudulent dating website will quickly become one of your least favorites when you unveil what is really behind the empty promises.