Mixxxer.com is one pretty specific dating application that is only available from a random store. It is not for sale at Google Play and iTunes. The designers say that is because it provides adult services. However, this review exposed that it is a good way to pass some rules and create a classic "it's free" scam. When you try to use its services you will very quickly understand it is not.
Authenticity
You can sign up for Mixxxer.com from a desktop interface but you must log in and use the application from a mobile. It is impossible to see all features from a computer. This may be the main reason why people fall into the trap, register and then see that they must pay an upgrade. Privacy is also not too spectacular since the site has an open advertising policy. Almost anyone can become an advertising partner and place their own privacy policy over which Mixxxer has no control.
Why is Mixxxer.com a Fraudulent Dating Tool
There are several problems pertaining to Mixxxer.com and most of them are about fees but let's skip through the content to see what else stinks scam:
Mixxxer.com will send you computer-generated messages.
This is a usual promotional practice of fraudulent dating sites who use site membership to pester you with all types of content you need. The greater problem is that these agents are usually a part of the dating community and you may mix them up with other, verified users:

The site applies a no-refund policy.
When so many great dating applications offer guarantees and extended memberships for users who fail to hook up, why would someone want to join a "no refund" site? You guessed it right – because it is a fraud that wants to rip people off.

Your data on Mixxxer.com is shared with additional service providers.
We mentioned the free advertising policy. The site has a public contact form available to anyone who wants to become a partner. It doesn't review or control other site's terms and conditions. This means that the regulatory documents can contain anything – it is not enough for you to just read the main document. If you wanted to go through each document, you would have joined a separate provider, right? This just has scam written all over it.

Here are the screens on the mobile dating app. This is what you get when you try to chat with someone or check out who has viewed your profile: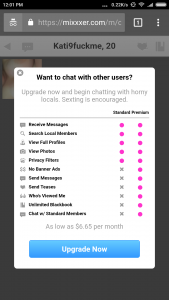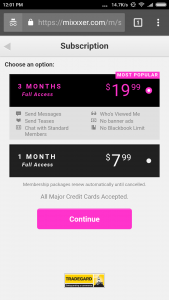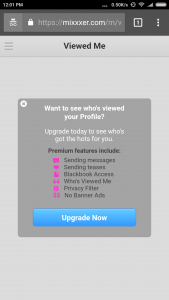 Price Tag
Monthly rate is $7.99
Three-month rate is $19.99
Busted or Trusted
Why would anyone want to limit the application to a mobile only? A legitimate site would for sure want to get more users from more devices and enable everything that is necessary for a dating tool to work properly. Offering one thing on a desktop device and then replacing the offer with something different on a mobile application is a surefire sign of a fraud. Join at your own risk!