LocalMilf.com takes it further in the world of online dating scams as it uses more than one well-known method to scam people. We reviewed the site features in detail and found many problems around them. First of all, again we are dealing with the awful "fantasy cuties" which are nothing else but bots. If this weren't enough, users need to pay tokens for communicating and stay clear of mixing up the actual dating profiles with cam girls or something else of the services.
Authenticity of LocalMilf.com
Here we present a visual proof of the fact that LocalMilf.com uses fake profiles called fantasy cuties. if you follow the signup process and our reviews, you will find out that LocalMilf.com is tightly associated with other adult dating sites that pull off the same con. So, this is the registration screen and the message about the fake profiles that you get just before you start registering. The same process is explained in details in the next section. This is just a reference for people who don't have too much on their hands to read full reviews. Wouldn't you be very suspicious of a hookup app that uses the attract and setup system?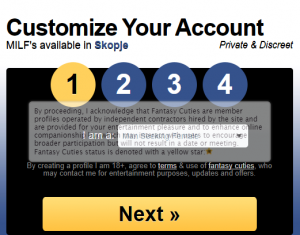 Why is LocalMilf.com Online Dating Con
Here is a very short and simple guide to explain the scam made by LocalMilf.com. These four subheadings will be enough to persuade even the greatest disbeliever in scams. Read below to learn more about what we revealed when reviewing LocalMilf.com.
LocalMilf.Com Set a System for Computer-Generated Messages
This statement is included in the site's Terms of Use, and here we inserted a picture to get a visual hint. Computer-generated messages are nothing else but programming tools that create rubbish content that does not come from the mouth of a normal person. It is made by software and used by the same profiles that are not real people. Let us summarize – fake people, fake chats. Is there anything real? Yep, probably the commercials!

Fantasy Profiles for "Entertainment Purposes Only"
Is it not nasty to interact with fabricated profiles thinking they are real? Truth be told, LocalMilf.com doesn't claim to have all profiles that are genuine. However, the short visit on the fake hookup app showed that most of them carry the FS letters next to their name. Despite the number of messages in our inbox, all of them were just fake!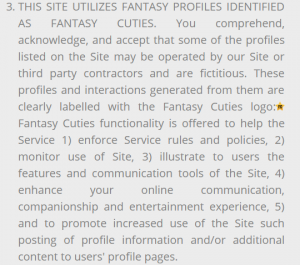 Auto-Renewals Get Higher Monthly Prices
Be particularly careful when you go to give your credit card details to LocalMilf.Com. The renewals are automatic, but the sum is not the same! If you get one of the promotional offers that come at a lower price, do not expect to get the same deal at renewal. The next step for LocalMilf.com is to charge you by month. That accumulates to a whopping $500 for six months for the basic services.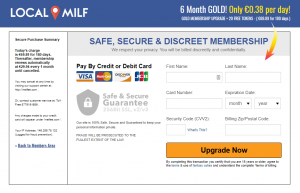 LocalMilf.com Has a Commercial SMS Program
Hold on! You also need to pay for the SMS charges by getting token packages! No free SMS, no real chats, no real girls, what else there is discover on LocalMilf.com? Did we forget about the paid cams and adult videos? And what about the annoying commercials? Plenty of inventive ways to charge more and provide less.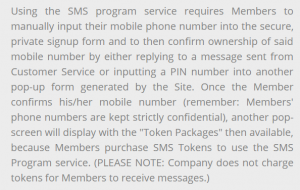 Price Tag
$8.91 for a 3 day trial on LocalMilf.com renewing for the full monthly price of $34.95.
$29.95 for a 1-month subscription
$16.65 a month for a 3-month subscription renewing for $29.95.
$11.65 a month for a 6-month subscription renewing for $29.95.
Busted or Trusted?
LocalMilf.com is the classi of classic online dating scams. You don't even need us to tell you that! You can take an onlin tour and browse reviews to get to the grip of the con tricks executed by this fictive dating app. No wonder it is so easy to get in for free! Only to find out that you will be used as a catch for money extortion!