Well, one really couldn't get to the end of Members-Dating.Com. They only show up on the web screen after you complete other steps on other dating sites. In fact, I went through several other dating hookups to get to the service of Member-Dating.com – LocalDates247.com and SnapMilfs.com are just two of them. It works in a weird way when you start from one place and end up on totally another. In any case, once I saw that  I am dealing with the credit card preauthorization scam, I knew I'm in a big trouble.
Authenticity of Snapmilfs / Members-Dating
The fact is that a cute and smiling girl shows on the payment screen where you need to fill out your credit card details making you feel that you are on the top of the world dating-wise. It will be very easy to fall for this catch and the rest of the features described below. As you can see, there is nothing special about them – they are pretty basic and you don't get a treat for your money.
IM Live chat
Unlimited photo downloads
E-mails communications
Member profile highlights
Priority search ranking
Smart match detector
Why is Members-Dating.com a Fake Hookup App
Where do I even start with the fake Members-Dating.com interface? As you can see below, the site links to SnapMilfs.com, another famous and prominent dating scam that uses the same tricks to get people in. The nasty fraud is so low-level, that it really pains me it still exists after so many years of revealing online dating scams!
One would think that in the digital age people get more aware and know more about all ways in which fake companies can pull the wool over their eyes. But, no, a-a, there is no end to fraudulent people on the web. Members-Dating.com is one of the most common, most detrimental and most famous scams – and it still exists!
I get it that people like to get laid and that they want to do it online in a quick and simple way, but when they get into a rip-off, that is not what they are going to do! So many followers comment on how they have been duped with exactly the scam of Members-Dating.com. So, I think it is about time to explain it in a bit more detail.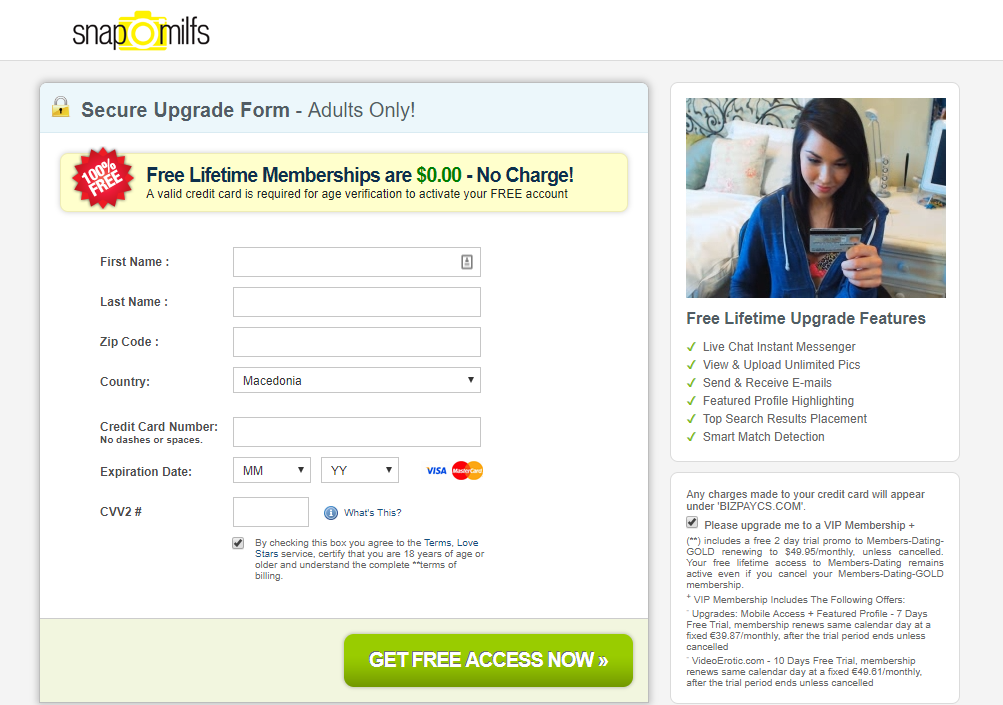 You get onto the payment screen and start filling out your card details, eager to complete the job as soon as possible. There lies the catch – you should open your eyes more! On the right section of the screen, you can see that there is a VIP membership. That is not all. Members-Dating.com has that box already checked! The total fee for a one-month membership goes well over a hundred dollars!
In addition, Members-Dating.com uses fake profiles called Love Stars. They are false women profiles that work as employees of SnapMilfs.com aka MembersDating.com to charge the added fee for you when you go for an upgrade. They use all types of convincing strategies, as well as aggressive sales methods – anything that works to get into the users' pockets. They will do anything they can: post a video with a cute girl, let her send you messages, chat you up, send you compliments, flirt with you.
Price Tag
Monthly subscription to the main service is $49.95
Monthly subscription to the video service is $39.61
Monthly subscription to video vibe is $28.87
Busted or Trusted?
If this is the only way you think that you are going to find a hookup using online dating sites, slow down – you are having it wrong. We do not make anything worthwhile as far as Members-Dating.com is in question. Save your hundred dollars for something way more rewarding, like for example – Milfplay.com or Snapsext.com!