SwipeHotties.com is another product of Nautell, but Nautell seems to have another name! The classic fraud dating site company's name is Tralox. The name might be different, but the scam is the same. Every aspect of the deceptive activities on SwipeHotties.com is there, but you should be specifically wary of the virtual profiles called Love Stars and from the additional costs caused by the SMS paid program and the poor online reviews.
SwipeHotties.com Review
If you are expecting a different story from a copied front page for more than twenty or thirty times, you must be crazy. Sorry to be so blunt and disrespectful, but sometimes that direct and straightforward approach must be applied to avoid worse consequences down the way. Call it tough love or call it rudeness, but take it into consideration. The screen with hundreds of naked or half-dressed girls has been used so many times on all scam related to Nautell, that one more is really not going to do the work.
Why is SwipeHotties.com a Fraudulent Dating Site
Here is an overview of the reasons behind our disbelief with SwipeHotties.com.
The Same Company Under Another Name Manages SwipeHotties.com
Just look at these letters and the formatting, and then compare them to any other review made about Nautell sites on Adult Dating Patrol. For example, have a look at FreeLifeTimeFuckDate.com or FreeSnapMilfs.com.
It is so easy to notice the likeness when you have it all at once. Evidently, these are the same hookup sites produced by the same company. It is not like companies cannot own many dating websites. The problem is that they are all scammy. When you see them in a bunch, it all becomes crystal clear!

False Female Profiles Interact With Users to Keep Them Stay and Pay
Love Stars are fabricated profiles at SwipeHotties.com that are software-created or managed by staff. Their purpose is to entertain you, seduce you, mess up with sexy chats and make you feel that you are a special guy attractive to a lot of women. That might be true, but they don't care about that. They care about you only when you get your card out of your pocket, fill out the details and get one of the expensive upgrades.

Users Bear All Costs of Marketing Communications
Not only will you get a massive amount of annoying messages which are totally not good for you, but you will also need to pay for all extra costs that occur as a result. For example, SMS costs are on the back of users. Additionally, other websites in the network, which are maybe as many as one hundred use your profile information and jeopardize your privacy.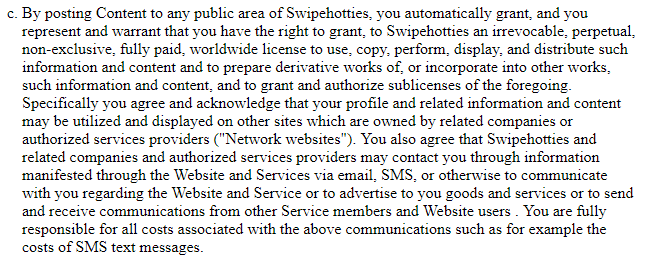 SwipeHotties.com is Busted With Cold Reviews About its Scam
No better proof of the site fraudulent workings when many people agree! In the case of SwipeHotties.com, all top search results indicate that it is one huge scam. We know that you have been persuaded by now, but it is never too much to have an additional glimpse into what other users think, if for nothing else, then only to complain together!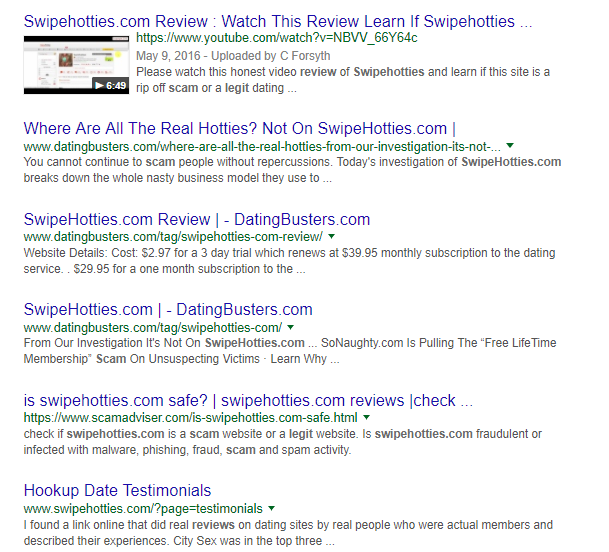 Price Tag
3-Day trial is $2.97 (renewing for $39.95 per month at the end of the trial).
1-Month subscription is $29.95
3-Month subscription is $74.85
6-Month subscription is $119.70
Busted or Trusted?
SwipeHotties.com is a slippery adult dating ride that has almost no real women's profiles. All of the messages in out inbox were sent by fake girls with fake photos. It is never a good deal to experiment with adult dating sites that look deceitful right from the start. Don't keep hoping that things will change in the future. Just leave it our from your bookmarks!