FriendFinder.com is such a famous name that it has already made a brand of its own. One would think that an industry that is so popular is definitely legit, but that cannot be further from the truth in the case of FriendFinder.com.
This so-called adult dating site is a top-notch rip-off business, implementing not one or two, but five extra fees on top of the basic level membership just to find ways to elicit cash from you until you see that there is no way out. No way in is a surefire recommendation made on Adult Dating Patrol's behalf.
Is FriendFinder.com Legit?
It is evident that FriendFinder.com is just utilizing a well-known phrase to build non-existent credibility, a fact which becomes painfully evident if you already took your credit card out of the pocket and provided your credit card information to the service which charges its membership fees in more than one way.
Better be aware and awake when you try to find someone for an adult hookup on this site, because you may just find a fabricated porn star profile invented and placed there, just to make you think that all users are as hot as the one in question, and provide your card to ease down the pressure as a result.
Here is a link to the most legit dating sites.
Why is FriendFinder.com a Fake Adult Dating App?
Here are the fraudulent ways in which FriendFinder.com grows its business on an almost invisible basis – evaluate for yourself and let us know in the comments if you share the opinion:
Multiple subsidiaries network.
Not only there is the FriendFinder.com Network which incorporates several sites with identical members database under each name, but there are also additional businesses that are called subsidiaries, getting a free share of your personal data. This is only so they can upsell you extra services and products that you may not need or have not agreed to give to them. This unethical marketing scam is a common practice of many fraudulent businesses and extremely popular on conning adult dating sites.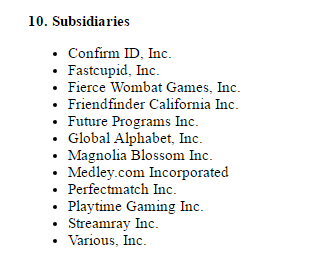 Changes in terms and conditions not informed in advance.
Hey, wait a minute! Not letting you know of changes in Terms and Conditions ahead and via email but just posting them randomly on the website and expecting timely revisions by users? This smells really bad and it lights up a huge red light in my set of dishonest criteria because it can basically mean anything. What does Friend Finder expect? That you are constantly online looking for new changes in the T&C documents? Totally scammy, almost foolish.

As I already mentioned, just watch at the additional fees that can be found on top of the basic fees related to this site – five! I have seen frauds where you get a plus handling fee, but FriendFinder.com has out-mastered all competition by applying several extra fee categories, such as usage fees, other fees, foreign transaction fees, promotional credits and alike. You better be prepared with a full account balance if you ever want to join FriendFinder.com and find someone to hookup (not!).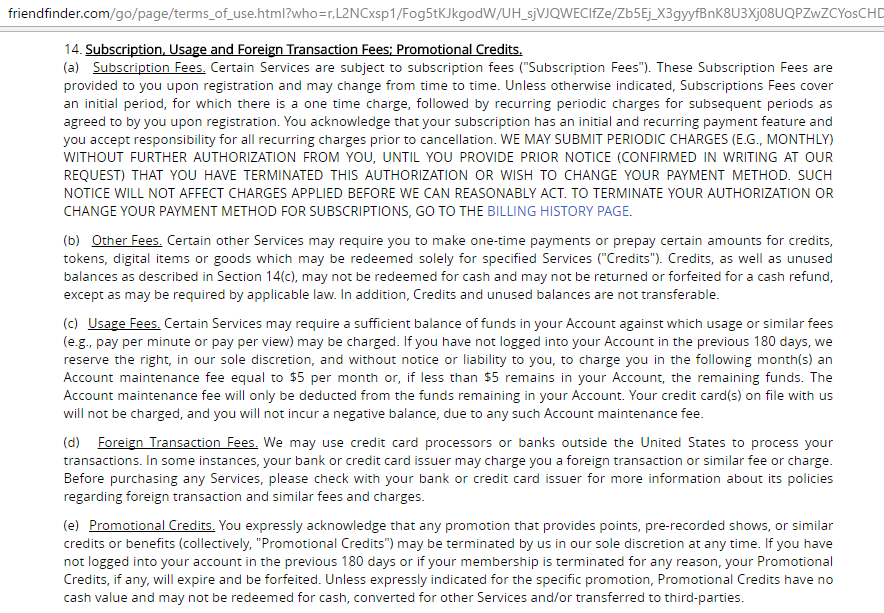 Photos of users are not factual.
Do you want to see actual images of the members that you intend to meet in person? That is understandable, but may not be the case. The dating site states that it applies photos from other people, and not real members. Why would anyone want to be fooled that they will meet someone non-existent, or at least not available on this site? Watch out, the trick gets even nastier in the next section.

Pornstar images utilized.
Yes, unfortunately for poor members, pictures from alleged other members are not real, but there are fabricated profiles, including real pornstar photos. Just have a look at his pic by the adult star Danie Daniels showing in the search results of FriendFinder.com: Do you think that Danie needs to search for sex hookups online when she is having all that sex while shooting movies? This is another evidence that the site just abuses attractive photos to let mouth-watering urges come to the forefront and make you forget about the fees that you need to pay.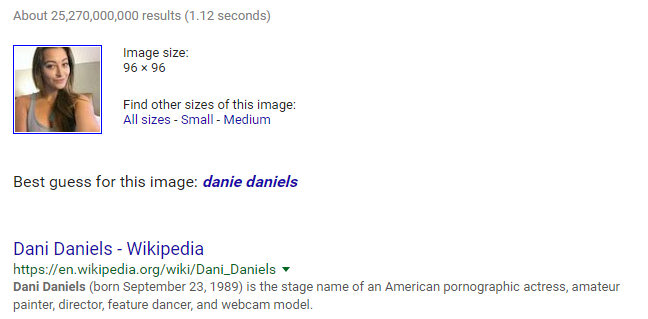 How Much Does FriendFinder.com Cost to Join?
There are two types of memberships, but watch out for the additional fees, too.
Silver Membership (with limited features)
One month – $22.94

Three months – $39.94

Twelve months  – $99.94
Gold Membership
One month – $34.94

Three months – $59.94

Twelve months – $139.94
Five types of fees in total:
Subscription fees

Usage fees

Other fees

Foreign transaction fees

Promotional credits
Why Our FriendFinder Review Grade is "F"
The deceitful strategy of FriendFinder.com is based on offering additional services which are charged with extra money and provide no guarantee that you are going to get laid ever.
Be very careful when you try to hook up with another user because you may not be talking to a real person at all. The risk assessment of this site was almost 80% on the negative side and I wouldn't want to see anyone burning their fingers and their budget on this fake dating tool.