Almost all fraudulent dating services use the same old deception – the trick with the false free subscription, and people still fall for it. Sometimes, it is beyond our knowledge how this happens but we guess that people really like freebies – especially when they include potential sex with hot chicks. So, when a hot girl chats you up, you can easily fall prey to her tactics, even if he is just a trained employee who wants to extort subscription from you, or even of she is a computer bot that does not have anything to do with being an actual human person. FreeLocalDates.com are a thing from the fantasy, and for sure not something you are going to find on this site.
How Authentic Is FreeLocalDates.com
The site starts with a normal dating service, but the genuine feel lasts only for a short while. You will quickly get that you are being duped when you start filling out your profile. Unless you click yes to agree to the Terms of Use (which include engagement of fictitious profiles) you are not allowed to get anywhere near the site. Your only option is clicking yes.
If you are clever (and by reading this review we believe that you will smarten up) this is the point where you will stop and turn over to another provider. In case you don't listen and fail to keep away, read further below to learn how to avoid subsequent traps and stay safe.  
Why is FreeLocalDate.com Illegitimate Dating Service
FreeLocalDates.com is NOT free.
Not only is this site not free, but you will be ripped-off in a pretty deceptive way. It starts with the promises of free membership, but that lasts only for a while until you try to become active on the site and try sending messages. However, let's first look into the card preauthorization that you must complete right after registration. They say you give that for age verification, but if you notice on the side, you will see that the small square box includes additional fees and is pre-checked!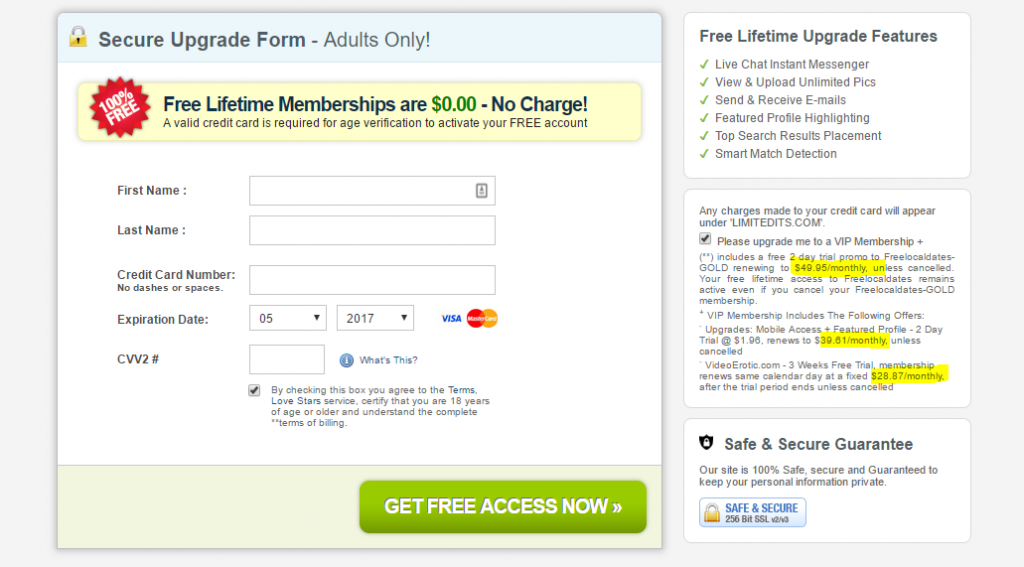 Here is how much you will need to pay in truth for a single month. Only the basic subscription is around $50, while the added services are $39.61 per month for a featured profile and for a mobile access, as well as $28.87 for the Video Erotic service. That amasses to a total of over $100.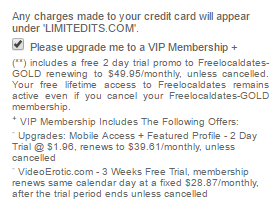 FreeLocalDates.com uses fabricated profiles.
The Love Stars are the virtual profiles that act as entertainers and marketing agents, looking like real women. So, you should be really vigilant when getting into the action with the women there because there is no guarantee that you are communicating with real persons. So, while you may be hoping for great sex, the site is hoping for a new subscriber that will cost you a hundred bucks a month:

You are asked to upgrade for chat messaging.
We already mentioned that you are asked for an upgrade immediately after signup. The difference here is that you have no choice! So, while you could have skipped the screen at signup to visit the member's area, now it becomes crystal clear that you can't do anything unless you pre-authorize your credit card. This is yet another evidence of the rip-off setup:
Price Tag
Nothing on FreeLocalDates.com is free.
Actually, you will pay additional services which will cost you as follows:
Basic VIP subscription $49.95

Extra mobile services $39.61

Extra video services $28.87
Busted or Trusted
FreeLocalDates.com is not so skilled so that you must lose in the fight against it. So many other deceitful services are better equipped, and would, therefore, be such a shame to fall victim to this one. 
However, even if you do, you should know that you are not the only one. Many people get carried away with their sex drives and consequently provide personal data, credit card details and click "Yes, I agree" to suspicious links since they are not so careful. 
One thing that guarantees a winner's position is making sure that you read what makes a good legit site, and what makes a scam. More details about this in our legit dating sites guide.