Many people want to find forbidden hookups online, preferably discreet and will spend hours till they find the best place for their affairs. FindCheaters.com is the place that caters to these people, promising to deliver perfect no-strings-attached options or one-night stands. Who wouldn't have a nice time finding such a place and keeping it safe from those that can be too nosey?
Still, it is one thing to cheat in sex, and totally another to be ripped off for money.
Let us see what is going one here at FindCheaters.com
Authenticity
We are becoming slowly tired of the virtual profiles, but that doesn't mean they are going to disappear anytime soon, so we must keep it up and stay on top of exposing the scam to our readers. 
Here on FindCheaters.com, the fabricated profiles are called Online Cupids and their task is the usual – activating users to purchase memberships because they are not getting them for free. The only thing that is free here is the registration form which is used for personal data collection, meaning it can even cost you further down the line.
Why is FindCheaters.com Yet Another Adult Dating Fraud
Let us start with one of the most usual moments related to adult dating scams and it concerns reviews:
FindCheaters.com has almost all negative reviews.
These are the results of the usual search we perform when we want to consider feedback from previous customers who have has some sort of experience with this flaky adult dating scam – almost 90 percent of all top search results were negative. Here is a screenshot of the results: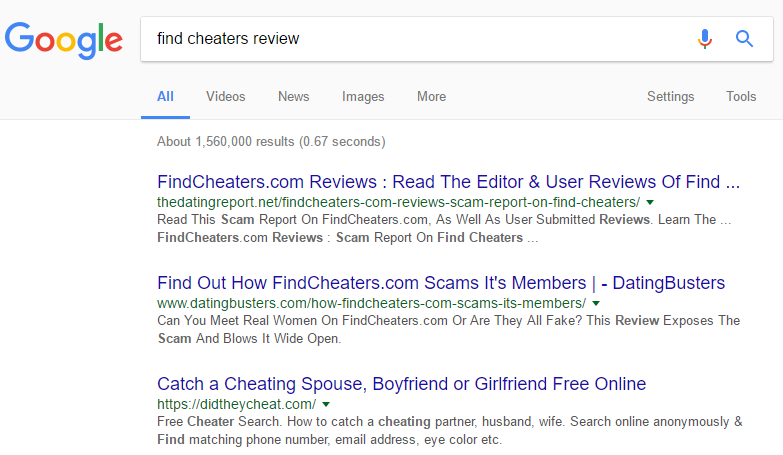 Your information becomes publicly available.
Every bit and piece of info is shared with the other member in a public directory and FindCheaters.com does not provide any protection for members  – anything shared is freely available to anyone, unless it belongs to the instant messaging system which serves for two-way communication.

Online Cupids are fabricated profiles.
All chat messages that you will get from the phony bots are only with the purpose of selling services. You can never know if you are going to meet a real person or get chatted up by a bot if you spending too much time on FindCheaters.com.

Normally, membership is not free. Basic access is not charged while you have to pay to get access to the usual communication services:

The Online Cupids send electronic messages with computer-generated content.
This is just another proof of the way these fabricated profiles entice members to upgrades:

FindCheaters.com will share your information with affiliate partners.
When you sign in you provide a certain amount of data that is needed for the site functioning, but you may not be aware that you will get promotional invitations from affiliates that can sell you services on their own behalf.

Price Tag
$29.95 for a monthly package

$69.00 for a 3-month package
Busted or Trusted
We were happy only with the reviews – the feedback from almost 90% of the people on the Internet is enough for us to have a pretty clear look at what is happening on this fraudulent dating service.
We still like to ensure that our readers are happy, too, and this is why we make a thorough research to cover all aspects. Don't let FindCheaters.com cheat you – take a better look at what is the deal and search for an NSA date elsewhere.