As you may already know some of the best looking girls are in Eastern Europe. No wonder so many businesses, true or false, use them to collect customer's money! I can't even remember the number of times I've dealt with fake dating sites for Ukrainian chicks. Now I have to do it all over again for escort sites to help people stay safe in online dating. You should definitely be wary of escort services, and in this review of Courtisan Net I give you a few more reasons to hook up only on free legitimate apps.
Paid Sex in the Moldovan Capital
This Courtisan.Net service is not Ukrainian. It's Moldovan. If Ukraine comes at number one for amazing hotties, then Moldova has the second place. Some people consider Moldova the cheaper alternative to Ukrainian escorts. Judging by the fees, they may have a point! Judging by the photos of the courtesans (a fancy name for expensive streetwalkers) they couldn't be further from the truth! These girls rock on photos. The problem is you can't say whether they are for real. Also, though they come on the cheaper side when compared to other European escorts, they are still not for free like some of the superb free hookup services.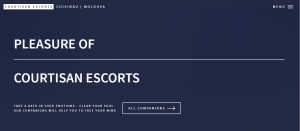 Payments and Deposits
Obviously, you need to pay for these girls. But unless you are ready to part with hundreds, walk away immediately! Hell, no, I'm not paying for the chicks, even when they look the way they do on Courtisan Net! You see the numbers – 33 percent, 15 percent, plus other expenses like travel costs and girl's specials.
Links to International Escorts
Like most other escort websites, where you have to pay for sex, there are multiple links to other directories as well. This can be particularly problematic if you find an escort on one of the connected services, thinking that you are acting in accordance with the rules of that platform. On the contrary, you can make yourself responsible for a completely different service.
Check Out the Rates on Courtisan.net!
Truth be told, the rates are not that high as some of the other escort sites I've come across:
1 hour is 100 Euro

From 2nd hour each hour is  60 Euro

Overnight (22:00-07:00) is 450 Euro

Full day (up to 24 hours) is 650 Euro

2 days (up to 48 hours) is 975 Euro

From 3rd day 325 Euro for each day
Girl's Surcharges
When investigating the charges, make sure you jump to the girl's profile and hover over the content. You'll definitely find other charges that are a specialty for each girl, depending on the specialized services she offers. Under no circumstances you will pay so little as mentioned in the main rates. This is an old trick for web escort platforms to extort more money.
How Much Are You Willing to Pay?
In the end, it all comes down to how much are you willing to pay. Some people don't mind risking communication with faraway escort women and often end up in the deep end. I dislike such services because they mess up with what I do best, discouraging my followers. I recommend doing hookups for free. Have a look at some of the tricks and tips on this website to learn how to do it successfully. Avoid Courtesan.net!
Not a chance you're getting laid using this site. Don't even think about it. In fact, you'd be crazy to use any network that's not listed here. Any other approach is suicide in my humble opinion.