Yet again I need to open my eyes wide when I scroll on web dating services. These fraudsters really use unique names and descriptions to fool members into getting a service. Now we no longer speak of subscriptions, because escort sites are a combo of multiple scams that could go wrong. Sugar Nights, for instance, has seven or eight links that contain various types of hookups, and they are all paid. Don't let the web adult service description mislead you!
SugarNights.com: Fake Web Adult Service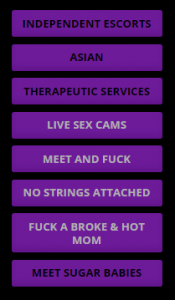 Whatever you do on Sugar Nights, don't mix it with a hookup site!. It's not for casual dating, though I discovered that it took to the "Secret Benefits" sugar babe service every time I clicked on one of the links. Such an annoyance not to know how to get rid of the scam! Here are the links that I revealed on this escort website.
Cam Girls
Yup – live cam rooms! Surprised? I don't think so. Many gullible users have fallen prey to the promise that "these girls do whatever you ask them to". It is just easier to type those credit card numbers and pay in advance when a sexy babe takes her clothes in front of your eyes. So sweet and yet so nasty! These cam girls are not even escorts, so you never know how much you'll end up paying for a virtual hullabaloo
Sugar Babes
This is not the first time I meet with the link to "Secret Benefits. Lucky for me, my memory serves me well! I don't forget easily and keep track of popular scams." The only concrete difference on Sugar Nights is that the link contains the description about connecting sugar babes with men who want to take care of them. A huge red sign for the regular casual dating fan!
Female "Extorts"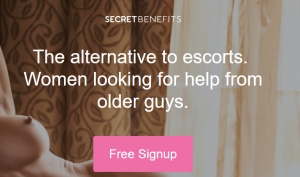 I can name the countless variants of these services with a single name – "extorts"! That's right – they're not only escorts, but also "extorts" since they don't stop at anything to get your money. The biggest problem is that this website is a mixed service for all subcategories and simply sways away newbies into uncharted but expensive territories!
Phishing Attacks
You won't even notice them, but I have a special software installed that warns me against unsecured websites. There are dangers lurking at every corner. On Sugar Nights, I got into a trouble by clicking an uncertified link, but I got a warning from my AV tool. I strongly recommend installing such programs if you are browsing adult content, especially paid sex websites!
Keep Your Card in the Pocket!
Don't you dare pay for advances! Is this why you are following the content on Adult Dating Patrol? Not to pay for getting laid for sure! I've explained what I think of fake classifieds and escort service directories more than once. You should follow a good advice when you find one!
Sugar Nights Summary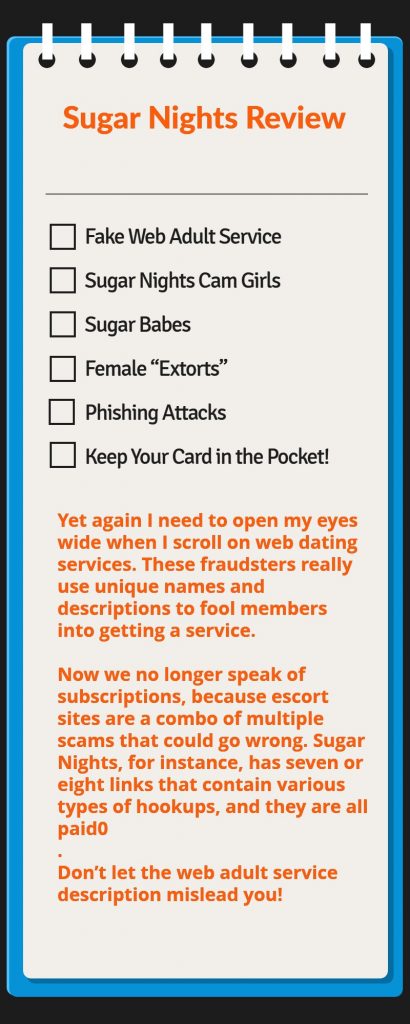 Final Thoughts: Please do yourself a favor and stay away from SugarNights.com. It's going to cause more harm than good if you try to use it. That's my personal opinion and one that I'm sticking by nevertheless. If you're planning on meeting someone here for sex, then don't plan on it. Should you still be hungry and on the hunt for something, then check this out here. That's my homepage where I've listed out a ton of things that you need to know to meet people and the sites to use to hook up with them – GOOD LUCK!