Are you looking to get laid on adult dating sites? And accidentally, you've come across escort sites and you are now seriously contemplating membership. I honestly hope you didn't recognize yourself in this description! There is nothing worse than expecting an awesome experience on an escort site while ending up with nonsense. Today's review is about an Irish escort service called Escort-Ireland.
Irish Escorts, Massage, and Dom From Ireland
There is nothing special about Escort-Ireland. It's identical to other paid sex websites. Don't think that having the word Ireland in it will make you meet many red-haired, milk-skinned hotties! The service is full of international models who offer sex for money.
There are all types of models but they all charge money. So, don't think that you will find free casual dates! But it seems that the site is specialized for three types of services – escort, domination, and massage.
A nice way to confuse customers!
Ad Directory

Be careful because Escort-Ireland works only as an advertisement directory. The main website has nothing to do with the models so you have no protection whatsoever. You will need to deal directly with the escorts, and the world knows how many clever scams they've pulled off!
Undisclosed Rates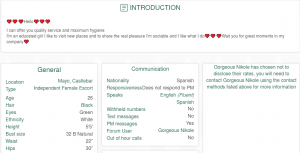 For instance, most of them don't give public rates. When the rates are not out into the open, it's easier to ask for huge advances and never show up for the date.
I've heard so many suspicious stories that I'm done with escort sites forever, even if the drought is unbearable!
Blog Content
I must admit that the blog content is decent, if not useful. You can read a lot about practical dating and sex tips. The forum is also super active with various popular threads. But don't expect casual dating possibilities.
Don't confuse an escort site for a genuine adult dating site!
Illegal Paid Sex?

Have you considered the legal implications of paying for sex? That pleasure can cost you serious fines, if not something more dangerous! Check out what you're signing up for before you arrange a date – you'll be much better off.
Infographic: Escort-Ireland