Here is just another variant of another scam that we have previously debunked here in Adult Dating Patrol and it refers to the already infamous LocalBooty.com. AffairsClub.com is just a subdomain of LocalBooty.com with the same interface, same member directory, and site features, under a new name.
Apart from being just a duplicate, it undoubtedly applies the same methods, plus the brand identity fraud as a bonus nasty trick. This trick is so simple it hurts, and yet lures novices into visiting this cheating-friendly site where the only cheaters are the site services trying to rip off new victims with the same tools in a new disguise.
The Authenticity of Affairs Club
Having an affair may be a subject of passionate discussions, but, admit it or not, many people like to spice up marriages or long-term relationships with a sexy hookup.
And the possibilities to scam these people have never been greater in the online dating world when the services are presented digitally, not always having or knowing the means that stand behind fraudulent dating services.
If you are not fed up with the fact that AffairsClub.com is just a replica of Local Booty, then you will probably get angry, if not furious when you see what else this fake dating tool says it does, and, in fact, it does not – at all!
Why is AffairsClub.com Just Another Online Dating Scam
You don't need strong conviction skills to ensure someone that this is a fake dating site when all it takes is a short registration and the scam behind the new name becomes obvious. Still, here is a taxonomy of facts for the people who need extra persuasion or arguments:
AffairsClub.com works with convoluted membership fees.
It says that the subscription is free, however, just try to send a message to a potential bang buddy and you will be taken straight to the subscription fee screen where not only you don't have a chance to opt-in in for a trial but you must agree to store the payment data in the membership base.
The minimum fee is around $30. This is the least cost you will be charged at AffairsClub.com. If you forget to cancel or oversee additional transaction or exchange fees then you are roasted. Pay also extra attention to the bonus cam sites that require additional costs to enter.

There are no refunds on AffairsClub.com.
Regardless of what you are charged for, you have no chance to ask for a refund once you agree to the Terms of Use of AffairsClub.com. This may include, but is not limited to telephone costs, extra taxes, unforeseen charges, as well as any third-party service, Having in mind there is no way to know how outside partners use your details, you are in for a rip-off scam without limits to the consequences to your credit card.

This illegitimate dating site offers no strong security protection.
Although there are provisions about security protocols, the site services refrain from offering and providing guarantees about security protection for member communications.
This is a fact bad enough by itself, and more so when compared to some of the examples applied on verified dating sites where users can bask in not only one, but at least three security mechanisms created for the payments, for personal details, and for anti-malware protection.
We doubt that you will waste a minute more when you notice that AffairsClub.com is just a copy of Local Booty, but if you don't mind that, you should still remain vigilant around subscriptions.

AffairsClub.com does not provide functional customer service.
We scrolled down the privacy policy, trying to send an inquiry to the embedded Customer Service link. It does not work, which is not very surprising considering the other tricks made on this service. Here is an image of that dysfunctionality, but there are samples of video reviews online that show the whole scammy process.
In the end  – AffairsClub.com is just a replica of LocalBooty.com.
That nice sexy black screen makes promises for millions of members who are into cheating, so you may think that there are at least several hundred chances to hook up with someone ultra-sexy, but you may be sorely disappointed when you discover that the same winks, likes and messages are used on both services.
The best way to confirm this is to try registering on both sites. Pass the home screen and you will open the same user directory which unveils the fraudulent workings of this adult dating site.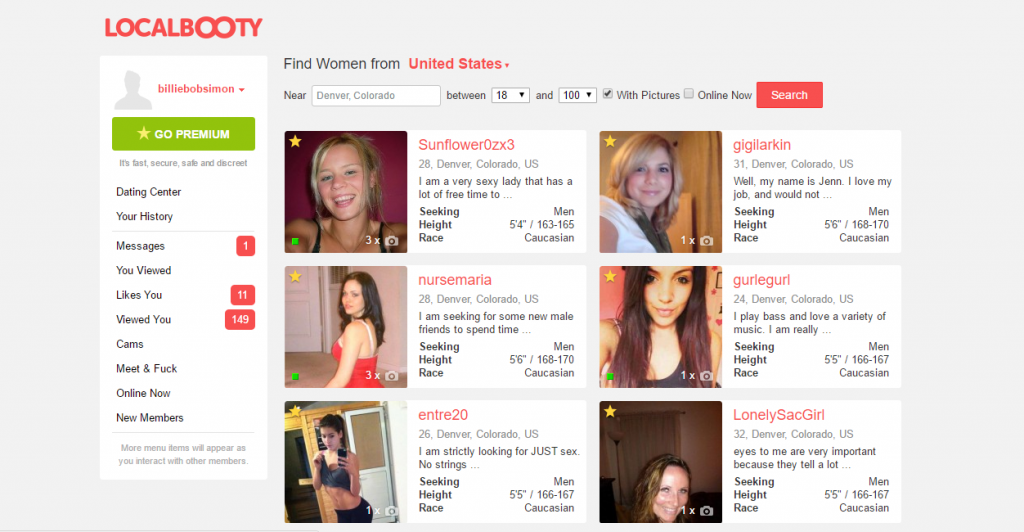 Price Tag
Without even looking at the cam rooms fees, here are the minimal charges on AffairsClub.com:
$59.95 for three-month membership recurring at $19.98

$29.95 for one-month membership recurring at $29.95

Busted or Trusted
This hardly credulous service is an obvious example of an age-old scam tactic – using the same tricks on several domains and one brand under different names so that more and more people get into the rip-off trap and click the registration link to provide details.
AffairsClub.com is not a place for sex affairs. It is, though a place for cheating, but not of the kind, you would expect. Instead of discreet encounters with other sex lovers, you will get into the company of cheats who extort money for nothing. It is not free, except for the basic subscription. Anyhow, you know what they say – when something is given for free – you are the commodity!