Having to pay an extra cost for extra services is something already seen on illegitimate adult dating sites but having to pay an extra interest fee for missed payments is a really inventive idea to rip off more cash from online dating newbies. It is like fraudulent dating services are thinking of new ways to gain old advantages and now to an even greater extent, CheatingHookup.com makes a dirty trick by hiding an interest provision in the Terms document applicable to users who miss due payments.
When most of the genuine dating providers are thinking of new ways to give a discount and attract as many new members as possibles, fraudsters do the same to pull out additional money.
Authenticity
Although it is not only the interest charge that made Adult Dating Patrol put CheatingHookup.com among the dishonest tricksters, it is the most conniving method because almost no one today thinks that it is possible to be asked for interest fees on competitive markets that exist nowadays.
Instead of grabbing a fair chunk, CheatingHookup.com will without a question charge this unnecessary fee which you must pay if you have subscribed for one of the upgrades. And you will, nevertheless, have to subscribe because you won't be able to send a single message unless you do. On top of everything, you will be bombarded with unverified messages from fake girls. One scam next to the other – that is the hidden truth behind the functioning of CheatingHookup.com.
Why is CheatingHookup.com Just an Adult Dating Scam
Here is the longer reasoning behind the unshakeable decision to put CheatingHookup.com in the company of fake dating sites that do not want to offer anything of worth to their customers and only intend to juice abundant money with deceitful means:
Electronic communications system on CheatingHookup.com generates promotional messages.
Not only will you get huge amounts of advertising but you will also get virtual, fake content totally created by the phony girl profiles, with the sole intention of making you click for an extra service. This is stated in the policy documents, normally – if you read those: "Messages sent from our Online Cupids® service may be automatically generated with no human involvement, and Online Cupids® messages and/or correspondence may be generated by third-parties hired or contracted by Us. The Online Cupids® service is also intended to proactively monitor user activities and other communications to ensure compliance with Our Privacy Policy, internal operating policies, and Our Terms and Conditions."

Online Cupids are creating virtual communication.
Here is a quote from the content that relates on how these virtual profiles on CheatingHookup.com work: "You understand, acknowledge, and agree that the information, text, and pictures contained in the Online Cupids® service profiles do not pertain to any actual person, but are included for entertainment and educational purposes only. Life events, experiences, interests, and geographic locations are fictitious. Nothing contained in any Online Cupids® service profile or message is intended to describe or resemble any real person – living or dead. Any similarity between Online Cupids® user profile descriptions or images and any person is purely coincidental."

Additionally, they will work under several profiles – so, you may think that you chat with more than one girl and have a blast with your sex dates, when, in fact, the same bot is working you like a pro: "Please also note that a single Online Cupid contractor may be involved with more than one (1) profile on our Site. Online Cupids® service profiles and messages can be readily identified by You and distinguished from member profiles and messages by the above-referenced logo appearing on each Online Cupids® profile and communication."
Free membership statement on CheatingHookup.com is a false claim.
Nothing can be further from the truth – yes, you can get basic access to the site, register and start browsing profiles but if you think that you will start hooking up without an upgrade, you are dead wrong. You will have to go for one of the two paid membership types – here they are: "3-Month Membership – These Members have full membership rights and are billed the then-current rate every 90 days for unlimited access" and "1 Month Membership – These Members have full membership rights and are billed the then-current rate every 30 days for unlimited access".  In essence, nothing happens under the basic access.

Automatic upgrades are based on selected monthly package.
You must pay all automatic renewals and you have only ten days to reply on possible price increases: "You acknowledge and agree that your payment method will be automatically charged for such membership fees, plus any applicable taxes, upon each such auto renewal. You consent to and accept responsibility for all recurring charges to your credit or debit card (or other payment method, as applicable) based on this automatic renewal feature without further authorization from you. As an example only, unless you cancel, a one month membership will automatically be renewed on a monthly basis. The renewal will be at the same membership fee as when you first subscribed, plus any applicable taxes, unless we notify you at least 10 days prior to the end of your current term that the membership fee will increase."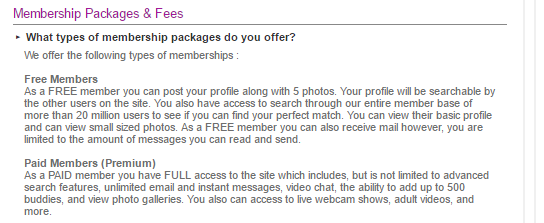 You will be charged extra fees for interest for missed payments.
Not only will you have to pay the basic renewal fee, but you will also need to pay any missed payments that are due. In this way, CheatingHookup.com has really thought of new extortion tricks that will inevitably get to you even if you don't have any money on your card. Debit cards and other payment methods can really get it tough and rough in such scenario: "If You fail to pay your account in full within 30 days of the invoice date, You agree to pay interest on the past due amount at a monthly rate of 1.5%, or the highest amount allowed by law, whichever is higher, compounded daily, plus any additional collection costs, credits, charge backs and attorney's fees."

Price Tag
1-month paid membership is $29.95

3-month paid membership is $69.00
However, don't forget that you may be charged extra interest, as well as for added memberships if you intentionally or by accident sign up for one of the additional sites that come as a part of a promotion.
Busted or Trusted
Adult Dating Patrol is placing CheatingHookup.com among the greediest fraudulent dating websites that aren't kept happy by the basic scammy methods but add some extra hidden costs that will make you wonder what is happening to your bank statement once you get it.
Moreover, in a situation when there are so many frivolous charges, the costs can keep mounting even if you have long forgotten when was the last time you registered, browsed or even visited CheatingHookup.com. The final verdict is that all users should be on alert not only from this scam but from f new fake dating websites that may decide to borrow the tricks and apply them in a similar way.