When one dating scam is just a subsequent step to expand the scammy strategy to additional domains, it doesn't take long for Adult Dating Patrol to see through the tricks of FreeLifeTimeFuckDate.com which is just a copy of very similar dating sites who are run by the same company – but by no means should you mix it up with Fuck Date that is a genuine dating website.
You may have as well been aware of other instances of businesses adopting the online identity of successful companies just with the purposes of money extortion. Although this may not be the primary intention of FreeLifeTimeFuckDate.com, we have discovered more than one reason to doubt its credibility.
Authenticity
FreeLifeTimeFuckDate.com is a classic scam with almost all applicable tricky activities for attracting innocent-thinking users who don't expect so doubtful ways of sending baits. However you may be naive, it is always important to be on the lookout when filling in your data at paid online services.
If you need to open your eyes regularly, you will need to be wide awake in the case of FreeLifeTimeFuckDate.com because once you give your credit card numbers (evidently not needed!) you are in no control of all related fees incurring from its use, regardless of whether they are related to the use of the site services. Read more to find out why there are plenty of reasons to disbelieve this fraudulent business.
Why is FreeLifeTimeFuckDate.com a Con Dating Site?
Even if you read the privacy documents, you don't always have the time or the energy to read through all details. That is exactly how FreeLifeTimeFuckDate.com enables the scam for its customers:
The site claims that it offers fee false membership for users over a lifetime.
Normally, once you register and get the idea to start chatting and communicating with the other users, you will quickly get the scam – you are not able to send any information unless you provide your credit card and agree on potential pre-authorization fees. However, once you are a member, you have already sold your rights and personal details to this scammy service that guarantees no privacy or hookups whatsoever: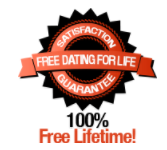 There are fabricated profiles named 'Love Stars' on FreeLifeTimeFuckDate.com.
Just when you try to register, you will notice (if ever) a "very small" small print that asks you to accept being communicated by fake profiles for the purposes of advertising and promotions. Here is what the regulations of the Terms of Use say, if you have the time to read it: "By the use of the Site or its services, the Member, visitor or User expressly agrees that the Site may use any information that it gathers or collects about the Member, visitor or User including personal information that has been provided by the Member, visitor or User via the Site's Love Stars ("LS") program, Customer Service, or other mechanisms, for technical, administration, research and development, customer administration, age verification, legal compliance, marketing, promotional and advertising use and for the transmission of email communications, the sending of products or the fulfilling of any terms and conditions…".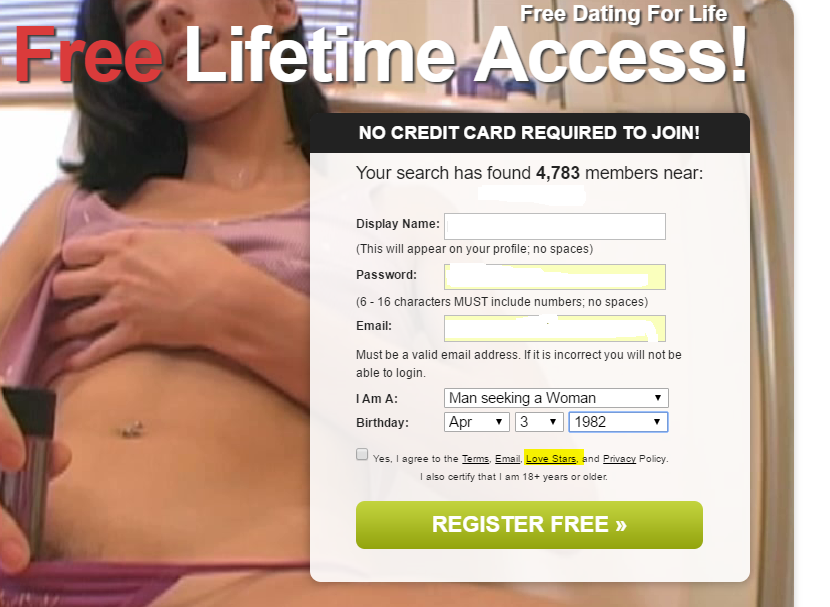 FreeLifeTimeFuckDate.com claims that it does not require a credit card.
This is, however, not true, even if there is the big stamp placed on the homepage, and even more, just because of that – this claim just makes the dishonest methods of FreeLifeTimeFuckDate.com more aggressive and preposterous: "Credit card users may be subject to a preauthorization. The preauthorization is not a charge to the credit card. However, the then applicable monthly subscription rate may be reserved against the Member's available credit card limit. The Website will not be held responsible for bank charges, fees or penalties due to overdrawn or delinquent Member accounts. Contact your credit card issuing financial institution for details".
There are no restrictions to user privacy.
Once you place a photo or another piece of personal information on reeLifeTime FuckDate, get ready to say goodbye to any privacy connected to it. Unlike genuine dating websites which let you withdraw information and delete a profile, FreeLifeTimeFuckDate.com will keep it and use it forever on partnering websites, too: "By posting Content to any public area of FreeLifetimeFuckDate, you automatically grant, and you represent and warrant that you have the right to grant, to FreeLifetimeFuckDate an irrevocable, perpetual, non-exclusive, fully paid, worldwide license to use, copy, perform, display, and distribute such information and content and to prepare derivative works of, or incorporate into other works, such information and content, and to grant and authorize sublicenses of the foregoing. Specifically you agree and acknowledge that your profile and related information and content may be utilized and displayed on other sites which are owned by related companies or authorized services providers ("Network websites").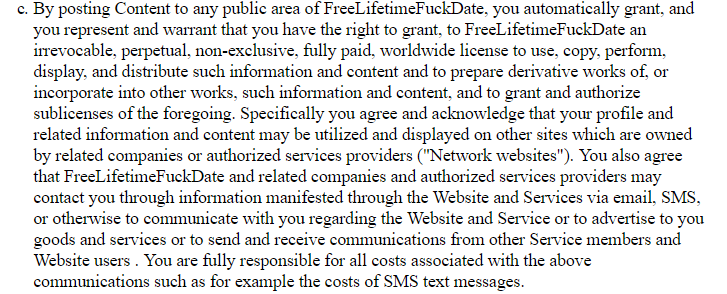 Revisions to the privacy policy are made without warning.
A big red flag for most fraudulent dating services reviewed by Adult Dating Patrol is the absence of an agreement to the changes in the privacy policy. There is no user consent applicable on FreeLifeTimeFuckDate.com: "This Site reserves the right, in its sole and absolute discretion, to revise, amend, modify or revoke this Privacy Policy at any time and in any manner to the fullest extent permitted by law. Changes to this Policy will be effective by posting revisions on the Site or other notice as required by applicable law."

Price Tag
Unfortunately (or a bingo for readers of this review), the claims for free memberships are a total scam. Here are the costs for the site's possible subscriptions (automatic renewals apply):
$49.95 for a one-month subscription to FreeLifetimeFuckDate.com basic services

$39.61 for a one-month subscription to the video service

$28.87 for a one-month subscription to VideoErotic.com
Busted or Trusted
Make sure that you read all site documents and this review before you decide to try out what can you get from FreeLifeTimeFuckdate.com because it will not take much to come to the conclusion that this is a fake dating site.
This simple and classic con system applies many well-known deceptive tricks to get at least something out of you – if not your hard-earned money which, if you are not careful, can amount to hundreds of dollars per month. Open your eyes when checking and unchecking boxes, and when clicking "I agree".
Even better, stay far away from FreeLifeTimeFuckDate.com and entrust your sex dates to one of the first-class dating services compiled in our scam-free ranking section/