It sounds nice to have a date so hot that it actually deserves the prefix X before the name of the site where you found it. In the end, almost everyone associates the letter 'x' with super-sexy action, especially when it is triple. This is why we were so excited to check the adult dating possibilities at XMeeting.com and find out if all the hype about it is true or false. We came up to the conclusion that XMeeting.com does the same tricks as many other fraudulent dating services and we, therefore, do not recommend having too high hopes and expectations from this site.
Authenticity
There is nothing better than a shared opinion by a wider audience to certify about the quality of a service provider. In this case, more than one person shares the opinion that XMeeting.com is a fraud – many reviewers have clearly stated that the site is a scam and have developed arguments for newbies to understand why is this so. We had to join the army of poor reviews about XMeeting.com, based on the computer-generated content and on the false claims for free use, which are under no circumstance true.
Why is XMeeting.com Just a Scam
Here are more than enough reasons to suspect in XMeeting.com's intentions and, in addition, the support or our online friends and customers with their reviews:
Users are responsible for any payment related to them, even when not initiated by them.
This is a general rule made by dishonest service providers that do not want to own any accountability for failed or fraudulent purchases that may be occurring through their site. All charges are borne by the payee and the site does not have any responsibility towards third parties. This means that you have to open your eyes wide before you agree or click on any service that is not offered directly by XMeeting.com, and there are plenty of those.

All services are paid  – not free!
If you expect a hookup without any payment, sorry to say that you are in for a big scam. On top of that, the premium service subscriptions are so confusing that we are not sure that anyone with a common sense can get the hang of these regulations – look at these convoluted provisions:

The web contains more than one negative written and video review about XMeeting.com.
Unlike most of the fake dating sites that usually have a few positive reviews, it was a problem to find any such result from reputable sources – it seems that unhappy customers went out of their way to present the real picture about XMeeting.com, explaining the fraudulent procedures in detail.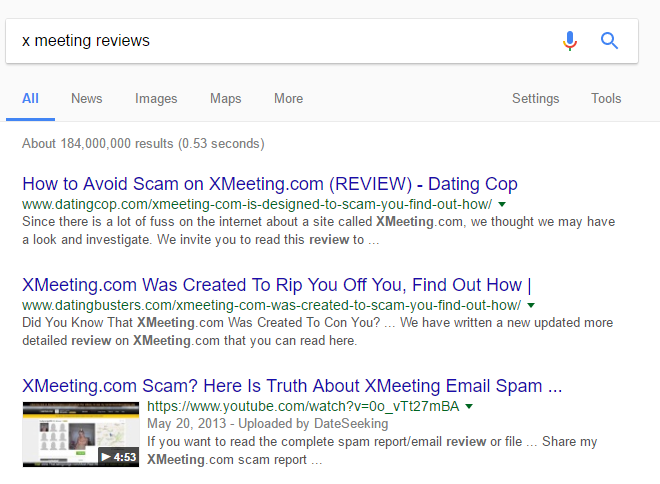 XMeeting.com works with computer-generated content.
Instead of meeting real people, you must agree that you will be contacted by virtual profiles created by the site. These phony profiles will send computer-generated messages to get you started. In addition, they will also send promotional materials that are specifically targeted to your interests:

It is evident that XMeeting.com makes it tough for the dating center to work properly or help users to find a date because its primary use is to send ads and sell unnecessary services. We have seen these methods more than once but new sites crop up each day while the old ones continue existence without any obstacle.
Price Tag
6-Month subscription for 16.66/month renewing for $99.95 

3-Month subscription for 19.98/month renewing for $59.95 

1-Month subscription for 34.95/month renewing for $34.95
Busted or Trusted
Albeit we used the XYZ in the title, this review of XMeeting.com can serve as the ABC of fake dating. All that you need to know about adult dating rip-offs is included – from start to finish. You can get back to it whenever you find similar methods at other providers to check their authenticity.
XMeeting.com is not what you would expect from a site with such a fiery name. The only thing we see burning is either your hair or your pockets when the expenses burn a hole through them.