SexyFuckFriend.com sounds good, doesn't it? Having a good-looking friend with benefits is almost on anyone's favorite past times list. We know the advantages of having the best of sex without the responsibility of a relationship – it makes life so much easier. This is why we get sorely disappointed when we find out that, instead of awesome sex dates via a credible adult dating site, we often encounter fraudsters and tricksters.
To help you avoid the same troubles, we reviewed what hides under the SexyFuckFriend.com kinky name. Are we in for some hot fun or for some nasty rip-off? It turned out that it was more the case of the latter than of the former.
Authenticity
SexyFuckFriend.com is not an isolated dating site. It native company runs dozens of other websites that promise hot hookups and deliver hot bank statements. The hidden small print technique is the specialty fo SexyFuckFriend.com and, as old and as classic it may be it still works for many people. Below we have investigated exactly how the process of enticing new customers happen – so follow closely to avoid the same pitfall.
Why is SexyFuckFriendcom a Fraudulent Dating Website
If you haven't been reading some of the scam reviews that relate to the same site, here is why you should steer clear of SexyFuckFriend.com and associated network sites:
SexyFuckFriend.com applies virtual profiles called "Love Stars".
Love Stars are an unavoidable part of the deal and if you want to join this site you must agree to the communication with fake girls at the moment you register. How would you like being constantly pestered by non-existent members just to keep you hot and horny? Here is an excerpt from the site policy: "You understand, acknowledge, and agree that some of the user profiles posted on this site may be fictitious or models or bots related to our "Love Stars" ( ) program. Our LS work for the site in an effort to stimulate dialogue with users and to stimulate user participation on the Website and Services, advertisement of the Website and Services, and the creation of user profiles."

You compromise your private information by sharing it on SexyFuckFriend.com.
The T&C document clearly states that it will use all your personal details to sell you stuff and share it with the partners. In the age where information is money no one would want to be the commodity, Still, this is the case on this website – this is why you should think twice and more before agreeing on sharing your saucy bits: "By your acts of signing up as a subscriber to the Site, you are agreeing to all of the following: (1) that Site has your permission to collect your email address and all personal information you supply relating to that email address; (2) that Site has your permission to disclose and transfer your email address and all other personal information you supply to its parent companies, affiliated and related companies, affiliates, agents and service providers to promote and/or provide goods and services. (3) that Site has your permission to share your email address and all other personal information you supply with its third party marketing partners so they may send you offers and promotions which you may find of interest, either by email, direct mail, or SMS."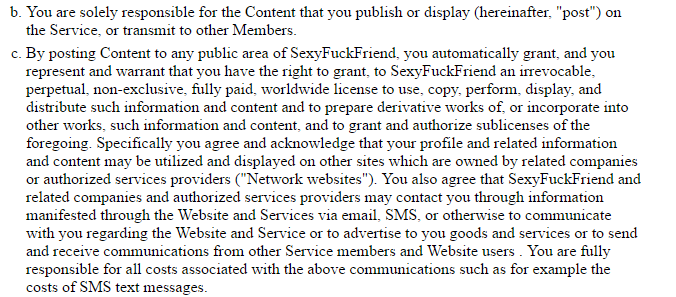 SexyFuckFriend,com is not free and has hidden charges.
Let us see how the process for registration goes and how it is not at all what it claims to be. First of all, SexyFuckFriend,com claims it provides free adult dating – this is all over the registration page:

However, when you complete the signup you will get to know that you need to provide a credit card (namely, only for preauthorization purposes) but then again, you will be charged extra, if you don't pay attention what checkboxes are included on the screen: "Credit card users may be subject to a preauthorization. The preauthorization is not a charge to the credit card. However, the then applicable monthly subscription rate may be reserved against the Member's available credit card limit. The Website will not be held responsible for bank charges, fees or penalties due to overdrawn or delinquent Member accounts. Contact your credit card issuing financial institution for details."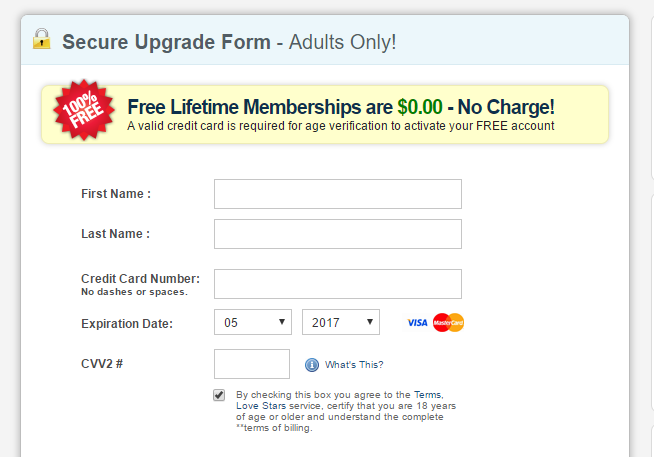 This is what we have in mind: super-expensive extra services mentioned only in a small info window: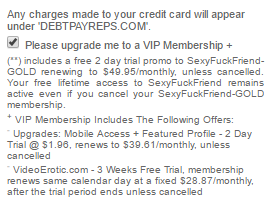 In the end, your email address gets shared across the network and with partners, a fact which is not very convincing in terms of security and privacy and which many of you like to stay on the cautious side are trying to avoid:

Price Tag
$49.95 for a basic monthly membership to SexyFuckFriend.com

$39.61 for a monthly subscription to VibeVideo (extra service)

$28.87 for a monthly subscription to VideoErotic.com (extra service)
Busted or Trusted
Considering the authenticity of the process above, we don't think that you will need additional persuasion for the fraud at SexyFuckFriend.com. You'd better find another adult dating tool that will give you sp much more for so much less money and even for free. If you got hooked to the promises of quick, easy-to-arrange booty calls, we have included a number od varied credible providers in our legit dating sites list. They work qucikly and professionally to help you find a date in a secure way, discreetly and with top-class technology.