Today's feedback from the blog post includes a Dutch escort agency. This is an exclusive escort service provider, much like the typical prominent London escort agencies you've seen before on this website. If you've read one of those reviews, you know that this Society Service review will expose the services and the possibilities to get laid for decent costs. Since this is an exclusive commercial sex provider, you won't get anything for free. Be prepared to pay high rates and follow strict rules for hiring and bookings.
Society Service Review:What's the Fuss?
Society Service is a luxury provider of escort services. More specifically it is an escort agency which works on major and important locations in the Netherlands, especially Amsterdam (aka the city of love) and the Schiphol airport. As we all know, Holland is famous for its free commercial sex policies. Many people go there to bypass boring holidays and some other nasty fan.
Therefore, it's no wonder that Society Service is among the many Dutch providers of call girls, escorts, and models from all types and categories. This particular website includes male and female escorts but the rates for both of them vary.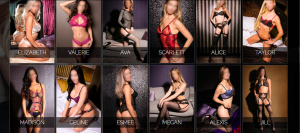 Who Are the Girls on SocietyService.com?
To learn more about the girls in Society Service you can read this review or check each girl's individual profile. Profiles have pictures as well as descriptions of the services. They also include the sexual preferences the girl is comfortable working with. If you're more interested in sexual preferences you should know that there is everything here – from BDSM and to fetish to lingerie, role play and couple's play, as well as specific physical characteristics.
Women wear nice sexy clothes and use good grooming help. Photos are of a nice quality, which is only another proof that this site doesn't come for cheap. The lowest rates start from €700 for women and €500 for men.

Society Service Reviews, Experiences, Bookings, and Recruitment
The submenus under the top menu contain information about what to expect from each girl. This is the spot to find out what are the specialties of this agency. You can also learn how to book a girl or a male escort and read a short explanation about each of the services a girl provides.
Finally, you can also have a look at the recruiting process if you're interested in becoming an escort provider. Although Society Service promises not to allow any discounts or rate changes, you can never be too sure about the real prices of a girl. There is always a chance for a rip-off when dealing with personal encounters.
Getting Laid Options: A Total Swindle!
Yes, it's true that this Society Service review certifies that this is an exclusive escort agency and that you can expect premier service. However many people have had poor experiences even when they book a high-class escort model. So there are no guarantees about what you will get. You can pay a lot of money and still end up with disappointment or worse.
You can end up with an STD or a girl that doesn't look anything like the picture while you paid thousands of euros for her. If you're interested in alternatives for casual sex which don't include paying loads of money you can have a look at free hookup apps and websites. They provide much better chances of meeting like-minded people looking for some sex fun.
Looking for the latest updates, head to the homepage for the latest scoop!.