London has been famous for offering suspicious high-class escort services. The main reason for this abundance of escort sites, directories, and agencies is UK's libertarian attitude toward paid sex. Although they are not in favor of pimping, call girls can provide intimate services as long as they are independent. So, the point of these escort websites is to advertise agency help without breaking the law. But, users are almost never safe since they cannot tell who they are dealing with. By doing the Kinky London Escorts review, I learned that I must approach the girls themselves by looking for their personal websites.
This is a bummer – I don't really like spending hours in research of dozens of websites and then find out that I'm dealing with scammers and fraudsters!
Kinky London Escorts Review: No Real Contact Info!
Escort galleries are just ads. There is no real contact information on the site, for the main agency, or for the girls. By clicking on the model's picture, you get to see her main services, her availability for kinky fun, and how you can get in touch with her. But, as I mentioned, not all profiles include links to the main model website.
Photos are of great quality, well thought off, and the models are exquisitely groomed. Depending on your kink preference, dom, fetish, submissive, etc. you can hire the call girl by sending a polite email. Judging by the investment in the sites, I think that the fees will be way higher than expected. Since Kinky London Escorts says it is the best provider of kink companions, I would expect for at least £300 per hour and more!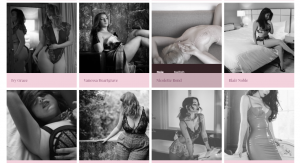 Lascivious Blogs to Seduce Users
The blog content is also well developed and of high quality. It is not like the usual trashy writing you can find on most cheaper escort websites. Someone has really done the work here. Sentences and paragraphs contain the story element and deep erotic experience. You can call it sophisticated but there is also the dirty element, don't worry! It's just it is hidden in plain sight and not so direct.

Fee Assessment, Deposits, and Returns
I checked a couple of the profiles to see how much will I need to pay in order to arrange a date. Since I couldn't find any clear general fees, I had to rely on my escort site experience. A couple of hours can cost you well over a thousand, and if you cancel, you'll have to pay at least a 20 percent cancelation fee. Under specific circumstances, the escorts keep the full deposit. So no money returns, sorry to say!

Kinky London Escorts Review Outcome
I cannot deny that I enjoyed the pics in the galleries. They're awesome. Since there is a variety of girls, you can find something for your taste, from petite to BBW, from a girlfriend experience to the dirtiest kinks!
But they don't come cheap, and they definitely don't come for free! If you are ready to take the risk of not getting what you expected to, try your luck with Kinky London Escorts. If not, go for the safer free alternatives, where you can take one step at a time, and find an almost guaranteed casual date.  Yes, I said guaranteed, remember, these sites all have hookup guarantees that they offer.