Real-OneNightStand.com is making a nice try to fool us into thinking that they are legit. Not sure how these fakers intend on putting an honest sounding name and persuading people that the hookup site is all good. The fraud becomes obvious even if you only read some of the documents. If you investigate the site in detail by creating a profile, you will plenty of other problematic issues.
Why is Real-OneNightStand.com a Scam?
One sure fact that a site is a scam is when you notice fake profiles. The fact that the site behind the scam admits that in the Terms of Use is never enough; users still fall for the tricks and get burned. Apart from the false profiles, there are other issues on real-OneNightStand.co that we will explore in the following section.
Several Websites with Your Personal Info
Creating dozens of websites with the same tricks, it's easier to fool more people than only with one! As you can see, Real-OneNightStand.com uses this practice. It is not only that they will endanger your privacy, but in a way, you are doing the legwork of the business for them!

Short-lived Discounts and Auto-renewals
The discounts are, of course, given only as a bait to pull you into getting that subscription. Once that is done, you no longer are so eligible to get promos. Members often forget that the subscriptions are valid only for limited periods of time, and continue with the renewal, remembering that they have been overcharged only when the bank statement comes.


False Profiles for Entertainment Purposes
Many scamming hookups sites create false profiles to enliven the members' area. Real-OneNightStand.com is no different. These fake profiles are really annoying and they do no good at all. You can't get any guarantee that you'll get laid, and they don't stop sending you fake messages to which you can't reply unless you upgrade.

Cost to Join Real-OneNightStand.com?
1-month discounted membership is €40.46 per month
3-month discounted membership is €25.48 per month
12-month discounted membership is €12.75 per month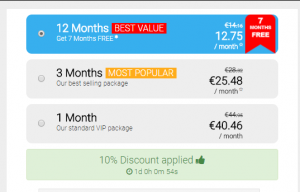 These are the fees with 10% discount applied. You pay €152.95 for one year only the first time. Fees go up later.
Our Real-OneNightStand Review Grade: "F"
Real-OneNightStand.com is a real pain in the scamming neck. Don't fall for the sexy pics and the promises of too hot dates because they aren't true at all. You will be chasing the hookup rainbows for hours, wasting money and precious time, just like over at Naughty Strangers.  Stay far away!
Verdict: No real dates here!