Today we are reviewing the JustOneNightStands.com website that belongs to the Venntro Media Group. This scamming has a network of associated websites. We have already included reviews on plenty of their fraudulent products in our lists. If you've been through some of them, then you already know more than half of the problems you can expect. For more, read further.
Why JustOneNightStands.com is an Online Dating Scam
We are already getting used to Venntro Media's dishonest ways of providing services to its customers, so the things that we are going to share are not new. It's good to read more about them though – so let's head it on!
Associate Websites to Duplicate Your Information
If it were for one site only, we would have had finished with Venntro by now. But they are tireless re-creators of the same scam. Perpetually redesigning the same front pages and adding a few different bits, they do the fraud all over again. The same tricks and twists in a new disguise! This website JustOneNightStands.com has a nice picture. The rest is totally identical toon all other associated websites.

Gifts and Credits for Naive Users
Gifts and Credits are monetized tokens. In other words, they serve the purpose of extorting more money from you. The fancy names mean nothing. Gifts are usually a means to simplify communication for subscribers who are not talkative and don't know where to start. Credits are just a confusing way to pay for messages and never know how much you have to spend. The subscription is not length-based. It is volume based.  So, if you spend all your messages in a week that's it, you have to but new ones!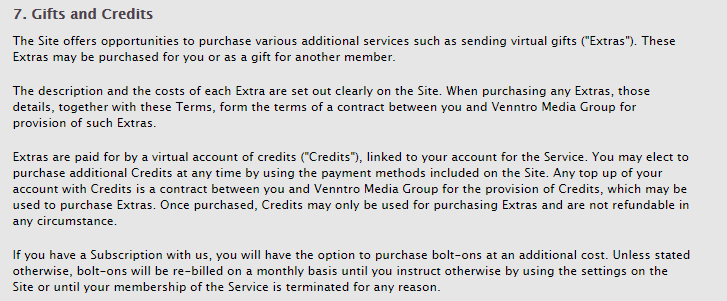 You Lose the Rights to Your Content
Your uploaded info is not yours anymore – forget about it. You must say goodbye to your pics and profile description as it becomes the property of JustOneNigthStands.com. You will be not only giving the info for the associate websites – the main platform can do whatever it wants with it.

Limited Promotions that Turn Into Expensive Memberships
Be careful when you meet free promo: there's is usually something waiting in the wings, for example – extended fully paid membership. If you read all provisions, you would have noticed that, but most users usually don't.

Price Tag
10 credits to send 10 messages cost £15
25 credits to send 25 messages cost £35
50 credits to send 50 messages cost £65
100 credits to send 100 messages cost £120
200 credits to send 200 messages cost £200
Busted or Trusted?
JustOneNightStands.com is not a genuine hookup site. You will pay for credits to exchange messages, you'll never know how many you have on your account, and you'll never get laid!