The bizarre scam behind MegaHookup.com will be as much weird to those who haven't seen the fraudulent workings of Nautell. If you have come across one or more of the websites associated with their business, this tactic will not astound you. A simple hidden box at the bottom of the screen may cost you hundreds of dollars per month, and you may not even know where does it come from because the charge is "discreetly" marked.
Authenticity
Do you want to get penis enlargement tips? And how about a direct link to a sex webcam site with multiple links to rooms that are staring at your face when you click on them? And what is the answer to the question about watching some ex GF porn? I bet that's not what you came here for! I am also sure you didn't join MegaHookup.com because you wanted to chat and date with virtual profiles. Unless you want to be badly duped with additional costs, avoid MegaHookup.com like the plague.
Why is MegaHookup.com a Fake Dating Service
MegaHookup.com uses fabricated fake profiles called Love Stars.
There are a few things you need to keep in mind in order to understand the falseness of the love stars:
You will never meet any of them
They are not obligated to respond to any of your messages
They monitor the user content
This is a site quote so that you become more familiar with their work:
"Our LS work for the site in an effort to stimulate dialogue with users and to stimulate user participation on the Website and Services, advertisement of the Website and Services, and the creation of user profiles. The LS also monitor user activities and communications to ensure compliance with our Terms and Conditions."
You are responsible for the costs of communications via SMS.
In case MegaHookup.com start communicating with you and use texting, it is your responsibility to bear the costs if any occur:

MegaHookup.com is just another Nautell website.
If you need to know more about Nautell, you can check their details in the section for Terms and Conditions. By now we already know that they employ several fraudulent methods, many of which contain a similar front page with multiple profile faces and a short registration survey, and that they ask users to agree to the application of Love Stars. Here are their details, in case you want to memorize them from future possible scams:

Your credit card is preauthorized.
Well – wait a minute – didn't you pay nothing? How come that now the card "pre-authorization charge" is reserved against your bank account? So you, actually pay for the membership in any case:

The site uses limited membership fees.
This is the screen that shows up on your computer when you try to process the payment. But, what you don't notice is the hidden rates which are inlcuded when you scroll down and are presented on the next image: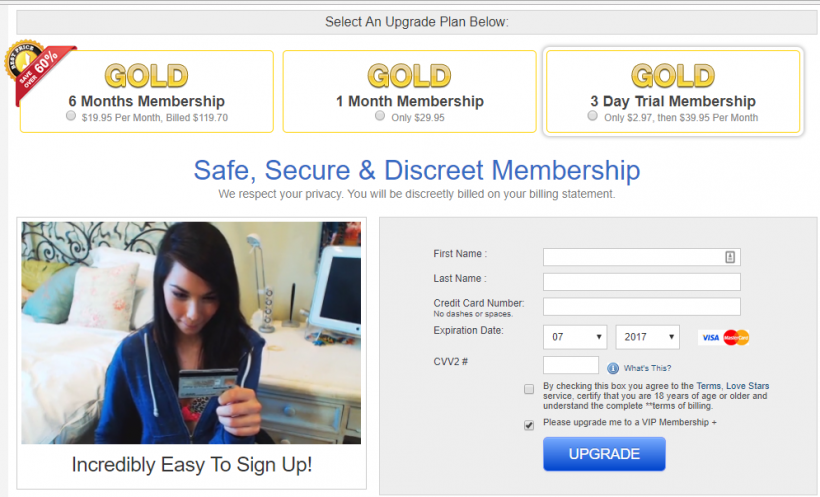 Then it uses hidden fees.
Here is the part of the screen invisible to those that don't scroll down. Did you notice the convenient checked box? You probably didn't but this is why we exist to open your eyes:

Price Tag
3-day trial is $2.97 then renewing for $39.95
1-month membership is $29.95
6-month membership is $119.70
Busted or Trusted
THe only thing that is going to be mega here is your bank statement and your sex drive. The first, because you will be overcharged and the second, because you will not get any sex dates here on MegaHookup.com. Don't fall for the ads, too, as they embed links that take you to some really nasty expensive sites that sell ridiculous penis enlargement products and boring porn.