If you are up for some extramarital sex, then you have most probably come across NoStringsAttached.com. Although the site has a long tradition and is in the business over a decade, that is not always a proof of the business credibility. NoStringsAttached.com makes a strong statement that is the best site for cheating and the hottest thing yu are going to get from online dating providers, but it does not make a strong action call to that statement. Here is what we discovered about the way it works and how it is so successful over the years.
Authenticity
Admittedly, NoStringsAttached.com has developed a set of sophisticated methods to gather new users, albeit they are in essence the same tricks used all over the net. The promise of free membership is not delivered. However, when you register, you will find out that the subscription fees carry new fancy names – such as 'Open the Doors' package. Despite the cool label, the rip-off practice is the same – free access is just for looking around. In order to communicate or check a member's profile, you must get an upgrade. 
Why is NoStringsAttached.com a Fraudulent Dating Service
On top of the membership fees, we have some concerns about the site privacy and security. As a matter of fact, the site itself states that it does not provide extended security tools. Let us take you on a tour about how NoStringsAttached.com looks in practice:
Your information is freely shared with third parties.
When you visit other service providers connected to the site you will not be protected by the same provisions. It is thus worthwhile to check each provider before you say yes to any of its services: "The Services may include hyperlinks or banner ads to third-party websites, content and/or resources ("Resources"). You acknowledge and agree that we have no control over and are not responsible for the availability of any such Resources, and we do not endorse any advertising, products or other materials on or available from such Resources. Because we cannot control the activities of such Resources, we cannot accept responsibility for any use of your personal information by such third parties, and we cannot guarantee that they will adhere to the same privacy and security practices as us."

You will be charged extra fees on top of the basic subscription.
You have no control over the charges – not only in terms of the extra fancy services offered on the upgrade page but also in terms of various administrative fees that may result from your membership and the way payments are processed. Have a look at the image below ti find out about all possible charges that may end up on your bank statement: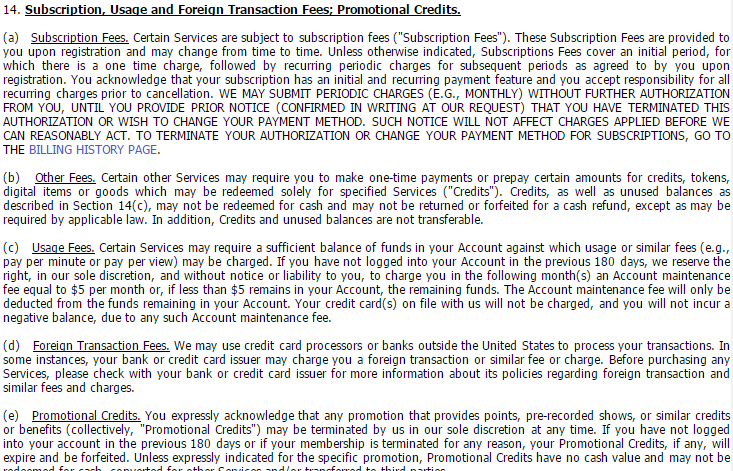 NoStringsAttached.com is a rip-off: the extra charges will cost you over $200.
The basic fees only include a specific section of the services. For so-called advanced possibilities, you need to pay extra. Have a look at the basics: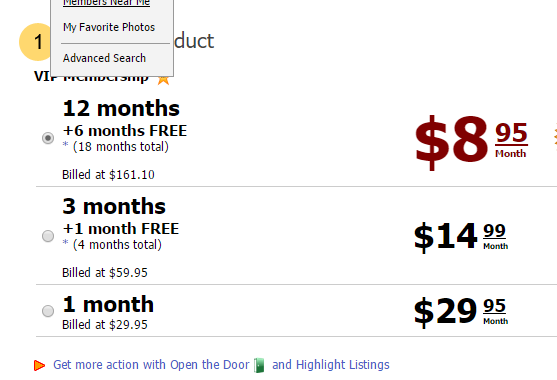 And here is one of the upsells to turn you into a beggar, figuratively speaking:

NoStringsAttached.com uses fake photos and avoids security responsibility.
Clearly stated on the front page, this policy does not absolve the site from the accountability in terms of profile photo verification or safe community. If the service provider itself does not work on these critical aspects, what can we expect from the members? Fraudulent dating sites, even when they maintain the market position for a long time still must show responsibility for the site conditions, and by this, create rules for the genuine sites – showing how things should NOT be done.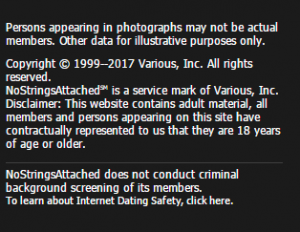 Price Tag
Let us just look at the BASIC costs:
1-month fee is $29.95
3-month fee is $59.95
6-month fee is $161.10
An example of the OPEN THE DOORS fees:
1-month fee is $19.95
3-month fee is $35.90
6-month fee is $107.40
Busted or Trusted
With so many sophisticated methods, it is no wonder how No StringsAttached.com makes its way for years to come. The site will not provide free hookup possibilities because you will have to overpay the offer in more ways than one, with cleverly marketed offers that include surcharges almost as high and even higher than the basic fee. We suggest taking it carefully and looking for cheaters elsewhere – while sex cheating may be a lesser crime than it used to be, money extortion is yet unforgivable by consumers.