This is one of the rare jewels. FirstCasual.com looks a lot like one other similar website with the name "Affair" in it, but that is not the crucial factor in this review. We have several reasons to believe that FirstCasual.com is legit, and here we will explain why is this so. In addition, we've found some rotten apples in the basket and we will touch upon those, too. Let's begin our tour of this genuine dating site.
Why is FirstCasual.com a Legit Dating Site
The two main reasons why we believe that FirstCasual.com is genuine are the profile verification process and the lack of fake profiles. Mind you, that doesn't mean that the site is not a rip-off (because it is) and that there are so many dating opportunities that you will have stellar success (because there aren't). There some additional problems, too – like the credit payments and the extra fines. Let's elaborate.
Extra Bank Fines for Late Payments
The subscriptions on FirstCasual are automatically renewed. Unless you cancel 48 hours ahead, you are deemed accountable to pay the charges for the extension. Now – be careful, because you won't be able to "not pay" once you commit. You will also need to pay extra charges for bank fines is you miss a payment and get late.

Paid Credits for Added Features
Credits are a part of the profile verification as a special feature. When you verify your profile (more about this will be explained in the next step) you get 15 free credits which can be used in the upgraded features, such as spotlight, gifts and GIF messages. But, what exactly would be the benefits of these upgrades is not completely clear. Considering the fact that the members' area is almost empty, we are not really sure how much you will gain by using the credits or by purchasing additional credit bundles.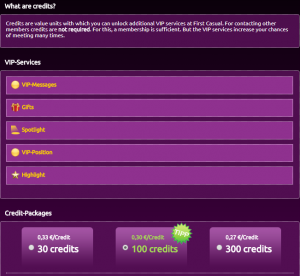 Profile Verification on FirstCasual.com
This is a process that seems legit, and it involves a burdensome procedure for getting that verified stamp on your profile, proving that you are actually a real person. The next logical step would be to search for other verified members and connect only with them if you want to keep it legit.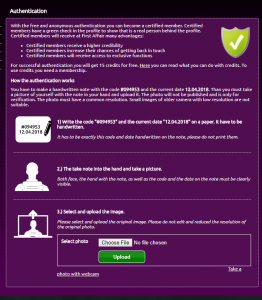 Price Tag
3-month membership is 39.99 € per month plus credits
6-month membership is 29.99 € per month plus credits
12-month membership is 19.99 € per month plus credits
Busted or Trusted?
FirstCasual.com seems legit. It doesn't involve any of the typical scamming methods, at least not that we could notice from this short review. As a precaution, keep in mind that the site is relatively new and that we may not have all details of how it will develop just yet. If you are on the wary side, wait to see what happens a bit further down the line. If not, you might want to develop additional skills and test the waters.