FreeSnapHookup.com, shortly stated is a Nautell site and works its scammy ways in the usual way of this long-standing company for false adult personals. It is not a one-night stand you are going to get with the offer on here. But you will definitely get a hidden cost charged on your account when you enter your credit card details for age verification. Don't do it is a rush and read more to find out why?
Authenticity of Free Snaphookup
If you don't know how Nautell Network's sites work, you will need a short introductory lesson to avoid the scam if you fall prey to this insincere offer for free registrants and the steps you need to follow to snatch tat one night stand:
Inventing yourself by creating a free profile, and showing who you are
Showing off by uploading a photo and impressing others
Closing the deal by recognizing the right opportunity
Playing by the rules and following the terms
Is this the true process to getting laid? Let's see why it isn't.
Why is FreeSnapHookup.com a False Adult Personals Site
At registration, you are prompted that you must agree to all conditions of the adult dating site, and the always problematic fake profiles called Love Stars: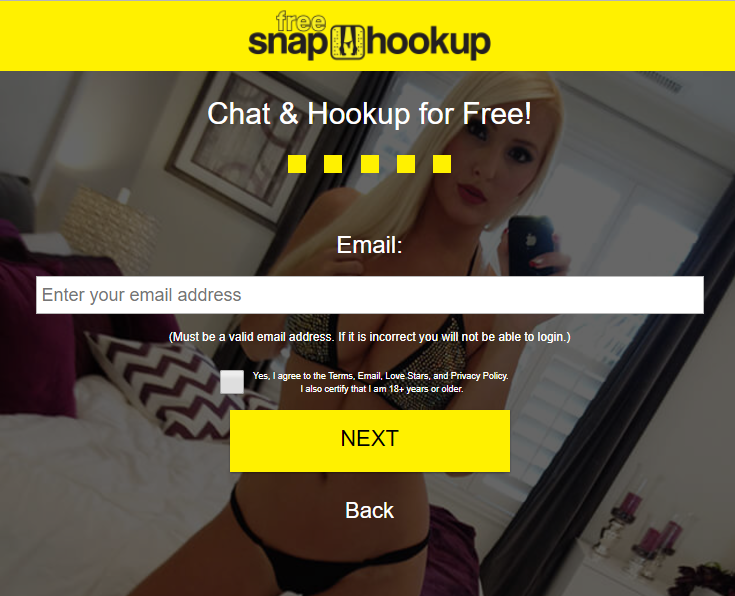 The fake software impersonating women will do nothing to get you laid but will do everything possible to sell you a service and seal a deal in favor of FreeSnapHookup.com:
You understand, acknowledge, and agree that some of the user profiles posted on this site may be fictitious or models or bots related to our "Love Stars" ( ) program. Our LS work for the site in an effort to stimulate dialogue with users and to stimulate user participation on the Website and Services, advertisement of the Website and Services, and the creation of user profiles
For example, I got contacted by Melon Mama (appropriate nickname and photo below) who approached me by video chat looking like a star from adult movies or a webcam model and disappearing from the screen when I tried to undertake an action: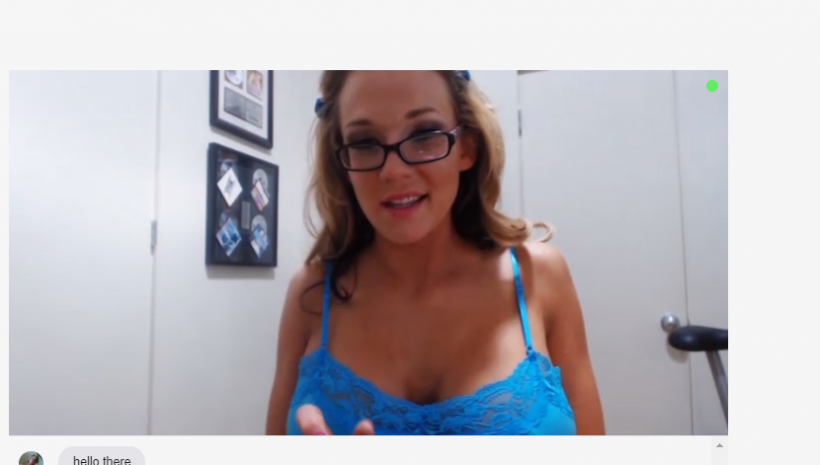 I had to purchase a VIP offer to be able to get in touch with Melon Mama. Regardless of how genuine (or not) she seemed, I had to pay to be able to take action. What is the use of the free registration if I am unable to get laid? A free hookup is all that matters on the best hookup apps: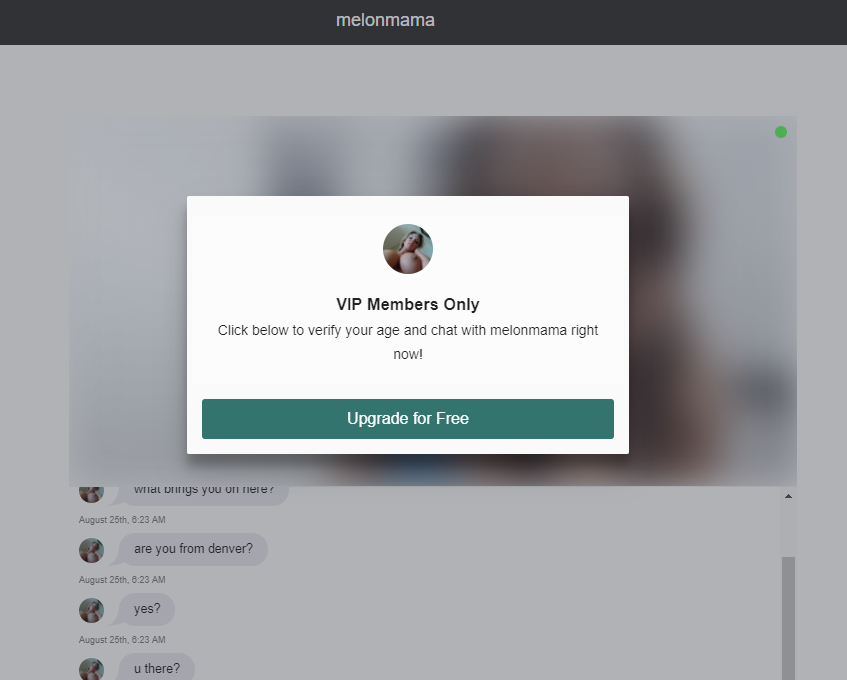 Additionally, I was approached by another girl called Brandy, and got the same upgrade prompt.
For example, this is the promise attached to the requirement for free registration when they prompt you to do upgrades – it is all under the guise of age verification. Why would they need a credit card for age verification? That is just a ludicrous statement for making people fall for the warning and get the details on a plate to be misused:
Free Lifetime Memberships are $0.00 – No Charge!
A valid credit card is required for age verification to activate your FREE account
Because – this small box is not included in the screen where you are submitting the so-called "age verification" details and being duped: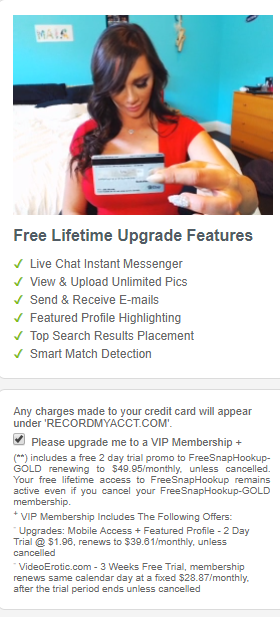 Price Tag
2-day trial promo to FreeSnapHookup-GOLD renewing to $49.95/monthly,
VIP Membership includes upgrades:
Mobile Access + Featured Profile – 2 Day Trial @ $1.96, renews to $39.61/monthly, unless cancelled
VideoErotic.com – 3 Weeks Free Trial, membership renews same calendar day at a fixed $28.87/monthly
Busted or Trusted?
This was the reasoning of Adult Dating Patrol explaining the scam of FreeSnapHookup.com. I don't believe anyone would need more convincing to stay far and away from this site. If you don't you risk great ripping off of your credit card which may take unforeseen heights!