I can tell you many things, tricks, and tips to keep your guard against the fraudsters at companies who like ripping off people, but the scam at SexEncounters.com is so lame, so classic and so straightforward that you may be surprised by its methods. Additionally, I am sure that if you know just a few facts about adult dating and take a wild guess about what that scam is all about, you will shoot it right on your first try.
The Authenticity of Sex Encounters
Did you know that almost 90 percent of the sites I review are fake? I can give you about the same percentage for the prevalence of the applied fraudulent methods because they mainly for use the same strategy. From time to time, I encounter some fresh scammy tip, but they are in essence the same. So, this is the scenario with Sex Encounters.com which works it's way around collecting new users by using computer-generated content.
Why is Sex Encounters.com a Deceptive Dating Website
There are three or four critical moments that I am trying to address and the first relates to –
Computer-generated profiles.
The profiles are virtual and they are included in the main deal. The virtual profiles are automats created by software that send series of multiple messages to multiple new users just to entice them to buy a subscription. Do you read what you register for? In case you don't, here is the first tip from me – always read the small print: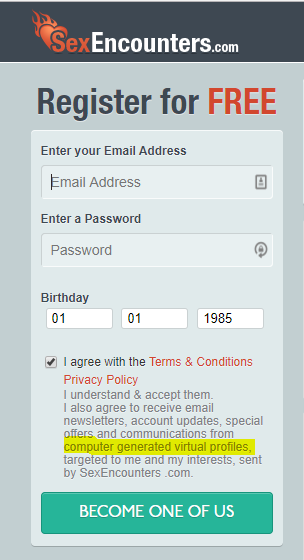 This scam is formulated in such a way that if you register you are automatically in all the way accepting the communication by the virtual profiles. Most members do so and I can see why – the registration is free but what's the good of it with so many problems further down the line. This is the quote from the website:
"By clicking the button below that says, "Yes! I accept the Terms of Service and enter into this Agreement" and also when you communicate with other Members, or when you establish a profile in which you can upload information, statements, or photographs, you enter into the Agreement. You can't change the Terms of Service or alter them in any way or only agree to some of the provisions. If you don't want to agree to the Terms of Service, you should use your browser "back" button or exit from this site by clicking this link here and proceed out of this website."
Simply put, as a member of SexEncounters.com you are fully bound by them and agree to follow them until the very end.
There are no warranties that you will meet any person for casual sex on this site.
This fact is also explicitly stated on the site in more ways than one. The first section where you will see the provision about the total lack of warranties is in the general warranty section, just like in the screenshot below, while the second part to note is included in the description of the services. In any case, you get no secure dates:
Premium membership rates can be changed and you will get auto-rebilled for them.
So the duration and the content of the provided services can change along with the price and independently, and, even if this sounds like a fair provision to guarantee proportional services, it can be a trick that can be manipulated by dubious alterations. I am not a great fan of these liberal and vague regulations – I prefer direct stating of the costs:

Also, if you do understand this convoluted maze of rules, please do not hesitate to explain it in the comments since it is a one-way ticket to credit card hell for me:
"We may change the categories of Premium Membership over time in ways that may affect the duration of Regular Membership Subscription Period, the Normal Rate, and the particular services which are provided for any category, just as any other term in this Agreement may be changed in conformity with the provisions of Section A of this Agreement. The cost of your Premium Membership will not be increased nor the Services provided to you categorically decreased so as to become effective until your current Membership Subscription Period comes to an end".
Price Tag
$29.95 for 1-month subscription
$47.95 for 3-month subscription
$77.95 for 6-month subscription
$107.90 for 12-month subscription
Busted or Trusted?
Computer-generated fake women are typically a very good sign of adult dating sites with poor quality. I have no doubts that SexEncounters.com is in for deceit and that it falls short on more than one criteria I use for evaluation of hookup services. It doesn't even look that good or offer any special features. My advice is to avoid playing with the free registration and you will be good.