When you hear the word horny, you may instinctively think that you are onto something great, at least as no-strings-attached dates are in question. This is the scammy tactic that HornyAffairs.com deploys to cajole prospective customers into thinking they are in some very hot and saucy dates, when in fact, it is nothing more than a shabby and fake, so-called dating platform, and in reality just a place where a bunch of computer-generated profiles sends emails, chat messages, invites and promotions asking customers to upgrade and get ripped-off.
Authenticity
Although HornyAffairs.com has a detailed privacy policy, some provisions are so convoluted that it will take a legal pro to discern what is right and what is wrong on this dating website. Not always more means better quality and the existence of Horny Affairs.com is a good argument in favor of the fact.
On the contrary, too many complex rules can confuse the majority of the users only signifying a dishonest intention. Payment and upgrade provisions are specifically confusing, and we have explained the details below. This fake dating website will make you think that you can do anything for free, when in fact – you can only make a profile and remain paralyzed in terms of sending your message unless you get one of the upgrades.
Be careful – the terms of use state that there is no guarantee that you will ever chat to a real, genuine person but that becomes clear only after you sign up and read the long(ish) documents.
Why is HornyAffairs.com a Fake Dating Website
Not far from the standard scammy tricks of fraudulent adult dating services, HornyAffairs.com keeps most tricks unoriginal, making an inventive deceitful alteration to the classic scheme here and there:
HornyAffairs.com makes out-of-the-blue updates to the policy agreement
If you become a member of HornyAffairs.com, you must be ready to follow the site to notice any changes in the site policy. Additionally, you must agree to receive all types of emails, including a serious number of ads and offers, and you may have to leave your email in the database and adhere to the site rules even if you are not a member of the site anymore.   

HornyAffairs.com will alter your membership fees autonomously.
On fake dating services, such as this on, you must be careful to read what you subscribe to in detail – also make sure that you know how to opt out of your membership, which is increasingly difficult to do so on HornyAffairs.com because there are no clear instructions about how is that possible: "We may change the categories of Premium Membership over time in ways that may affect the duration of Regular Membership Subscription Period, the Normal Rate, and the particular services which are provided for any category, just as any other term in this Agreement may be changed in conformity with the provisions of Section A of this Agreement. The cost of your Premium Membership will not be increased nor the Services provided to you categorically decreased so as to become effective until your current Membership Subscription Period comes to an end."

There are no refunds on HornyAffairs.com.
Without strict rules for refunds, the discretionary decision is in the hands of this website's of the customer care department: "THE PURCHASE OF A SUBSCRIPTION IS NORMALLY NON-REFUNDABLE, EXCEPT IF OUR CUSTOMER CARE DEPARTMENT WOULD DECIDE THAT A REQUEST FOR A REFUND IS JUSTIFIED. Once purchased the Membership subscription has no monetary value and only entitles you to use of the Services we provide for the Membership Period. In addition to paying the published price, you are responsible for paying all applicable taxes in connection with the purchase of the Membership subscription."

Computer-generated profiles are the main activity creator.
All users who sign up to become members, like it or not, become possible targets for use of the computer-generated profiles on this dating tool. This scammy practice is even elaborated in the site documents but you will never know this unless you read the small print. Here is what the registration home screen looks like – watch for the small excerpt in red letters: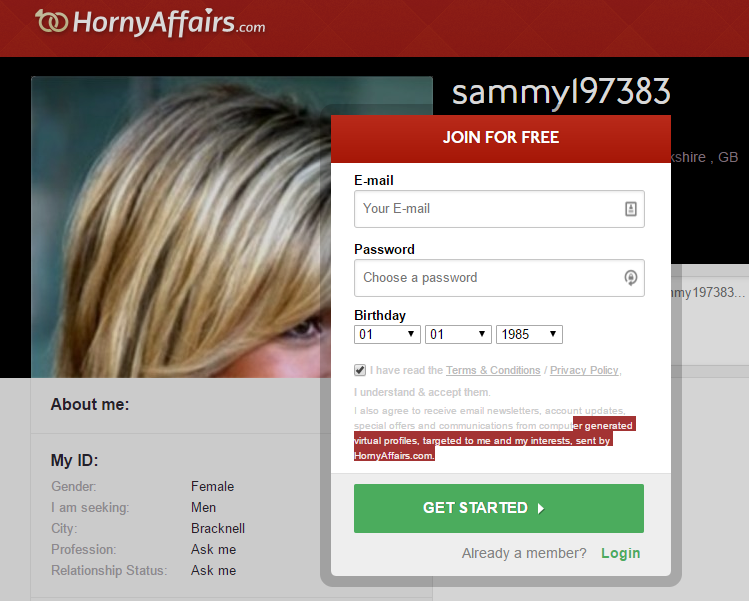 Your profile on HornyAffairs.com has no privacy.
Goodbye profile privacy and welcome nosey site services where you have almost no chance to use and change your dating profile up to your discretion but must all the time ensure that you are not infringing any rule, leaving valuable personal details into the hands of deceptive service providers:"You agree that our authorized representatives may gain access to your account (and all of the information and data it contains) and use it for any reasonable business purpose. They can, in their full, complete, and final discretion change or delete or add to any of the contents of your account – by way of example and without any limitation of the foregoing, to remove profane language, to change your listed gender, to remove images or text of any kind, and, in short, to make any and all possible changes in our sole discretion, of any kind or sort whatsoever, for any reason or for no reason, with or without any prior notice. We may even put advertising on your page or in your communications in our Services."

Price Tag
It is impossible to start a conversation on HornyAffairs.com unless you pay at least $30.
6-month membership is $99.95

3-month membership is $59.95

1-month membership is $29.95
Busted Or Trusted
From all the sites that we have included here on Adult Dating Patrol scammers, this one has one of the greatest rip-off potentials only because it seems simple and genuine if you don't think about what you are signing up for. As a matter of fact, the fraudulent workings of HornyAffairs.com are a bit insidious as it states almost all that it does but only in a hidden way so that you cannot claim to any rights later in the process.
What more do you need than a statement that it is possible that you will never, ever get laid or even chat with a real person on HornyAffairs.com. It seems that just another scammy site has been revealed.