FreeFlirtFinder.com links to Flyrts.com, which means it is under the umbrella of the Nautell websites. If you know a thing or two about Nautell, then you know what to expect. Knowing something about life will help you not believe sites that promise free subscriptions for good! With a catchy name like that, I bet many people fall for this scam, so it's time to expose it once and for all.
Why is FreeFlirtFinder.com a Fraudulent Dating Website 
Free lifetime memberships are at the core of all of all Nautell scams. The bait works wonders for thrifty people. Also, there are so many good free offers that it's a shame to use this one and get ripped off by credit card pre-authorization and already checked boxes.
False Promise of Free Memberships
The prompt screen shows up when you complete the registration. You see – the screen says that you won't be charged a bit, but that's only if you haven't read the part from the 'Terms of Use'. In this document, FreeFlirtFinder.com explains that the company charges a one-month amount to see if your account is working. Nasty tricks like these are a constant – don't fall for it; once your card is out there, you are paying anyway!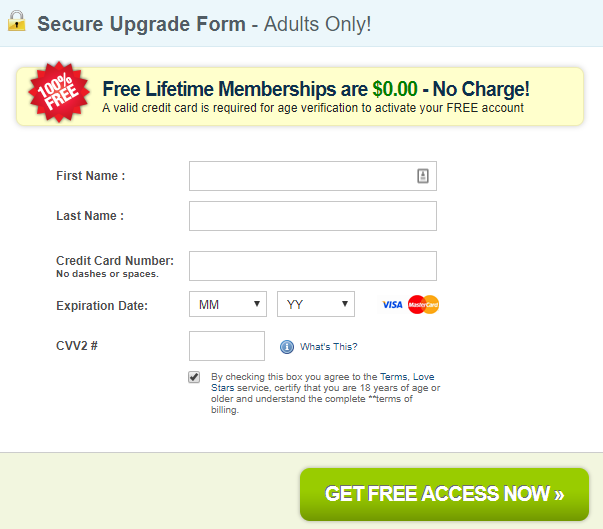 Another $100 a Month for Hidden Costs
Then, even if you try to get one of the membership, you'd better watch out for the pre-checked boxes that charge you extra costs. Below you can see what you need to pay: upgrade to a VIP membership for $39.61 and a WealthyMatch.com subscription for $28.87 a month.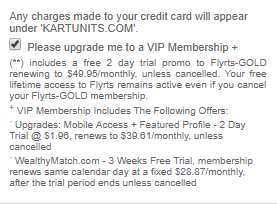 Virtual Profiles Called Love Stars
"Entertainment" for the users is just a diguise for the possibility to deploy the fabricated profiles. FreeFlirtFinder.com uses Love Stars (what else when it's a part of the Nautell network) that send messages, monitor the content and engage users to get upgrades.

The Proof for the Nautell Membership
All sites that are associated with this company have this segment on the site documents. By the way, FreeFlirtFinder.com is just a link to Flyrts.com's database, making it a copy. It's not even an original database!

Many Websites Which Copy Your Profile
The problem with the websites is that they use the same members. If you open any of the casual hookup sites from Nautell, you've opened all of them. Would you want to pay for the same site thinking that you are buying a new subscription that will offer new opportunities? I don't think so!

Price Tag
Paid membership for a 3-day trial is $2.97.
Paid membership for 1 month is $29.95.
Paid membership for 3 months is $74.95.
Paid membership for 6 months is $119.70.
Busted or Trusted?
FreeFlirtFinder.com is a link to Flyrts.com. It redirects users to this other platform and sells something totally else. As a matter of fact, it's not critical that you are being redirected. All sites from the Nautell network do the same fraudulent activities, therefore it's not important where you land on. Just be careful to notice the fraud by mindfully reading the "Terms of Use".