How come so many adult dating websites remain in existence when we are doing our best to dismiss and warn you about them? Well, the first and very obvious reason is the human character. It is full of frailties. People are not always with genuine intentions. On the user side, when it comes to casual sex, many people lose their common sense and start behaving like horny teenagers. That's what sex does to people when it takes the wrong turn. The second reason is related to the fact that many people support fake dating websites. How does this happen? Let us see the example of HiSlut.com!
Why is HiSlut.com a Fake Dating Website
If you don't try to register, you'll never know that HiSlut.com is working as a redirect to another well-known Nautell site called QuickSexMatch.com. The site is non-secured, as it contains suspicious links and pics that are classified as spam or phishing. You will join the main site by going through the front screen of HiSlut.com and answering a short survey or sex-related questions. Typical examples include using condoms, having had STDs, being discreet, and so forth. The problem is none of these hookup sites is real. It's only a question of two frauds that work well together.
Interested in Auditioning for the Adult Movie Industry?
There is the link from HISlut.com's blog that explains what you need to do if you want to become an adult movie star. Guess what? You need to become a member of HiSlut.com! To be fair, you can also just sit and do nothing, or just date, but the option is there. Show some interest and you are on your way up to becoming the star!
Is this what you signed up for? Maybe, if you are one of the girls, but the site is for dating. Your chances to become a star grow if you have good luck while dating. It seems that HiSlut.com is just a link platform for discovering young talent and taking the people to the Nautell product Quick Sex Match.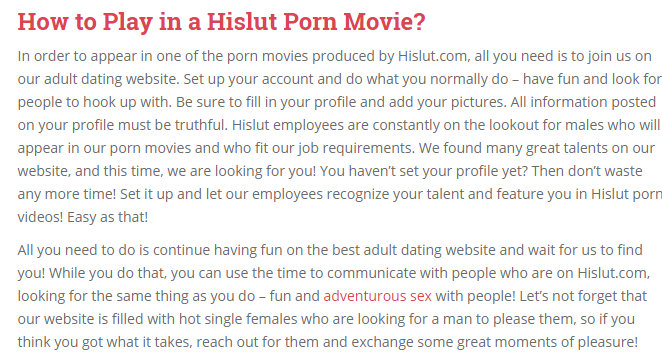 Nautell Link Reveals the Redirecting 
When you follow the link from the main website to the backend page, you will open the time counter for a promotional membership on QuickSexMatch.com – all it takes is to pick up through the site provisions and you'll meet with this:

For those of you that have no clue what the Nautell network is all about, here is a bit of attention to their worse features:
False women called Love Stars impersonate real chicks
Your credit card is preauthorized (read: charged) when you provide the details 
Hidden fees for other content, including webcams, mobile features, profile highlights and adult content
Price Tag
3-Day trial is $2.97 (renewing for $39.95 per month at the end of the trial).
1-Month subscription is $29.95
3-Month subscription is $74.85
6-Month subscription is $119.70
Busted or Trusted?
HiSlut.com is a non-secured website. Only God knows what else we jeopardized by taking this tour – you can never tell what spammy links have in them! It can be anything from tracking tools to phishing viruses and bigs that slow down your computer. Let's just hope that it's not something too dangerous. Take care not to repeat this experience!