Did you miss out old frenemies Nautell? No, we know you didn't, but even more, this is why you need that the network got an overhaul (once again!) and that they have a new name. But, no, they have not fallen into an oblivion or changed their manners. They have a minimal change here and there, yet in general, they use the same methods. Even the subscription rates on the newest addition Member-Hookup.com are the same and the cajoling system is very like what we've seen before.
Why is Member-Hookup.com an Adult Dating Scam
How do you get lured into Member-Hookup.com? Well, just in the same way as before. Depending on the type of domain they use, the sites change the images or the videos are bit, but the cajoling process is almost the same. A cute girl stares seductively from the screen, smiling or flirting with devilish piercing glances, looking like it is typing a message. Good enough to make you interested and going. Then, just as you get into the mood, you see that the girl gets into an even more mischevious mode. She will start getting undressed and seem more inviting. This is how you get into that "stupid" mind frame and become more susceptible to being pulled by the nose. This is the turning point for the start of the bigger problems.
Unavoidable Agreement to Fabricated Profiles
You will start registering and forget to read the small print. And the small print includes this ominous message that comes as the part of the registration. You just must agree to the fake profiles if you want to get in!

Just for Entertainment – No Real Girls
If you missed that important warning at the beginning, you might want to check the truth of the Terms and Conditions. Although the company now has a different name, its documents are almost the same. So, you are not seeing anything new or valuable here, what you haven't seen before. The fabricated profiles are called Love Stars. They drop messages in your inbox, in your site mailbox, and they use all communication channels that are possible on Member-Hookup.com They are active and fraudulent, taking no care whatsoever of the consequences.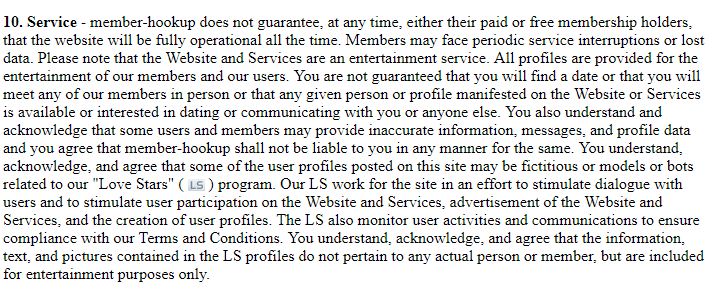 A Bunch of Preprogrammed Messages
How could the "Love Stars" work if not by communicating fake messages? Not many other methods exist, that's for sure, but what's the real story here? These messages are programmed by computers to mimic human interaction. They can make predictions and calculate the pathway a conversation may turn out. So, it seems like you are talking to a real person. The illusion is there, and you won't be able to notice that you are scammed until it's too late. Probably this is how most users of Member-Hookup.com throw themselves into a make-believe world and don't notice the hidden charges.

Price Tag
1-monthly subscription to the main services is $29.95
One of the extra charges is $39.61 per month
VideoErotic.com charges $28.87 per month.
Busted or Trusted?
Since we are sure that you didn't miss Nautell. we are sure that you are not going to miss Member-Hookup.com. The story is the same and the fraudulent methods are the same. Don't fall for those flirty girls and stay safe by beign really vigilant of what happnen at every instance.