The web is full of sites for cheaters. WebAffair.com is dedicated to meeting the sex needs of people who are in relationships but want to have NSA dates arranged online. It is expected that people with these needs would first search for a sex affair online. What is not so sure if they are going to find the best place for such business. Not many of the dating sites are what they claim to be. WebAffair.com is another proof of the maxim that things that look too good to be true, probably are false.
Authenticity of Web Affair Questioned
WebAffair.com is a subsite of the Nautell network. If you read our reviews, then you know by now about how this network frames its users into a small print credit card scam. We have included several of their "proven" methods in past reviews. We will go through them again here because there are slight differences that may pass the inexperienced eye. The most annoying thing about WebAffair.com is that it promises spectacular things on a nicely developed interface while miserably failing to execute the promises in practice. WebAffair.com is a master in marketing, but not in a good way.
Why is Web  Affair a Fake Dating Site
Let's look into the promising front page and the offerings for membership, prices, possibilities and signup ways:
WebAffair.com claims it is 100% free.
This is the biggest scam ever. As you can notice from this advertisement banner, WebAffair.com has several claims that it provides free services, with unlimited features, thousands of local members and free mobile access. Go ahead and try to contact someone for free – you will get nowhere soon. You will sign up, provide details and you will start getting promotions. Look further down below to see ho are credit cards preauthorized.

The site has numerous poor reviews.
Many users check online reviews before they decide to join some dating service. We agree that is a good strategy and one that we recommend. Apart from ADP reviewed we look into what other people say about a specific site. For WebAffair.com, there was plenty of proof that testifies about its scammy tactics. Here is a screenshot of the top poor reviews:

The privacy policy at WebAffair.com is changed without prior notice.
If you expect that you will get a prior email notification before the company publicizes changes to the binding document, let us tell you that you are wrong. You must visit the page and keep track of the changes in documents to catch up on any new changes that may not suit you. Who has the time to read all details? This dishonest policy is a sign of a business that doesn't care about its customers:

You will be entertained by Love Stars.
Love Stars are virtual profiles which serve to send baits to new customers for upgrades. To find your way around the site, you will be guided by them – to going over your credit card balance! Be careful if you get into interaction with some of them because it may cost you big bucks. Those are not real girls.

A credit card preauthorization may be charged even if it says you give the details for free.
So – the card is not charged, but the fee will be reserved. This sounds fishy, right? You are right – it sounds like that because it is! In this way, you will pay anyway. On top of this provision, the site T&C document includes another regulation which refers to extra fees, such as transaction fees, currency exchange fees and administrative fees. You are responsible for all of that:

Price Tag
The total cost if over $100 per month.
WebAffair Gold is $49.95 per month
VIP Membership includes:
Mobile Access+Featured Profile+Trial is $39.61 per month
Video Erotic is $28.87 per month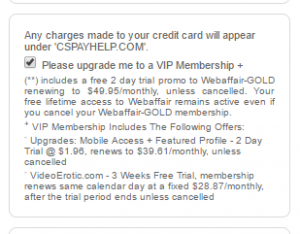 Busted or Trusted
Nautell networks really know how to rip off their poor naive new users. Other sites may charge you 40, 50 or even 60 dollars, but this company really goes over the top with this $100 rip-off. If you are looking into a discreet NSA encounter, the last thing you want to end up with is a huge and suspicious charge on your credit card statement. You'd better stay far, far away from WebAffair.com.
Other Bad "Cheater" Sites
You're going to want to avoid using the Ashley Madison network as well as Free Lifetime Cheaters because neither of these sites work at all as well. They are a total ripoff and you'll soon find out why if you read those reviews as well.