There are good reviews about MatureSexHookup.com. Some people genuinely say that they've hooked up here. They believe that the site is for real. Under the circumstances, and since there aren't any false profiles, we will stick only to the problems we think you can encounter is this review. Although we are not sure that this site is a total fraudulent mess, there are hints that show some suspicious elements.
Why is MatureSexHookup.com a Chary Hookup Site
Few of our biggest doubts are connected to classic tactics of adult dating websites.  This includes the third party linking, the extra fees, and the electronic communications. And – yes, the arbitrary changes to the site policy documents!
Risks from Third-Party Linking
Although there is a basic risk of browsing new links and jumping from one web resource to another, casual hookups sites carry an extra danger; the links are not controlled or monitored. Additionally, the third-party links don't follow the main site rules; they're not obliged to. As you can see from the screenshot below, MatureSexHookup takes no responsibility for what other companies link to the main domain.

Added Fees for Foreign Users
If you are not American, you shouldn't rely on the fees explained in the main packages. Because of added currency exchange fees, the company calculates exchange costs on top of the basic membership fee, depending on the country you come from:

Electronic Contacts and Service Modifications
Most sites send email messages. They are okay, unless they are intended to serve as a mask for sending software messages from lookalike girls. The problem is you can never tell because of the agreement you signed once you joined. (Note: it includes 'electronic' communications and 'other' communications. I just wonder what these other communications are about?)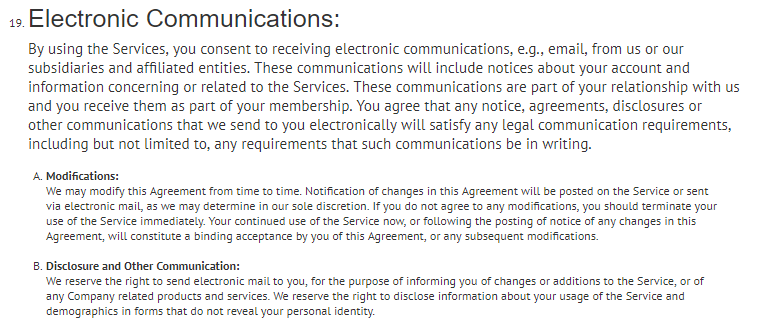 Don't miss that 'Modifications' section, which points out that this contract between the customer and the company can change anytime.
Price Tag
Basic Membership goes with 30 free flirts
Premium Membership varies

Busted or Trusted?
MatureSexHookup.com is a site for dating milfs and cougars. Since it's based on flirts and icebreakers, as well as on new paid virtual tokens, it's challenging to say what's the value for money you will get on this site. If you didn't have success on other, more generous resources, test this one; it seemed to have worked well for some people!