Together Networks sites contain pretty false facts.that address their overall offer. To cut it short – they sell their staff with big promises but they underdeliver. So, what you see on the landing page of FlirtyDesires.com is not exactly what you will get for free and not even for the paid membership. Let's see how their scammy methods turn out in practice.
Authenticity
Apart from promises for quick flirty dates with singles who are your exact matches, you get many other things but only under the paid membership. However, great dating is not on the menu. Otherwise, what would the satisfaction policy do in the offer? Here is what you get in the paid subscriptions:
Unlimited chats
Big photos
'Looking for' info
Extended search
Premium support
View all users' videos
Unfortunately, it is all the same for all users because you can't do anything for free, as you will soon see in the next section
Why is FlirtyDesires.com an Adult Dating Scam?
The satisfaction guarantee assumes a list of conditions.

Just look at the criteria you need to meet so that you become eligible for e 3-day trial to another site, and you must do this for full three months:
To be eligible you must, within your first 3 months of use of our site:
Use your account at least 3 times per week
Exchange chat messages with at least 5 other users
Use Flirtcasts and Winks
Search for potential matches
Own a full profile with all completed sections
Have two accepted photos
Actively look for potential dates within a 50-mile radius of your own location
Have not met with any other user
Have a positive payment history
Sounds ridiculous, doesn't it?
Your trial converts automatically to a monthly subscription.
Without you even noticing that you will pay forty dollars, I think that you won't like this fact a bit! And that goes on for the subsequent months:

You must upgrade to comment or read any messages that are sent to you.
Regardless of that fact that I got at least two admin messages, a couple of texts and several winks I couldn't make any good use of them because I had to upgrade. The upgrade prompt shows up in all site sections whenever you want to take any action: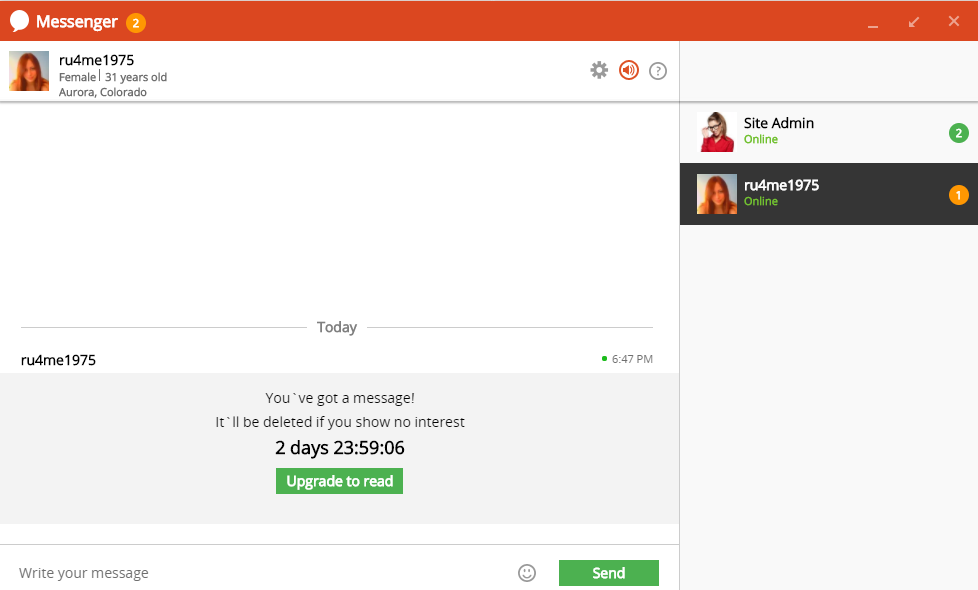 Additionally, if you notice the bottom section of this screen, you will see that they've put a timer ticking which means that they are pestering you with false hurrying. Don't worry, the offer is always available!
Price Tag
Joining for 3 days will cost you $0.99
Joining for 1 month will cost you $0.91
Joining for 3 months will cost you $0.51
Joining for 6 months will cost you $0.41
Busted or Trusted?
FlirtyDesires.com gives way less than what it offers. I had to pay for everything that I did on this costly dating website. Together Networks have really nailed it with this one because it looks awesome and it gives only breadcrumbs. However, it will serve only their business purposes and it will do nothing for you.